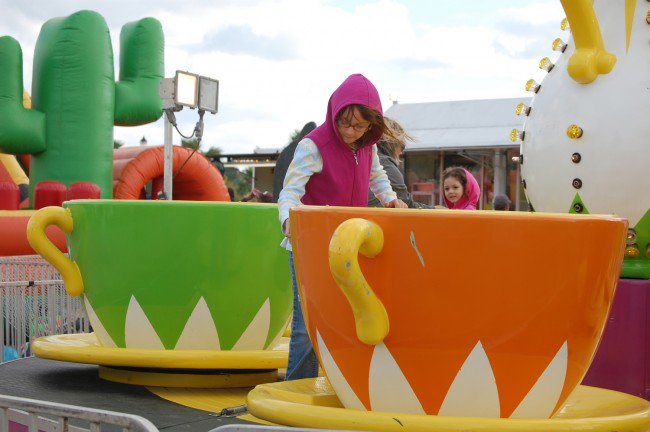 The duo dueling festivals are over.
The 11th annual Tommy Tant Memorial Surf Classic wrapped up a little earlier this afternoon with the Tant family crying tears of sorrow (for Tommy, the surfer son the family and the festival has been commemorating for the past 11 years since his untimely death at 24) and tears of joy and gratefulness for a community that continues to rally around Tommy's memory every fall in Flagler Beach. We should have the full results of the Classic's many competitions posted here later.
A few miles away in Palm Coast's Town Center, the city's first Seafood Festival came to a chilly end after drawing several thousand people over the weekend. It wasn't quite a seafood festival so much as the circling of the usual carnival vendors and rides around Town Center's lake, with the idea of a seafood festival slapped on without quite unifying the thing thematically beyond its carnival atmosphere and a few show boats, musical acts and Frisbee-catching dogs thrown in. And that $3 entrance fee for anyone over 12 (the Hispanic Festival started doing that too earlier this year).
Virtually every carnival has its share of seafood fare; this one had one or two distinguishing stops (oysters, crabs), but nothing quite beyond the imported cookie-cutter stuff of carnivals. So it had its filling, fry-full fun, but it was a bit soulless too, like the July 4 celebration that had very little to do with Independence Day until fireworks made the point. Surely Palm Coast can do better.
If you wanted authentic, locally reflective seafood this weekend–as opposed to Bubba Gump-type traveling fry pans–it was all in Flagler Beach, where the Classic included a seafood festival of its own Saturday evening, with more than a dozen of the city's restaurants, most of them specializing in seafood, doing the offerings.
Here's Charlotte Marten's report on the Tommy Tant Classic, with a photo gallery coda on both events blow.
---
Tommy Tant Classic 2010[media id=113 width=500 height=400]

Seafood Festival & Tommy Tant Photo Gallery
[nggallery id=40]