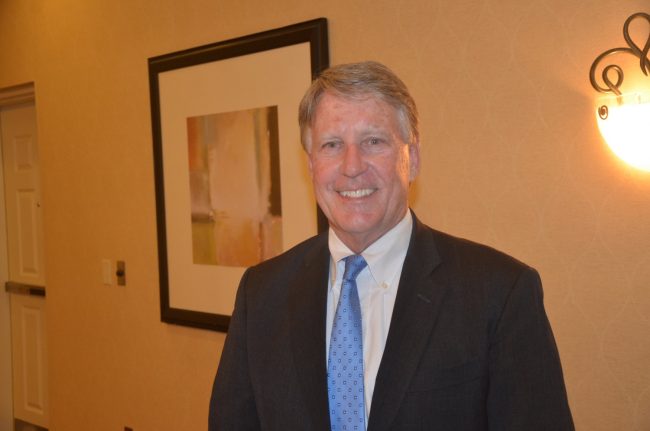 If Chief Judge Raul Zambrano has a soft spot for Flagler County, he has a strange way of showing it: Robes are changing so quickly in the courthouse it might as well be Milan Fashion Week.
Last week came revelations that Family Court Judge R. Lee Smith, not seated two years in Flagler, was being shifted to Putnam County. Judge Chris France, appointed to the bench in 2017 after a career at the State Attorney's Office, was to take Smith's place.
Earlier this month Zambrano ordered Judge Scott DuPont out of his offices in Flagler and Putnam pending the resolution of DuPont's case before the Judicial Qualifications Commission, which is recommending to the Supreme Court that DuPont be removed. To cover his cases, Zambrano ostensibly assigned Judge Dennis Craig to cover both civil and felony court in addition to Drug Court. At least that's what Zambrano's order read like.
But not really, as it turned out. Months ago he'd had conversations with Judge Terence R. Perkins, who'd been chief judge before Zambrano. And on Tuesday evening, at a forum featuring seven judges up for reelection this year, Perkins among them, Perkins–who refers to himself as Terry–upstaged the event with news of his own.
"I've got a secret for you, something I don't think anybody knows here," Perkins said. "Some months ago I was approached by our now-chief Judge, Judge Raul Zambrano, and Judge Zambrano has a very soft spot in his heart for Flagler County as you know." Zambrano is one of the innumerable judges who briefly sat on Flagler's criminal bench since the retirement of Kim Hammond.
"He got his start here and he remembers that," Perkins continued, "he's very loyal to Flagler County, and he asked me as the outgoing chief judge if I would agree if he could combine a criminal and civil docket, if I would agree to come to Flagler County and serve out the balance of my term in Flagler County. I told him in a Minnesota minute, I would do it in a heartbeat, I would love to do that."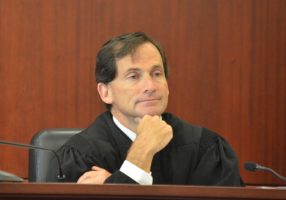 So he will, starting June 4.
That means Perkins is in and Craig is out, again just 16 months after taking over the criminal bench for Judge Matthew Foxman, whose stint in Flagler turned out to be like a year in the Peace Corps: an experience, not a career. Foxman is back in Volusia, in the building that bears his father's name, where Craig will follow shortly. Craig will take over Perkins's criminal docket.
So since 2010, the year Kim Hammond retired after 30 years on Flagler's bench, Perkins will be the sixth judge in eight years to sit on the criminal bench. He'll be following Hammond, Zambrano, J. David Walsh (who retired from Flagler), Foxman, and Craig. It's not academic: many defendants will see certainly second judge, some their third, handling their case, some more than that, a dislocation in continuity and temperaments that judges might downplay as less relevant than their fair applicability of the law, but no average observer of court proceedings would see the changes as irrelevant to case out comes: judges still have the deciding hand on whether and how a case is settled, and what sentences are meted out. And those hands are as distinctive as snowflakes.
The civil division's musical bench has been barely less cacophonous. Maybe that's why Zambrano, in a somewhat unique move, is combining civil and criminal under Perkins's gavel: for added stability, assuming it lasts.
Perkins is not intimidated by the workload. He said sitting on the criminal bench almost for the past four years in Daytona Beach, he's taken the docket from 850 cases down to 450. "We can move the docket effectively," he said. "Criminal always gets the priority, but I think we'll have enough time to more than amply do the civil. The key will be how we combine the two to make sure that everybody gets a hearing's time, gets trials on time and all that kind of stuff, but I'm reasonably certain—I know we can do it."
And he strongly suggest—without promises—that this is it: he wants to be that stability Flagler has not had (Judge Melissa Moore-Stens's county court oasis aside for the past six years, and possibly the next four or six: she faces reelection this year, but no opponent.)
"I just turned 62," Perkins said when asked point blank about whether he's to be just another place-holder. "I've got eight years left before I have to retire. My deal with Judge Zambrano is, I'm going to come to Flagler County and I'm going to do that docket and I'm going to stay here. This is where I want to be. And he said OK." He lives off State Road 40, so his 20-minute commute to the Flagler courthouse will actually be shorter than his commute to the Daytona courthouse. He added: "That's my intent, is to stay. So I'm staying."
Of course, nothing says Zambrano is staying: chief judges' tenures are limited, and another chief judge may have different ideas for Flagler.
Meanwhile, the Perkins era is about to begin. Perkins practiced law in Daytona for 30 years as a civil trial lawyer, trying cases in every county in the state, and trying so many cases in Flagler that "I tried I think more cases, to verdict, with Judge Hammond than any other judge that I had," he said. "So I came up here all the time."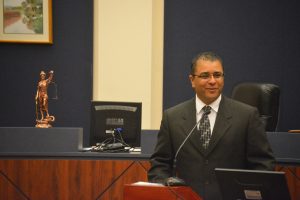 After 30 years the Seabreeze High School and University of Florida Law School graduate decided to do "something different, to give back to my community." He applied to be a judge. Gov. Charlie Crist appointed him in 2010. He was unopposed in his first election in 2012. He's hoping to be unopposed this year. So far, he is. "And that will probably be my last term," he says.
As a judge he first presided over civil cases then moved to criminal, in an office next to Foxman's. His peers elected him chief judge and he maintained a full docket, as is customary. He was chiefly instrumental in moving the circuit to a paperless system, often a challenge with some judges with ancestral memories of scrolls. But the shift surprised him. "All of my colleagues have been, 'Not only do I like this technology, I want more, I want to do it faster, I want to look at it,'" he recalls them reacting, "so we can do things we never thought we could do before, and that was one of my best accomplishments as chief judge."
His biggest accomplishment, he said, was finding the right fit for judges around the circuit, which includes Flagler, Putnam, St. Johns and Volusia. "That's not me, that's them," he said of the judges. So far as Flagler is concerned anyway, his words were a touch out of tune with the courthouse's musical chairs.
He was asked about his temperament as a judge. "I think I'm courteous and respectful to all the litigants that come in and all the lawyers," Perkins said. "I require that they be prepared. I try to move the cases as quickly as I can, as quickly as they'll permit, so there's no hard and fast rule. Just look at each case individually, try to figure out what can we do to either resolve the case or put it in line for trial."
As for his judgments: "I try to be middle of the road. I don't think I'm particularly harsh, nor do I think I'm a pushover. I think every case is different, based on the facts of the case. Where a case deserves a harsher sentence, you've got to follow the law. My job is to follow the law. I don't get to do what I think is right, I don't get to flip a coin or whatever. I follow the law. That's exactly what I do. And most of the time the law tells you which direction to go."
At least when Zambrano is not programming judges' GPS.