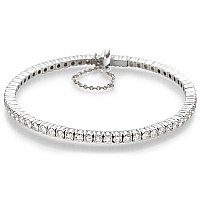 An unidentified man entered Kay Jewelers on State Road 100 around 6 p.m. Friday, July 9, and left with a $3,000 tennis bracelet after he told the clerk he was looking to make a purchase.
The clerk told deputies the man, described as a heavy black male, asked to see a two-carat tennis bracelet for his wife. The clerk showed him a two-carat bracelet, but he wasn't interested. She then showed him a carat-and-half bracelet, but he said he wanted something larger.
When the clerk gave him the three-carat bracelet, he ran out of the store and fled the scene. Witnesses said the man was wearing a white and blue shirt and jean shorts. He got into a black Ford Expedition with a gold and silver bottom. The vehicle also had a large luggage rack on the roof.
Anyone with information on this incident is being asked to contact the Flagler County Sheriff's Office at (386) 586-4801.