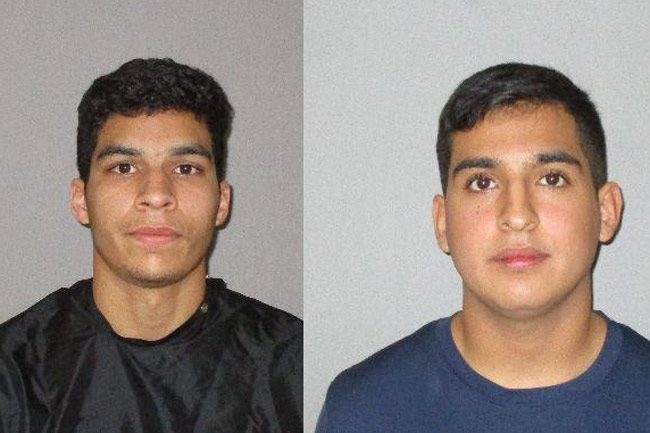 Update: The State Attorney's Office on March 11 filed a charging information on Jose David Zayas, charging him with one count of lewd and lascivious molestation on a victim 12 to 16 years old, a second degree felony. The two remaining charges were dropped. The case is being prosecuted by Assistant State Attorney Melissa Clark. Clark filed the same charge against Bryan Lemus, dropping the charge of lewd or lascivious battery.

Bryan Thomas Lemus and Jose David Zayas, both 18 and best friends, were arrested Friday on charges that they molested a family member of Zayas's for years.
The alleged victim, now 13, told investigators that she remembers Zayas molesting her "since as far back as she can remember," according to Zayas's arrest report, and as recently as the end of last November. She spoke of Lemus allegedly molesting her from the time she was approximately 7 years old.
Zayas, of 23 Smith Trail in Palm Coast, and Lemus, of 4 Ramsgate Place, were booked at the county jail on two second-degree felony charges each (of lewd and lascivious molestation involving a victim between 12 and 16 years old, and an 18-year-old offender). Zayas faces an additional, similar but first-degree felony charge, the difference being the victim's age (younger than 12).
Both men were cooperative with detectives and confessed, according to their arrest report, saying they wanted to seek help, which suggests the case may be settled before it reaches trial. Charges are often lessened in such plea deals, though the extent of the alleged offenses would make it very difficult for either m an to avoid a lifetime designation as a sexual offender.
The investigation alleges that Zayas started molesting the victim when he was 10 and she was 5, and that it continued until he was 18 and she was 13. The victim described the innumerable incidents to a forensic interviewer. Zayas confirmed the information, saying he "estimated the number of times he sexually touched the child victim to be in the hundreds," with 10 to 20 more grave assaults.
"I take no pride in this situation, absolutely none," Zayas told Annie Conrad, the Flagler County Sheriff's detective who investigated the case, "but I know I need help, and I need professional help."
Lemus, his friend, would spend the night at his house. The victim told a forensic interviewer that at first Lemus would sneak into her room and touch her over her clothes, but as she grew older, he would become more bold and go under her clothing. Waking up to find him assaulting her in some cases, she would pretend to remain asleep. In other cases she would lock her door, but he would find a way to unlock it. She kept the incidents to herself because Lemus's and Zayas's families are close, and "she was scared to say anything," according to Lemus's arrest report.
Child victims of sexual assault are usually terrified of of the assaults but also of revealing them, especially when the assailant is a family member, not only out of fear of shattering their family, but out of fear of not being believed–as is the case at times.
In these cases, Lemus, like Zayas, was immediately cooperative with investigators, according to the arrest report. "Lemus was confronted with the allegations and admitted to the inappropriate acts," the report states. He stated the age of the victim being 8 or 9 when he started assaulting her, ending around the time when she was 12. He said "he is not proud of his actions and he is willing to take any consequences that come because of his actions." The report notes that Lemus told investigators he had joined the military, and that his actions were "the old him," not a reflection of who he is now.
Both Zayas and Lemus spent only a few hours in jail, posting bail on the $5,000 bond that applied to both their cases.


For Victims of Child Sexual Abuse:
One in three girls and one in five boys will become victims of child sexual abuse before their 18th birthday. One in five children is solicited sexually through the internet before age 18. And an estimated 90 percent of people with a developmental delay or disability will be sexually assaulted at least once in their lifetime. Childhood sexual abuse affects all kinds of families, no matter their income, race or where they live.
Sexual assault is traumatic, and victims often feel confusion, fear and anger and suffer from depression and anxiety.
If this story has triggered upsetting thoughts or memories for you, or if you'd like to educate yourself on how to better protect your children or grandchildren from sexual abuse, there are many good resources – both in Flagler County and online.
Locally, the Family Life Center's Sexual Assault Victim Empowerment (SAVE) Program provides free, confidential supportive services to survivors of sexual assault and their family members. The SAVE Program provides services such as crisis intervention, advocacy, accompaniment (to a forensic exam, law enforcement interview or an interview with the prosecutor), information, referrals, a 24/7 Crisis Helpline, peer support groups, and therapy. All services are free.
To access these services, contact the Family Life Center's Administrative Office at 386-437-7747 or the Crisis Helpline at 386-437-3505. Family Life Center's website also offers information on topics including sexual and domestic violence: http://www.familylifecenterflagler.org/.
For other online resources, the South Florida-based nonprofit Lauren's Kids has a Safer Smarter Families program through which you can develop a Family Safety Plan. In addition to safety tools and strategies, as well as activities you can complete with your child. It's all free and can be found at https://safersmarterfamilies.org/.
Lauren's Kids' website also offers a resources page with links to state and national organizations for families in crisis and adult survivors seeking crisis or therapy services. The site is https://laurenskids.org/resources/.