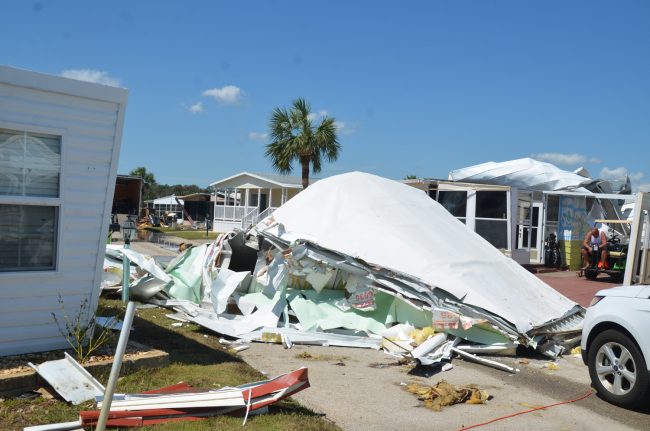 Flagler Beach's south end and midsection along Lambert Avenue are suffering from the consequences of a historic flood following Hurricane Irma last Monday. But residents of the north end of the barrier island feel like they have a target on their properties' backs.
Twice in the last 11 months, the residents of Surfside Estates, the close-knit mobile home community off A1A by the Intracostal, have been whacked by hurricanes—first Matthew last October, now Irma. Same story for residents of Marineland Acres, the beachside, unincorporated development at the north end of Flagler that's always had drainage issues, but nothing like the sort of flooding caused by Matthew and Irma.
Luke Guttmann, a retired real estate lawyer—he got out just in time, as the housing bubble popped 10 years ago—has the scientific proof of the price his neighborhood paid. His house sits on Rollins Drive, several hundred feet from what used to be a line of dunes. Last October he made a black notch against the wall in a utility entrance marking how high Hurricane Matthew's surge waters went. It was 36 inches. This year no mark was necessary yet: the waterline had made its own, and when he measured it this afternoon, the floor still soggy from those same waters, it measured 28 inches.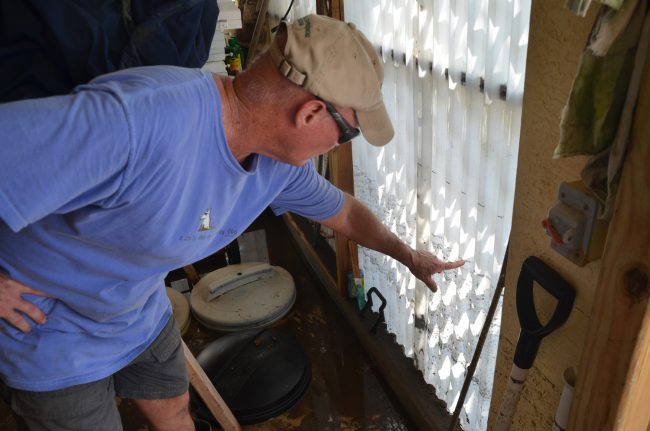 Not as bad, but not much comfort for Guttmann or residents like him who will have to tear out and replace walls and carpets anyway, if not furniture and appliances. Guttmann's house was built in 1982. He bought it about a decade later and built on. "I added my part," he said. "I should have torn the thing down."
Houses in Marineland Acres reflect something like Darwinian architecture, an evolution from rustic old houses built before the age of regulations, flush with the lowest ground, to houses built on thick concrete stilts, to still-newer houses built according to county regulation that calls for an elevated lot of at least a foot. There was a distinct difference between those elevated houses and their less-evolved counterparts, though even houses on stilts—like Carol Siboni's on Surf Drive were not spared the lake effect below the first floor. And those waters, while receding a bit, are still there, squatting with stench and stagnation, with nowhere else to go.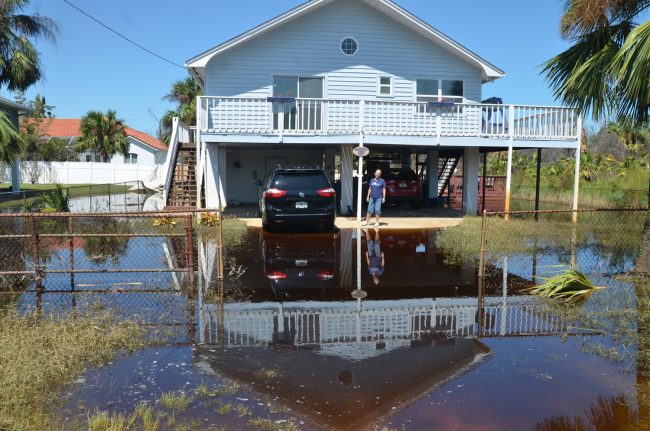 "Simple things like putting out the trash, getting the mail, it's a two-man job," Siboni said: it takes getting in the car, one person drives, the other holds the garbage bag, the car backs out across the front-yard's mini-lake, the garbage is deposited, the nail picked up, the car driven back in. The Sibonis' puppy, not yet a year old, hasn't taken to being confined. "He's an 8-month-old puppy, he wants to play, he can't," Siboni said. For his daily business, he's limited to tiny patch of grass in the backyard. "But we're the fortunate ones. The people on the ground are just devastated."
But Siboni said something that's beginning to be a refrain of long-time residents no matter where they have been struck by flooding, whether at the southernmost end of Flagler Beach, halfway up on Lambert Avenue or at the near-northernmost end of the county: "We bought this house 20 years ago. It never happened before Matthew," she said.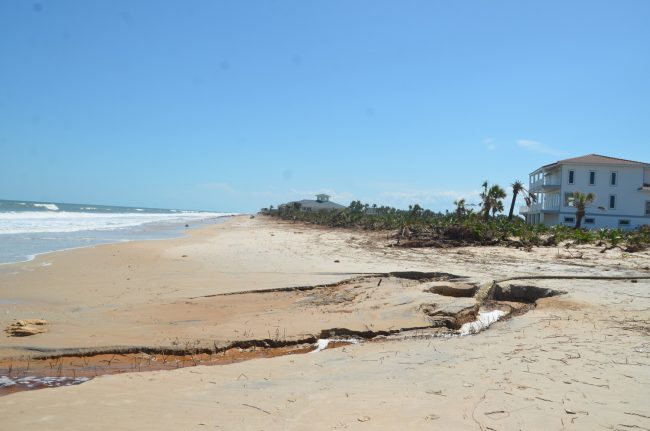 Surges are overtopping dunes on the ocean's side and simply washing over on the Intracoastal side as they never had before. On the ocean side of Marineland Acres, the dunes are gone, anyway. Guttmann says Matthew wiped out some 20 feet of them last year, and Irma wiped out another chunk. When you walk to the ocean, there's no ridge anymore, no sign that any dunes were ever there before. It's a level plane from the Marineland Acres neighborhood to the beach, with just a slight incline down to the surf. That's an ominous sight. It may not take much—it may not take a hurricane, but a strong storm–for the next flood to wash over Marineland Acres. And rising seas are not helping.
At the entrance to the neighborhood on Surf Drive, a woman came out of her older home, flagging down a reporter because she mistook him for someone from FEMA, the Federal Emergency Management Administration. Five minutes later, a woman driving by did the same thing: that's how desperate the neighborhood is to get its federal assistance.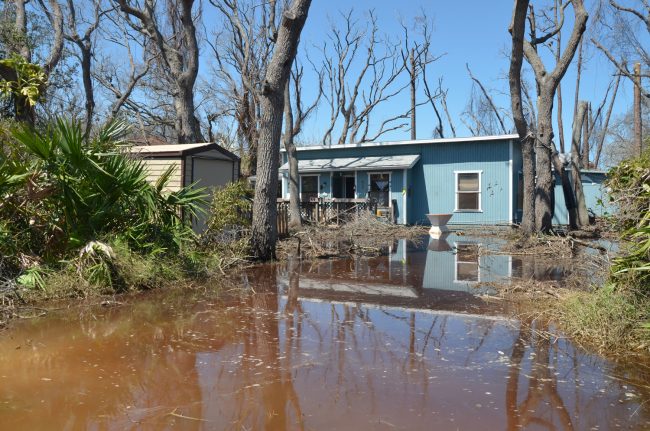 The woman coming out of 5 Surf Drive didn't want to be identified but didn't mind having her property photographed or filling in its recent history, though water filled in most of it: the house sat in the middle of a knee-deep lake. She'd bought the house in 1988, but she was flooded out during Matthew. "I still got bruises from Matthew, now this one," she said, showing her bruises. "I can't take it anymore. I'm done. I'm out of here." She wondered out loud how much she could sell the property for, but wistfully. She loves the neighborhood. "It's beautiful. It's a great neighborhood." She has plenty of family in properties around her.
But she was in a rollercoaster sort of mood about it all. She looked up at the trees, what must've been a thick, lush canopy that shaded house, street and sky, all bare now: the trees are dead. All of them and all other vegetation too but the palms, killed by Matthew's floodwaters. The trees now stand there, limbs of gray scratching at the sky, missiles weaponized for the next hurricane.
You couldn't hear the surf but you could hear again and again the sounds of water pumps competing with the sound of electric generators, one kind belching fumes the other vomiting what looked like raw effluent from the ditches or from yards and dumping either in the road or out to the ocean.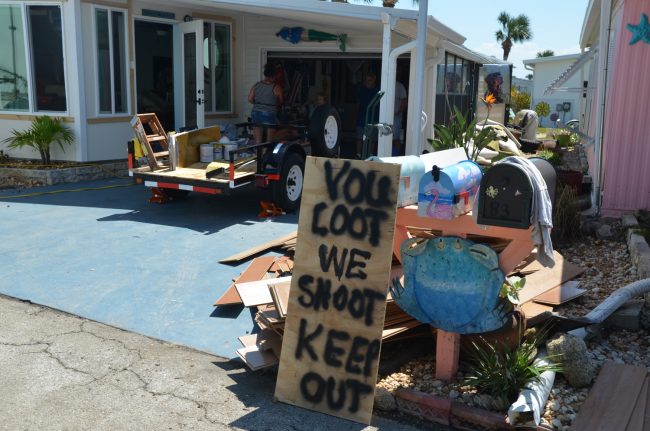 You could hear the same sounds and see the same straight-to-the-street sights in Surfside Estates, which was devastated by flooding as much as South Flagler Beach was, and more: the city's buildings withstood the winds the way the mobile homes of Surfside Estates did not. On Merrimac Way, in the heart of the community, there was an entire roof, twisted beyond recognition and broken in two parts, sitting in the middle of the street in a grotesque mound early this afternoon, blocking the way. Firefighters had come by to break it down, but the job proved too much for crews used to tearing open vehicle doors or roofs. So the mound sat there, and all around it, residents were busy cleaning, drying, planning, rebuilding. Every homeowner-at least those who were there—told the same story of the Intracoastal's waters rising up way more than they did during Matthew and in consequence doing way more damage to home after home than Matthew had. By one account, the entire community was flooded, whereas during Matthew the waters rose only about four or five rows of homes in
"The waters came up a foot and a half this year," Rich Morey of 88 Merrimac said.
"Last year," his wife Kate said, "we lost a lot of stuff in the porch and the garage but nothing else." She spoke as she stood outside by the pile of things she and her husband lost this year: their furniture, their appliances, their floors. Everything. And they had just redone the kitchen. "We're thinking of tearing it down and putting up a new one now." She was referring to the entire mobile home.
Rich had been researching it. "You know what we just found out?" he said. "Even if you order it today, you can't get a new home for six to eight months. The water is going to cost us five times more than the last one." Meaning Hurricane Matthew.
And yet the Moreys, like their neighbors, have no intention of leaving. They love their Surfside community. If they're rebuilding, that's where they're rebuilding. "It's such a wonderful neighborhood, this is the best street, you can quote me on that," Kate says.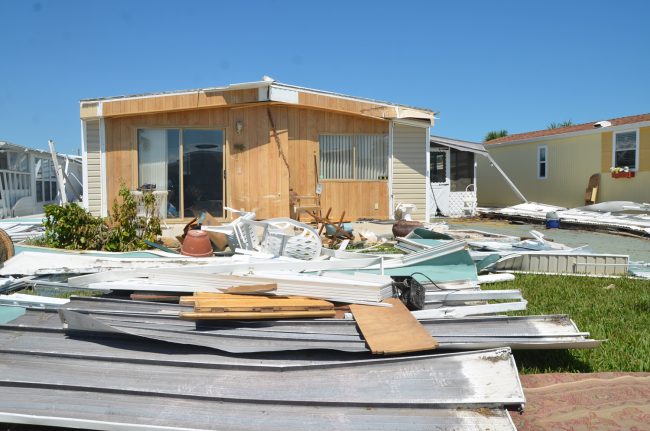 Lori Benson—a member of Flagler's Turtle Patrol–was contending with Irma's demolition act in her own home across the way. The hurricane lifted her roof but did not 1move it more than enough to let in the rain. "Rain ravaged our insides," she said, with all the duct work filling with water. "Last year I had all the tin on the road. This year was the water. It was up to the white fence this year, that's the problem." The white fence is at the A1A entrance to the community opposite the Intracoastal side. And all this happened just as Surfside Estates had built back up from Hurricane Matthew.
Benson walks to a house next door. "See all their furniture out? They haven't even owned it for three months." The flooring was caving in in various places. It would all have to be replaced. "This is what all of them look like."
In front of Debbie Whitlock's home it looked like half the interior had been placed on the street for removal. A hand-sprayed sign sat out front, too: "YOU LOOT WE SHOOT KEEP OUT." She'd spray-painted it this morning. "We were destroyed last year, we lost the whole front," she said, along with the roof, the duct work, the car port. She spoke as she was showing her home's reconstructed front—with hurricane windows that withstood the storm this time, protected as they were by $500-worth of plywood, but not the water, which rose up to the windowsills. The Intracoastal, Whitlock said, "paid us a visit."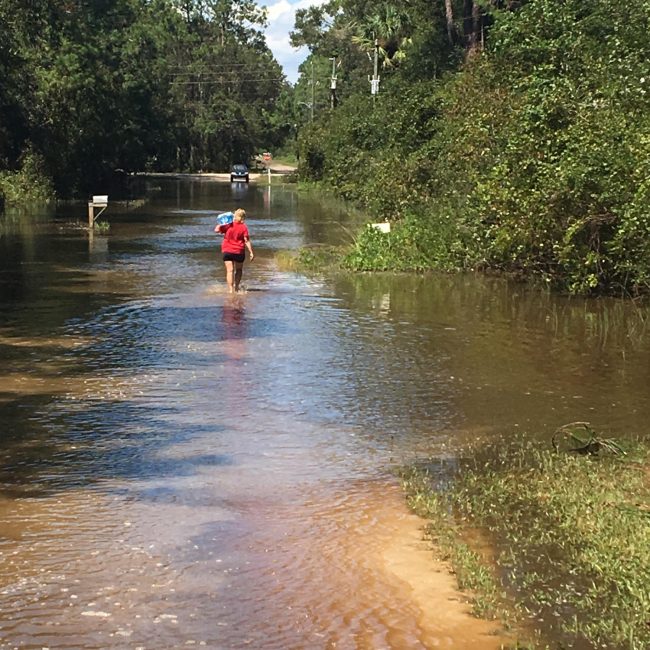 Some of her furniture survived, and the house was being aired by a giant, $350-fan, powered by a $2,400 generator, but she wasn't sure if her two-week old washer-and-dryer had survived. As for herself and her companion, there was no question: "We'll be OK, we're fixing it, we'll be back." Just like her neighbors, no one was giving any thought to leaving. This was home, it will still be home. "Hey," Whitlock said, "it could be worse. It could be a lot worse."
As she spoke, there was one other area of the county that was severely flooded, too, and that has been getting less attention that the barrier island: areas of Daytona North and areas around Dead Lake on the west side of the county. Flagler County Fire Rescue firefighters from Station 71 today, using two and a half ton trucks that can go where most other vehicles can't, drove in there—streets and avenues like Walnut, Sherwood, Honeytree and Lancewood—and distributed MREs, meals ready to eat, to residents still without power. They distributed water, too, since water pumps dependent on electricity can't be used for the moment.
Even today the water was still very high, the roads all but impassable.