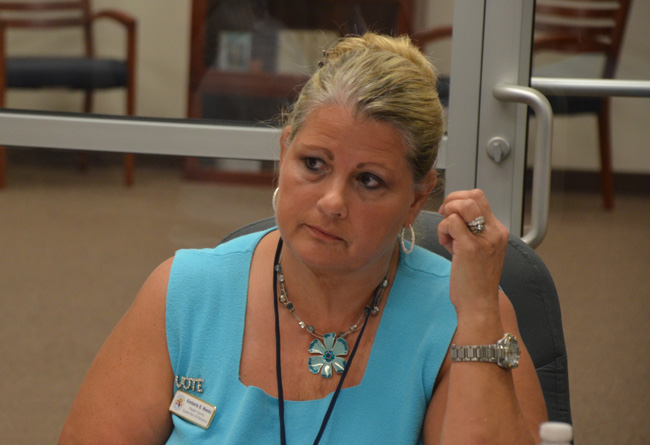 Last Updated: 6 p.m.
Six years into her tenure–and halfway through her second term–Flagler County Supervisor of Elections Kimberle Weeks has resigned. Weeks announced her resignation in a letter today "To All It Will Concern, especially the Flagler County voters," citing family and health concerns, but also numerous budgetary and political grievances.
Weeks's resignation is effective Tuesday. Kaiti Lenhart, the assistant supervisor of elections, will be in charge of the office. Weeks is recommending to Gov. Rick Scott, who will be responsible for naming the next supervisor, to appoint Lenhart to the position. Lenhart, 33, has a sharp, no nonsense and self-assured work style but is also more approachable, quicker than her ex-boss with smiles, and unafraid of that rarest of assets in the Weeks years: wit. She has been at the supervisor's office almost six years.
Weeks announced her decision to her staff and to poll workers in a three-page letter this morning that lacked none of the combative verve that characterized her years in office. "Yes, that is true, and she submitted that letter to us today," Lenhart said.
Weeks's resignation comes after her most contentious year in office, though her six-year tenure has been fraught with conflict from the start, whether over budgetary wrangles with the Flagler County Commission, disagreements over the consolidation of precincts, the issuance of bonuses to staff or, more recently, conflicts with Palm Coast and the county over election matters. At no point, however, had Weeks–who could combine stubbornness and self-righteousness with remarkable tenacity and conviction that what she was doing was for the benefit of voters–intimated that she was thinking of quitting the $98,000-a-year elected post. Weeks was the leading vote-getter among all local races when she was reelected in 2012.
The resignation letter includes a list of 11 grievances or "issues" Weeks says she has had to deal with, all those issues previously reported since Weeks became supervisor, from her budget struggles with the county commission to her most recent conflicts with County Attorney Al Hadeed and county commissioners serving on the canvassing board.
"I have zero tolerance for such manipulation and obstruction," Weeks wrote in her letter, which was copied to the governor and the state Division of Elections, "and have honorably served as your supervisor of elections protecting the rights of the voters, not having any complaints or disciplinary actions taken against me by the Governor, the ethics or elections commission regarding the duties despite many false, unproven accusations that have been made against me and misinformation being reported by and to the media." (The letter, made available to FlaglerLive at 4:40 p.m., is posted in full below the article.)
At least from what's been publicly known, Weeks could never be faulted for running anything short of clean elections: for all the bombast and conflicts on the fringes of many election cycles, the elections themselves went smoothly with never more than minor, if any, glitches. Weeks herself enjoyed a fierce following, especially among poll workers, though the following was paradoxically partisan, politicizing more than legitimizing an office designed more than any other to remain above the political fray. Weeks herself fueled rather than resolved conflict as she took to filling pages of her periodic newsletter with epic-lengths diatribes that would have impressed the late Hugo Chavez for their angrily populist tone and remarkable stamina.
The announcement took most who know Weeks by surprise. "I don't know what to make of it," Ralph Lightfoot, who'll be leading the Democratic Executive Committee starting next week, said. "I'm disappointed for one because she's fighting so hard to protect the voters and all of a sudden she's not there. She said she had some family issues. Her father is very sick."
Weeks has been under investigation by the Florida Department of Law Enforcement after she recorded a conversation between the county attorney and a county commissioner without their knowledge, though the conversation was taking place at her office and in a side room, during a meeting of the canvassing board.
Weeks singled out the investigation in her resignation letter, but only to stress that her decision to leave "in no way has anything to do with any investigation currently occurring," she wrote. An FDLE spokeswoman said today that the investigation is still active.
Weeks is leaving three weeks before a special election for State Senate and the Florida House. "Really it's for continuation," Lenhart said of her appointment, "out of the staff here she wanted to pick one who would continue and be able to do the job. It's going to be a challenge."
"That's the first I've heard of it," Frank Meeker, chairman of the Flagler County Commission, said, as he described himself as "floored" by the news. "The thing I'm concerned about is that we have an organized method of still carrying out a special election. The biggest impact right now is that. The rest of it, I don't know what to make of it."
Meeker continued: "I don't think I have a view on it one way or the other.I know that every elected position has its own difficulties, and what I've seen in government over the last 30 years things tend to go smoother in local government whether you're at the city or the county, even at the state, where everybody is working at the same goal and everybody is working together. And I've seen difficult situations where people are not working together. But assuming this is true, I still don't have anything that confirms anything to me right now, we certainly wish her the best and the speedy recovery of her father and hope that whatever is necessary to be done she's there and able to do. I'm dealing with the same thing with my mom right now." Meeker, whose mother is in Georgia, said he understood the dynamics of having to resign to take care of family.
"I certainly hope that whomever the governor appoints is less contentious and more willing to work collaboratively with local governments," Palm Coast Mayor Jon Netts said. "This is not an really where there ought to be contentiousness. The right to vote, the obligation to vote is so fundamental to our way of life that anything that impedes, anything that makes it more difficult, anything that makes it more controversial, is just not good for the soul. Relieved? Honestly, I'm looking forward to a better working relationship."
City Council member Bill McGuire had not worked directly with Weeks, but had attended many of last year's canvassing board meetings and had informally become–or tried to become–the city's liaison to Weeks, who nevertheless rebuffed attempts to "make nice," as McGuire put it. "It seems like in the last year and a half she just got very, very belligerent and just took on everybody in the county and the city," McGuire said. "She's not the same person now that she was some years back when I first met her."
McGuire also speculated out loud about something officials have so far spoken of only on background: that Weeks was resigning ahead of the governor moving to remove her. McGuire said that "if half the stuff they turned up" during the FDLE investigation were true, Weeks's tenure would likely not survive had she decided to stay in office. But Weeks for her part, after listing her nearly dozen grievances, and noting that "I have been required, as a result, to constantly be watching my back" (she does not specify against whom), said the stress was too much. "I must consider myself and my family during these difficult times," she wrote.