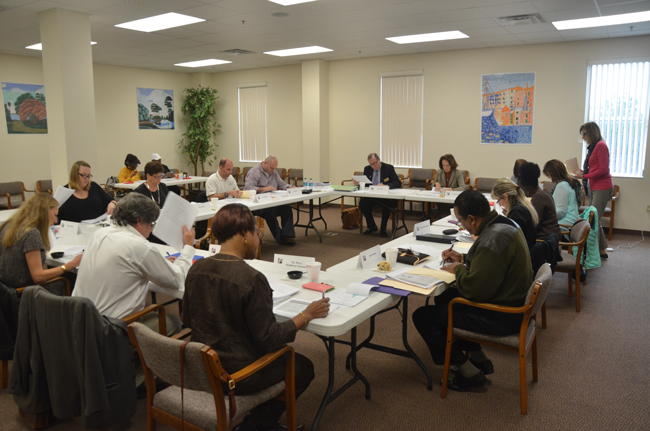 After a day-long process Tuesday that included working through lunch and not adjourning until 4 p.m., the search committee for Flagler County's next school superintendent agreed to recommend five names to the school board: Mary Murray, Jacob Oliva, James Parla, Christopher Quinn and Pamela Tapley.
The school board meets Thursday at 2 p.m. at the Government Services Building to take up the recommendations and decide whether to interview all five or fewer. The committee is offering its services should additional interviews be needed.
There was little surprise in the final five, though three of the five are from other states. Only one of the five is currently a superintendent without qualifiers. Oliva is another, but the word "interim" qualifies his title. Two candidates are assistant superintendents, and the fifth is not currently a public school administrator.
There were 20 applicants in all, five of whom were disqualified for not meeting minimum requirements the search committee had set in its job posting. Each member of the 15-member committee (a couple of whom were absent) scored each of 15 applicants according to a multi-page set of criteria that then became the basis for discussions.
Many search committee members "realized that the questions were in many cases very subjective, such as experience in dealing with union negotiations," County Commissioner Brabara Revels, who chaired the search committee, said afterward, summarizing the day's proceedings. "Unless that was spoken of by the applicant somewhere there would be no score and yet anyone in a position of leadership [or administration] in Florida would certainly have had that experience." Nevertheless committee members generally agreed, Revels said, that it was "a way to fairly evenly apply a rating system."
Flagler Superintendent Janet Valentine began the succession process last year, and had put in place its essential framework when she suffered a stroke just before Thanksgiving. She has been recovering since, but she will not be returning to work. She had picked Oliva as her assistant superintendent in 2012—with Oliva in mind to replace her wither her June retirement already set. A majority of the board supported the notion, and publicly expressed support for Oliva, but at the same time board members did not want to make the appointment without a broader search. Board members were also criticized for rushing to coronate Oliva.
The result was the appointment of the search committee and a relatively rushed process that compressed a job posting, the short-listing and the board's Jan. 23 meeting all in a matter of a few weeks, with the Christmas holiday devouring a good portion of that. Some of the search committee's members were openly critical of being placed in that position.
All committee members agreed, Revels said, "it was a great experience to work together as a team even though we had much disagreement. All learned a great deal about the process and felt this selection is one of the most important decisions our community (the Board) will make as this person will shape the lives of our children's learning experiences and hence the community's health and progress."
Throughout the process, however, Oliva has remained the clear front-runner, if only because regardless of the search, Oliva has been leading the district through difficult crises (Valentine's stroke, shortly followed by the death of Bruce Preece, the long-time transportation director), submitting innovative ideas to broaden the district's marketing and its development of a workforce more in sync with the local job market, and providing board members with a level of continuity and trust that made Valentine's exit, however personally difficult, far less disruptive than it otherwise might have been. Valentine's staff, however, ensured such seamlessness at least as much.
He still has four competitors.
Mary Murray is a course mentor and instructor at Western Grosvenor University's Teachers College in Oklahoma, but she was briefly an administrator in Manatee County schools for a few months in 2013, and a principal, assistant principal and dean in Collier County schools for 10 years before that, until 2013.
James Parla, of Lawrenceville, N.J., has been a school superintendent since 2004 in four school districts in New York and New Jersey, a second career he took on after working for Verizon's predecessor as director of statewide operations and public communications.
Christopher Quinn, of Stafford, Va., has held positions as assistant superintendent (or similar) since 1998 in New York and Virginia. And Pamela Tapley, the only other Floridian, has been an assistant superintendent of high schools for Osceola public schools—the district that served as the Flagler school board's inspiration two years ago when Flagler instituted a stricter dress code.
The candidate's full resumes are below.

Superintendent Candidates, Flagler County Schools: The Final Five
| Candidate | Current Location | Current Job |
| --- | --- | --- |
| Mary Murray | Moore, Okla. | Mentor/instructor at Western Governors University's Teachers College since Nov. 2013 |
| Jacob Oliva | Palm Coast | Acting superintendent, Flagler County Schools, was assistant superintendent. |
| James Parla | Lawrenceville, N.J. | Superintendent, Hamilton Township School District, since 2012; 13,000 students. Was superintendent in three other districts since 2004. |
| Christopher Quinn | Stafford, Va. | Assistant superintendent for instruction, since 2005. |
| Pamela Tapley | Orlando, Fla. | Assistant superintendent of high schools, Osceola Public Schools. |
Click on the candidate's name to access the full pdf of the application.