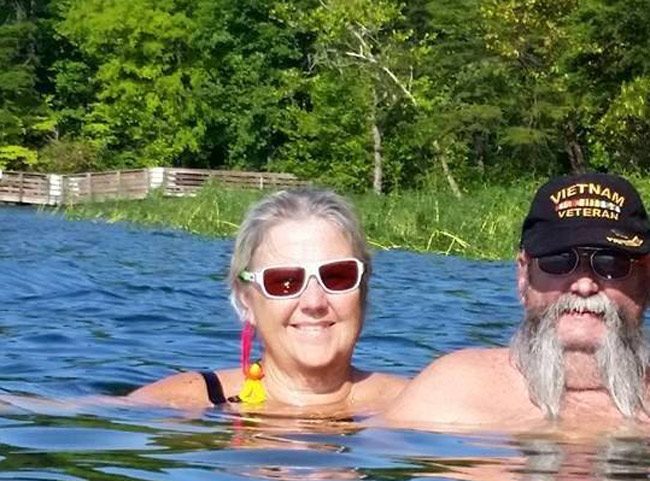 Saturday and Sunday authorities in Palm Coast and Flagler Beach reported two more suicides, bringing the year's total to 19. There's been three reported suicides in the last six days.
Sharon Elizabeth Keeler, 66, of 12 Tobias Lane in Flagler Beach, and Seth Michael Rice, 47, of Jupiter, were the weekend's victims.
Rice, a manager at a Taco Bell in Jupiter, had been staying at the Econo Lodge on Palm Coast's Kingswood Drive and had texted someone his intention to kill himself, according to a Flagler County Sheriff's report. When deputies entered Room 201 at 1:23 Saturday morning, they found Rice on the bathroom floor with a gunshot wound to the head (and a gunshot hole in the bathroom wall). He was unconscious but still breathing.
Flagler County Rescue 22 took Rice to Halifax hospital in Daytona Beach (Florida Hospital Flagler does not have a trauma unit), where he died from his injury.
A couple had been staying in Room 203. They told authorities that at about 1 a.m. they heard "a loud noise coming from the area of room 201," according to a report, "however, they did not think at the time it was a gunshot, so they did not report the noise."
The room was turned over to a crime scene investigation unit and to detectives to process the room for evidence. Deputy Alex Perez of the Palm Beach County Sheriff's Office reported that he'd responded to a call for service from a Robert Ackman, "who received a text message from Seth stating that he was sorry for stealing his gun," the report states. "Deputy Perez confirmed the gun was the same used in the suicide."
On Sunday, deputies were dispatched to Tobias Lane, in the Plantation Oaks subdivision off Old Kings Road, as Keeler's family had been unable to reach her. Keeler was visible to deputies from outside the house but she was not responding. A neighbor who'd helped Keeler watch her cats when she'd be away provided a key to the house.
Keeler was in the master bedroom. She had apparently asphyxiated herself with a bag and a bungee cord wrapped around the neck.
The same approach was followed that authorities follow at such scenes, wrapping crime-scene tape around the property, summoning detectives and the crime scene investigation unit, and processing the scene.
Authorities learned that Keeler's husband, Karl, had died earlier this month after a vehicle crash. Sharon had been in the vehicle as well. (Both had also been in a motorcycle crash 22 years ago in New Hampshire, where they were from.) A neighbor told deputies that Sharon had been very depressed over her husband's death—and had taken a turn for the worse when a tow truck took away her car and she was told she was being investigated for vehicular homicide. (It is part of investigators' protocol to impound a vehicle that's part of such an investigation.)
The neighbor had last spoken Sharon Keeler at 1:30 p.m. Saturday by phone. Deputies removed two handguns from the residence for safekeeping.

The following resources are available for individuals in crisis:
In Daytona Beach: Stewart-Marchman Act Corporation Crisis Center
1220 Willis Avenue
Daytona Beach, FL 32114
Administrative Phone: (904) 947 – 4270
Crisis Line: (800) 539 – 4228
Available 24 hours.
National Suicide Prevention Lifeline, 800/273-8255.
If you are concerned for someone else, read about warning signs here.
See the University of South Florida's Youth Suicide Prevention School-Based Guide here.