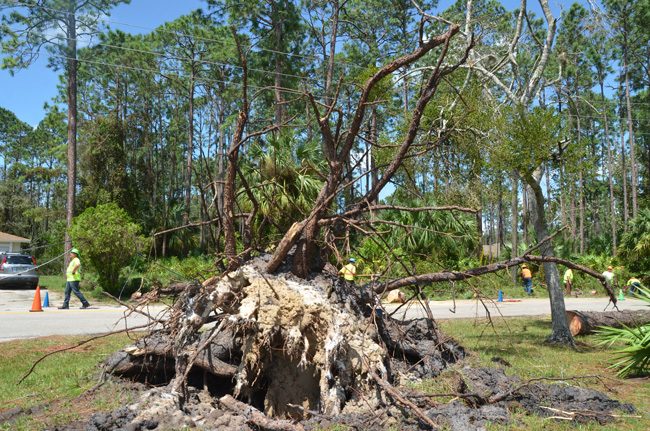 The sun came out and the wind eased in Flagler County today, as it did in most parts of Florida, dissipating some of the gloom of the past several days but also putting a brighter light on the damage left behind by Hurricane Irma—and raising the temperature in millions of homes without air conditioning or even the luxury of cold showers in towns like Palm Coast where authorities are urging residents to limit taxing the wastewater system.
Still, the consensus from emergency and other government officials is that Hurricane Irma's impact in Flagler, Palm Coast, Flagler Beach and environs has been more limited than Hurricane Matthew's last year—nastier in localized places because of flooding, as irritating to the majority of residents because of power and internet cuts, but not nearly as damaging to homes in terms of fallen trees—which have been relatively few—ripped off roofs or even demolished structures: there's simply been none, except for places like Surfside Estates, the mobile home park in Flagler Beach, where damage was heavy from wind and flooding.
The inconvenience is widespread. The damage to flooded properties is disheartening but limited (Flagler got over 12 inches of rain, compared to 3 to 5 during Matthew). The loss of structures is limited to two, and the loss of life to zero. Rescue officials say they cannot cite a single serious injury attributed to the storm.
The inconvenience can be summed up this way: no power, unreliable cell and internet service, and rather shitty sewer service in Palm Coast—through no fault of the city, and only because the system has been overburdened and much of it relies on electricity to flush properly. City crews have turned into a small army of responders, weaponized with generators and a dozen trucks, to flush systems one at a time, as time and manpower permits.
But if you don't have to use the sewer system—if you don't have to flush the toilet for every tinkle (you can choose a dissimulating tree and pee in the yard), wash clothes that can probably wait a couple of days (you wouldn't have washed them sooner if you had power anyway), or take six showers a day, don't. Bunnell's sewer system is over capacity too, City Manager Dan Davis said today.
So even as more than 60 percent of Flagler County Florida Power and Light customers were still without power late Tuesday afternoon, and Florida Power and Light's reconnections were painfully slow, the five-day emergency was winding down Tuesday.
"Everyone is complaining they dont have cable now that the power is back on, we are working on it," Noah Gonzalez Jr., a Brighthouse-Spectrum employee, posted on Palm Coast's F-Section Neighborhood page on Facebook this afternoon. "But stopping us as you drive by to ask us over and over again aint making us go any faster." (See full details on internet, cell and power services here.)
Attention was turning to recovery—applications for federal assistance as residents assessed repair bills, cautions about contractors, government's transition from emergency response to comfort and assistance, as with the planned opening of the Flagler County Assistance Center at the county library on Palm Coast Parkway Wednesday morning (from 9 a.m. to 6 p.m.). The center will also have a comfort station with eight plugs and 16 USB ports for people to power up their cell phones and use the internet, which is steadily operational at the library.
Individuals can now register for assistance from the Federal Emergency Management Administration, at disasterassistance.com or at the assistance center.
After serving 1,164 people, the county's five shelters were down to just 10 individuals at Rymfire Elementary's special-needs facility by mid-afternoon Tuesday, individuals who could not be sent home until their power was restored. "All other shelters have been demobilized," Steve Garten, the county's emergency manager, said. The total number of people served was a bit less than during Hurricane Matthew. The schools will be cleaned up Wednesday and will reopen for normal class schedules on Thursday.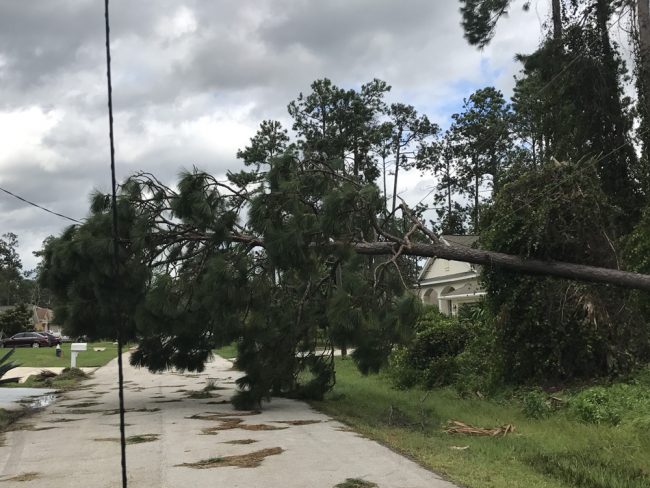 "There are several factors determining when we can resume classes," the school district's Jason Wheeler said in a statement issued this evening. "We continue to assess the damage caused by Hurricane Irma at our sites and are working with Flagler County to ensure our buses can safely travel throughout the county. Many of our schools sustained some water damage but our custodial and maintenance teams are working to ensure affected areas are clean. Five of our schools were utilized as shelters so those sites must be thoroughly sanitized before our students can return. We also have many of our families as well as Flagler Schools teachers and staff who evacuated the area ahead of the hurricane's arrival."
The county's Emergency Operations Center went off high alert and down to Level 2 activation, which means it would shut down operations at 7 p.m. today and operate from 8 a.m. to 6 p.m. Wednesday, almost a normal schedule.
A curfew is still in effect for the barrier island, from 10 p.m. to 6 a.m., and access to the island, even in non-curfew hours, will remain restricted to residents, business owners and contractors working on repairs, because power on the island is almost non-existent. "There's no power at all, especially at night it's extremely dark," Flagler Beach Police Chief Matthew Doughney.
Trouble has been minimal: very few arrests here and there, including four in the last 24 hours on minor charges, but nothing overly worrisome: Joseph Wayne Lynch and Joshua Matthew Hiatt were arrested by the Flagler Beach Police Department. Wayne was charged with Curfew Violation and his bond was set at $250.00. Hiatt was charged with Curfew Violation and loitering or prowling with a bond of $750.00. Michael Hugh Griffin and Vernon Paul Lahee were both arrested by the Flagler County Sheriff's Office. Griffin faces charges of Curfew Violation and giving a false name while detained; bond set at $1,000.00. Lahee was arrested for Curfew Violation with a bond of $500.00.
"The reason for the countywide curfew is for the protection of the community," Sheriff Rick Staly was quoted as saying in a release about the arrests. "There are downed power lines and a lot of flooding. When it is dark and the areas are unsafe, it is best to stay indoors." Those "up to no good" are taken to jail, he said.
Flagler Beach and Palm Coast's water treatment plants are functioning properly, so there are no boil-water advisories in the two cities. Garbage pick-up is back on normal schedules in both cities as well, which should please residents who have hunkered down for the past five or six days, eating at home and filling up garbage bags.
Two homes were lost—not directly due to wind or rain, but by fires triggered by the storm: a single-family home in Palm Coast's F Section, which was occupied by a family (they were taken in by neighbors) and one at 520 South Daytona Avenue in Flagler Beach, an unoccupied mobile home. Other than that, "we haven't lost any houses," Palm Coast Fire Chief Mike Beadle said. "The streets are fairly clean," with just an area of Seminole Woods still with water.
But flood damage is a different story. Flagler Beach Fire Chief Bobby Pace said both sides of Lambert Avenue and South Flagler Avenue from State Road 100 down to the Volusia County line were all severely flooded. "Flagler Avenue was like Flagler Lake," Pace said.
On Monday, firefighters in Flagler Beach pulled a dozen people from their homes, Pace said, with help from a massive truck lent by the Palm Coast Fire Department. The Sheriff's Office had a similar truck out with personnel helping residents with food and water.
And the Flagler Beach Library did not luck out. It had been closed since last October because of damage from Hurricane Matthew. It was three weeks from reopening. Hurricane Irma ripped off its roof.
So far in Palm Coast there's been no reports of flooded homes, but Beadle cautions that that may change once people return home.
Tree damage, both chiefs say, is not nearly as significant as it was during Hurricane Matthew, so debris pick-up will not entail outside contractors, as during Matthew: the cities' own usual contractors will do the job.
Tuesday afternoon Bob Pickering, county emergency management's weather specialist, produced his latest list of Hurricane Irma recorded effects, which showed a couple of tornado warnings as Sunday night wore on, maximum measured gusts of 83 mph at 3 a.m. Monday, damages to some homes, a blown off back porch, trees downing power lines and the like. But sustained winds apparently never exceeded 50 mph. Maximum rainfall was recorded in central Palm Coast, at 14 inches, and under 6 inches in west Palm Coast.