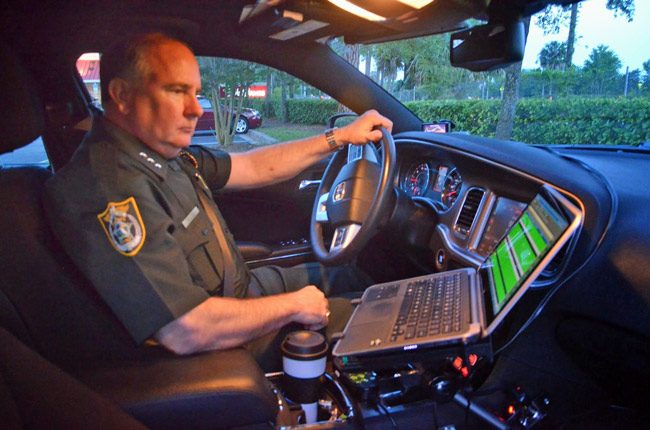 In addition to his regular Friday night patrols alongside his deputies, Sheriff Rick Staly will be back on the street tonight (Feb. 27) serving as an overnight shift watch commander, hitting the streets with patrol deputies, responding to calls for service, providing backup to his troops mixed in with an occasional traffic stop. The patrols give the sheriff opportunities to meet the public and see firsthand the challenges the deputies face daily.
When he took office in January, Staly said he'd conduct night patrols to help build support for his deputies, while working to protect Flagler County residents' safety. In addition, he requires each member of his command staff to work a scheduled shift as watch commander, working from 5 p.m. to 3 a.m., to form closer bonds with deputies and to know firsthand what is occurring in the county.
"This is very important to me as I have always led from the front and by example," Staly said in a release issued this afternoon. "Since I require all of our command staff to work the streets, so should I. This requirement allows the staff to remember what it's like to work the streets as we make decisions that affect our deputies and the community. While I am always on-duty and responsible for all operations as your Sheriff and generally go on Friday night patrols each week, this will be the first time that I serve as the countywide Watch Commander."
Staly was elected sheriff last November. He'd served as Undersheriff for the first two years of Jim Manfre's administration, preceding Staly's, during which he would conduct regular Friday night patrols.