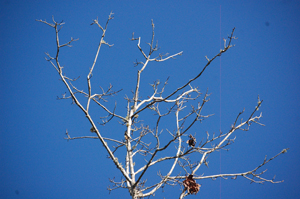 After consideration of current fire conditions, both across the state and locally, St. Johns County Commissioners have adopted a resolution which authorizes the county administrator to extend a burn ban for St. Johns County effective Jan. 18 for 90 days. Consistent rainfall is not expected in the area during this time period. In addition, drought conditions are expected to continue in conjunction with high winds and low relative humidities, meaning drought levels will not improve, and conditions will remain unfavorable for most types of outdoor burning. Commissioners or the county administrator may lift the ban based on an
improvement of drought conditions county-wide. At the conclusion of the 90, county officials will evaluate the weather and fire conditions in St. Johns County and decide whether or not to extend or lift the ban on outdoor burning.
A similar burn ban is in effect in Flagler County, though it hasn't been extended that long.
The burn ban pertains to residential outdoor burning such as leaves, yard debris, fireworks (of any kind), campfires, flares or other outdoor burning devices. Types of burning still allowed are limited to campfires located within a metal ring, and only if they are located within a state park or licensed campground. In addition, cooking fires within a barbeque grill, hibachi or other similar device specifically intended for cooking are still permitted.
While no major wildfires are occurring in St. Johns County at this time, officials encourage all residents to prepare a home safety plan for all members of their household, which includes two evacuation routes, a ready supply of food, water and medical needs, and a way to leave. Also remember to create a defensible space surrounding your home free of debris. Clean gutters and roofs of leaves or branches that could easily ignite during a fire.