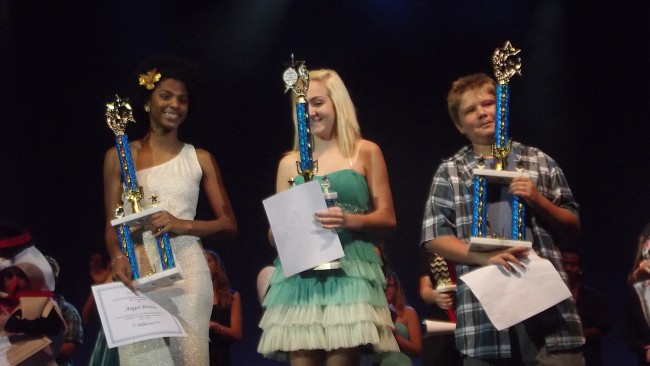 Flagler County Youth Center Director Cheryl Massaro summed up for us this year's Spotlight on Flagler Youth competition–the annual talent show competition–held at the Flagler Auditorium Thursday (June 5), and benefiting the Carver Center in Bunnell. The event raised close to $1,000 for the Carver Center, the only youth center in Bunnell, which Massaro also administers.
The 2014 Spotlight started out with just over 50 acts auditioning in early May for a spot in this year's show. When all was said and done, 27 act made the cut, and each one prepared for the chance to being named a Flagler County Youth Entertainer of the year.
Massaro, who directed the show, struggled with the selection of homeschooled stand-up comedian Skyler Wahl. His audition was funny, but very short. Still, he made the cut. That proved to be the correct choice: Skyler had the entire audience laughing, and won Entertainer of the Year in the Elementary Division.
The second runner-up was Jade Guarino of Belle Terre Elementary School, whose performance of Adel's "Rolling In the Deep" rocked the Auditorium. The final Elementary Division Award, the Second Runner-Up, went to Mckenzie Flis and Emma Coates of Old Kings Elementary. They choreographed a unique duet dance, and performed it extremely well.
The Middle School Division, grades 6-8, was highly competitive. The number one act was performed by Kayla Byrne, who played the piano, and interpreted John Legend's "All of Me." The five judges had a difficult time with their decisions for Buddy Taylor Middle School Talent Show winner Samantha Shumaker sang "I Dream a Dream, from Andrew Lloyd Weber's "Les Miserable," and did a super job, walking home with second place. Finally, the third place trophy went to Lexi Vergerano of Buddy Taylor Middle School. He did a great job singing Christine Aguilera's "Beautiful."
The most difficult category to judge this year was the Senior Division, grades 9-12. The 2014 Senior Entertainer of the Year award went to Angel Brown, from Matanzas High School. Angel looked beautiful as she sang a Whitney Huston song and likely would have done the original, and late, artist, proud.
Event MC Melissa Boyles, a recent Flagler Palm Coast High School graduate and Stetson University Freshman, read an original Spoken Word Poem titled "I Trust You," and greatly impacted the audience with her words and presentation. She earned the senior division's 1st runner-up. The final award of the evening, Senior Division 2nd Runner-Up, went to David Green, for his self-choreographed modern Hip-Hop Dance routine. Hard to believe that Green has never has any type of formal dance training.
The 2014 crowd was the largest yet, though it was still being tallied for a precise number.