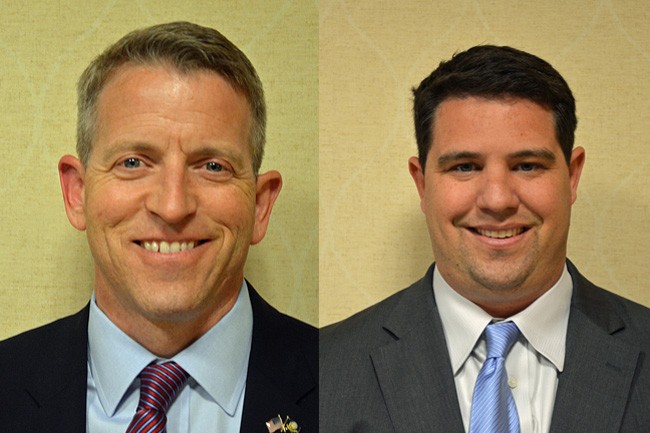 Last Updated: 7:31 p.m.
Republicans Travis Hutson and Paul Renner have won the special election for Florida Senate District 6 and House District 24, respectively. Hutson defeated Democrat David Cox. Renner defeated Adam Morley.
With early voting, mailed in ballots and all but five precincts reporting in Flagler County, Hutson and Renner were leading their opponents by nearly identical margins of 66 to 33 percent. Their margins in other counties was similarly insurmountable.
In the four counties covered by Hutson's Senate district, Hutson was winning with 69 percent of the vote to Cox's 31 percent. Renner was winning with 67 percent to Morley's 33 percent. Republicans voted in much larger proportions.
The special election was triggered by former Sen. John Thrasher's appointment as president of Florida State University. A third election, for House District 17, a seat vacated by Ronald "Doc" Renuart, who resigned it to challenge Hutson in the GOP primary for the Senate seat, was won by Republican Cyndi Stevenson with 78 percent of the vote. She defeated Judy Stevens, an independent.
Hutson and Renner will be sworn in at the mid-point of the ongoing legislative session.
The combined voter turnout in the four counties holding the special elections–Flagler, St. Johns, Volusia and Putnam–was 9.9 percent.
Today's earlier story is below.

Flagler Votes for House and Senate Seats Today As Republicans Are Outpolling Democrats 2-1
It may be hard to tell. But there is an election in Palm Coast and Flagler County today as voters decide who will represent them in the Florida House and Senate.
Polls opened at 7 a.m. and will close at 7 p.m. Two races are being decided locally: Republican Travis Hutson, who today officially resigns his seat in the House, which he's held for a little over two years, is hoping to move up to the Senate. His only obstacle is Democrat David Cox of Daytona Beach, who last November lost against then-freshman Rep. Ron DeSantis in a congressional race.
In the race for the House seat Hutson vacated, attorney Paul Renner, a Republican formerly of Jacksonville and now of Palm Coast, is running against Democrat Adam Morley, who until recently ran a recycling business in St. Johns County.
The two contests' conclusions are all but foregone: Renner and Hutson raised a combined $700,000 and spent most of that. Their opponents raised all of about $5,000 between them. Their presence on the ballot is more of a formality than a serious challenge, not least because Democrats themselves have little stomach for this election: they, too, know that the outcome has already been decided. The numbers point to Democrats' indifference. As of today, Democrats accounted for just 27 percent of the ballots cast. Republicans accounted for 56 percent. Independents and members of minor parties accounted for 17 percent.
If nothing else, that 56 percent GOP figure all but guarantees a GOP victory today.
Of Flagler's 73,336 registered voters, 33 percent are Democrats, 36 percent are Republicans, and the rest are either independent or members of minor parties.
All registered voters–Democrats, Republicans, Independents, minor party–may cast a ballot in the election for both seats regardless of where they live. But turnout is expected to be minimal.
In Flagler County, just 1,272 people had cast ballots in the eight days of early voting (352 ballots cast at the supervisor's office, 920 cast at the public library in Palm Coast, for an average of 159 ballots per day), though an impressive 5,048 people cast ballots by mail, for a total of 6,320 ballots cast before today. For a special election drawing little interest or excitement, that's not a terrible showing.
And for the first time in the Supervisor of Elections' office's history, the supervisor, Kaiti Lenhart, who's always been the office's webmaster in every sense of the term, is making turnout statistics available in real time: so far today, for example–as of close to noon–741 people had cast ballots. Not only are the numbers provided raw, but so are breakdowns by precinct, by party, and by date.
You can see the running tally in real time here. Precinct maps and locations are here. Polls close at 7 p.m.