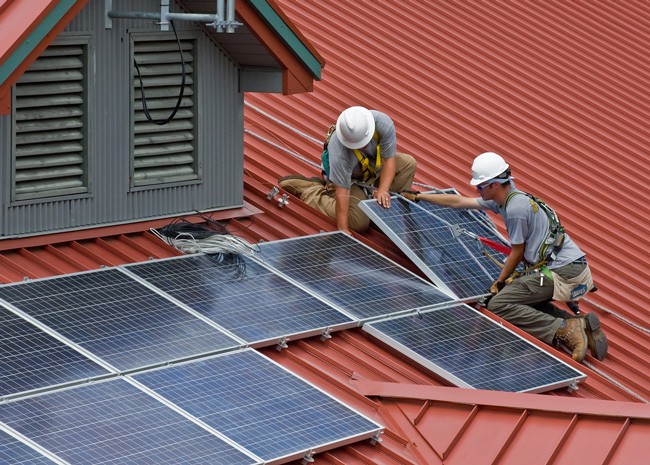 The Florida Supreme Court on Thursday approved a proposed ballot initiative that seeks to expand the use of solar energy, moving the state one step closer to a fierce political battle next year.
Making clear they were not offering an opinion on the merits of the proposal, justices ruled 6-1 that the initiative, backed by a group called Floridians for Solar Choice, met legal standards to go before voters. The group now will have to submit 683,149 valid petition signatures by Feb. 1 to qualify for the November 2016 ballot — about 500,000 more than it had submitted as of Thursday morning.
"We are thrilled with the high court's ruling so that voters may have the opportunity to vote on removing a barrier that currently blocks Florida's families and businesses from greater energy choices through the power of the free market," Tory Perfetti, chairman of Floridians for Solar Choice, said in a prepared statement immediately after the Supreme Court decision. "People power is what will get us on the ballot, and we continue to gather thousands of signatures each week from Floridians eager for solar choice."
The proposed constitutional amendment, in part, would allow businesses to generate and sell up to two megawatts of solar power to customers on the same or neighboring properties. In doing so, it would largely shield the solar producers from state and local regulations.
The initiative has drawn opposition from a coalition including major electric utilities and has spawned a competing solar ballot proposal. That proposal, spearheaded by the group Consumers for Smart Solar, is awaiting a review by the Supreme Court.
Dick Batchelor, co-chairman of Consumers for Smart Solar, said it was "unfortunate" that justices approved the Floridians for Solar Choice proposal.
"We caution Florida voters about this disingenuous solar ballot measure that favors big out-of-state solar companies instead of Florida consumers," Batchelor said in a prepared statement. "We simply cannot allow this seriously flawed amendment to pass. This special interest amendment puts Florida consumers, and especially our seniors, at great risk of fraud and abuse."
The Supreme Court reviews proposed constitutional amendments to make sure they will not be confusing or deceptive to voters. That involves making sure proposed amendments deal with single subjects and that the ballot titles and summaries — the parts seen by most voters — are clearly worded.
The majority opinion, supported by Chief Justice Jorge Labarga and justices Barbara Pariente, R. Fred Lewis, Peggy Quince, Charles Canady and James E.C. Perry, said the Floridians for Solar Choice proposal met the requirements.
"Without considering the merits of the measure, we find that the title and summary clearly and unambiguously inform the voter that the amendment will prevent government and electric utilities from imposing regulatory barriers to supplying local solar electricity up to two megawatts to customers at the same or contiguous property," the opinion said.
But Justice Ricky Polston dissented, arguing that the ballot summary is "confusing" and doesn't accurately describe the scope of the proposal.
In part, Polston wrote that the ballot summary "leads the voter to believe that this initiative is about someone who owns a small house or small business with a solar panel on the roof and wants to sell electricity on a small-scale. However, according to the Florida Electric Cooperatives Association, a single local solar generating facility capable of generating two megawatts of electricity would span over 12 acres and could serve approximately 714 customers. The ballot summary does not provide notice to the voter that this proposed amendment provides for this scale of completely unregulated electricity generation."
With the court's majority approving the ballot proposal, however, the groups on both sides were clearly readying Thursday for a political fight.
Stephen Smith, executive director of the Southern Alliance for Clean Energy, a key supporter of Floridians for Solar Choice, quickly took aim at "big monopoly utilities" that oppose the initiative.
"We fully expect more misleading attacks from the big electric utilities and their proxy front groups in their desperate attempt to limit customer choice," Smith said in a prepared statement.
–Jim Saunders, News Service of Florida