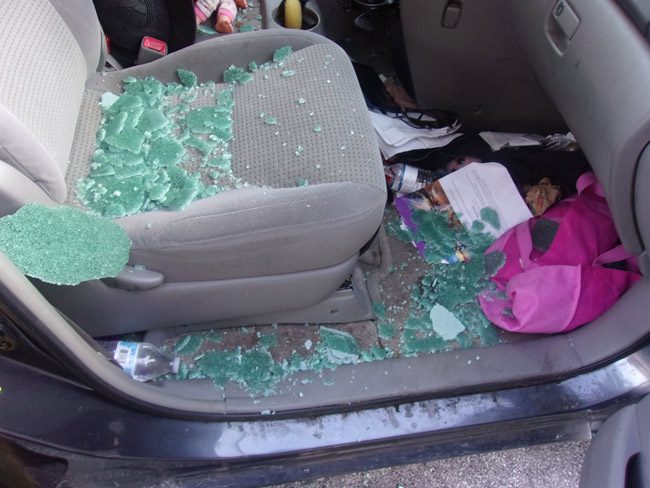 Three locked vehicles had windows smashed and items stolen Tuesday evening while the vehicles were parked at Frieda Zamba Pool, Palm Coast's municipal pool at 339 Parkview Drive.
All three burglaries took place between 5:30 and 6:30 p.m., when it was still clear daylight, targeting a Lexus, a Toyota Sienna and a Chrysler 200. A purse was stolen from each of the vehicles.
Over $1,000 in merchandise was stolen as well as a seven-night vacation package, gift cards, and miscellaneous items, according to the Flagler County Sheriff's Office.
"Unfortunately we do not have a witness at this time and there is no surveillance footage available," Sheriff Rick Staly said. "Be cautious of your surroundings, lock your doors, and don't keep valuables in your vehicle, especially in plain view."
Palm Coast and surrounding areas have been the subject of periodic rashes of smash-and-grab burglaries over the years. Officials suspect in some cases the burglars travel the Interstate, attack a specific neighborhood, then flee. Similar incidents have been reported recently in the Jacksonville area. In other cases, the burglars are local–and are at times arrested. The overwhelming majority of car burglaries affect vehicles left unlocked, however. But all three cars parked at the pool had been locked.
Criminals look for opportunity: The Sheriff's Office is reminding the community to never leave a purse or wallet unattended, never leave valuables inside a vehicle, always lock the doors and never leave car keys inside a vehicle. Gyms, fitness centers and shopping plazas are often the targets of these smash and grab type burglaries. In Palm Coast, trail-heads have also been targeted.
If anyone has a tip on these smash and grab burglaries, please contact FCSO at 386-313-4911 and mention Case Number 18-51967 or email [email protected] Download the Flagler County Sheriff's Office app in the App Store or Google Play and submit tips instantly. To remain anonymous, contact Crime Stoppers at 1-888-277-TIPS. You may be eligible for a reward up to $5,000.00.