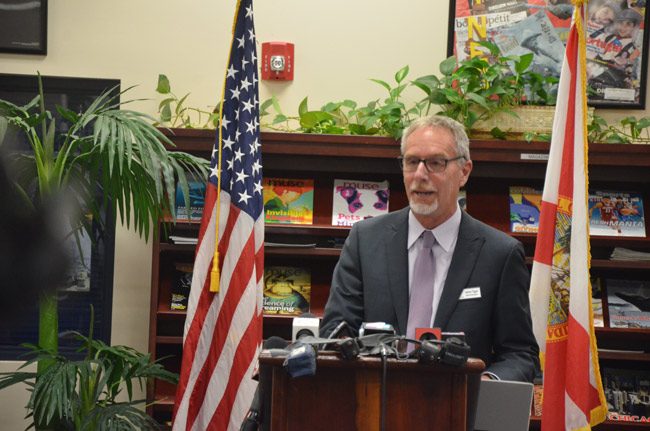 The Flagler County school district and the Sheriff's Office are committed to doubling school resource officers to 13, increasing the number of school psychologists to at least one per school, increasing the number of social workers in schools, further "hardening" school security where necessary, requiring active-shooter training for all faculty and students, and focusing on "restorative" means to address problem students without expelling them or jeopardizing the security of the rest of the student body.
The initiatives are compelled by renewed emphasis on school security following the February 14 massacre of 14 students and the adults at Margery Stoneman Douglas High School in Parkland. They are a reflection of the apparent consensus the school board reached during a closed-door meeting on security Tuesday.
Just as notably, the initiatives are a reflection of an emerging and unexpected alliance between Superintendent Jim Tager and Flagler County Sheriff Rick Staly—one a holistic, student-centered administrator who bristles at the notion of schools as armed camps, the other a tough-talking law and order sheriff who openly threatens to kill assailants and heralds his deputies' arsenal of A.R.15's, the assault rifle most favored by school shooters. But both leaders are also pragmatists, and together Thursday they presented a united, tempered front that seeks to combine an uncompromising if reasonable approach to schools safety without abandoning the human element of paying attention to students with mental health issues beyond merely disciplining or punishing them.
Tager and Staly spoke in the context of an 11 a.m. news conference on school security at Buddy Taylor Middle School today, and in the presence of School Board Chairman Trevor Tucker and two other school board members, along with every police chief and many of Staly's commanders—and Flagler Palm Coast High's Tyler Perry and Alyssa Santore, and Matanzas High's Kelsey Sweeney, who have been planning student events honoring the 17 students and adults killed in Parkland. Tager, characteristically, singled out the students for their efforts.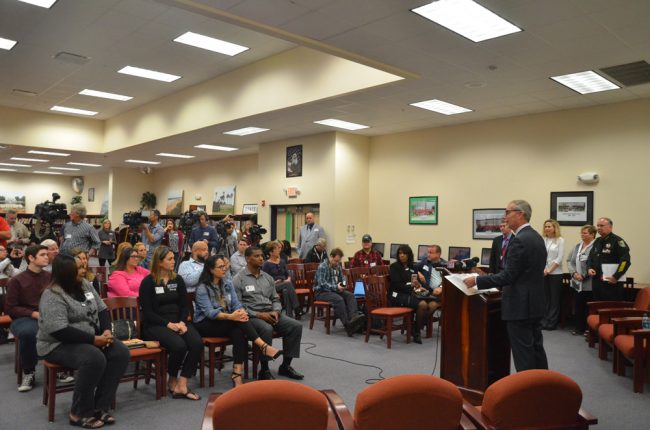 Most of what Staly and Tager said has been reported here in the past week, though the surreal nature of the news conference was a story in itself: a sheriff and a superintendent in a middle school library, speaking of security measures, of weaponry, of killing and of drills previously associated with more militarized or violent urban settings, with more law enforcement officers than reporters in the room, and not a single middle school student present. The discordance reflected how the frequency and devastation of school shootings have transformed school settings, making a news conference like today's, in a school library—after all participants had to go through an ID check and clearance as rigorous as at any airport terminal–seem not only normal, but unremarkable: Staly and Tager did not remark on the strangeness of the news conference. They were merely summarizing what will be routine policy from now on.
Tager spoke favorably of Gov. Rick Scott's and the Legislature's push for more security and mental health dollars. But Tager also recalled how in 2013, Flagler County voters in a referendum rejected raising their property taxes modestly (roughly 2 percent on a typical tax bill). The proposal would have added a deputy in every school and re-extended the school day by 45 minutes, after it was cut during the Great Recession.
"Voters rejected the referendum," Tager said, "so Flagler schools made as many updates as fiscally available to protect our students. After Sandy Hook we routinely practiced emergency drills ranging from fire and tornado to active-shooter scenarios throughout the school year. We retrofitted the majority of our campuses as is the one that you walked on today to single-entry systems, to include automatic locking door. I can tell you that they checked my license when I walked through the door today. I'm not sure I got it back yet, but they took it."
Of greatest interest to the public are the matters of additional school resource deputies and the possibility of armed faculty or other personnel in schools. Tager and Staly addressed both.
There are currently six school resource deputies. "We will increase that to 13," Tager said. "We want one at each of our elementary and middle schools and two at our high schools. We need a supervisor and a floater. A floater would fill in if any of our sheriffs are having training." Both middle schools sit adjacent to elementary schools. In essence, a second resource deputy can be at either the elementary or the middle school in minutes. "We feel like we have to make that happen for our students," Tager said.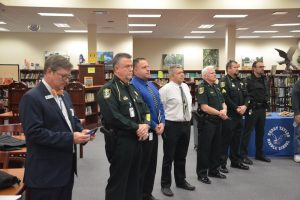 Each school deputy costs roughly $100,000. The 13 would add significant costs to the district and the sheriff's budget. Tager said it will require combining additional funds from the Legislature along with requests from the school board and the county commission, which funds the sheriff's budget. Staly also wants the burden to be shared equally between his and the school's budget (and with Palm Coast continuing to assume the cost of one deputy.) Tager said that's the norm, and may be the way to go in the future.
Regarding other security measures, single-point entry systems will be hardened, door locks and fencing improved, and a vulnerability study will be conducted with the Department of Homeland Security, which will do unannounced visits to test the schools' vulnerabilities. "We will mandate active-shooter training in conjunction with Sheriff Staly for all of our employees and students," Tager said. "High school students will receive the same active shooter training as our employees. They are young adults, we want them to receive the same training. Middle and elementary students will receive age-appropriate active-shooter training."
More broadly speaking, Tager and Tucker, the chairman of the school board, have been talking about various options to address the security of students during sports activities after school, when they are in the open. Canvassing fences, creating more tree lines and other basic solutions have been discussed. But Tager in an interview after the news conference cautioned against going down the route of safe rooms and metal detectors. "I don't want it to look like a prison. Nobody does," he said.
He also detailed the district's plan for mental health services.
Currently there are eight school psychologists for nine schools. One will be added. "Could we use more at our bigger schools? Yes, probably," Tager said, seeing some logic to addressing the ratio of psychologists to students in the same way that the one-deputy-per-thousand-students is being addressed now.
The district got a $700,000 grant providing for an additional social worker. But Tager said more attention to the mental health component of some problem students is key: that's the case with the sixth grader involved in Wednesday's incident at Bunnell Elementary, a known problem child who'd been expelled for the day and had returned in the afternoon, riding his bike and possibly brandishing a weapon. He's been arrested, and is facing an aggravated assault charge.
"We're looking to hook the students up with services," Tager said, including students such as that sixth grader. The district and the Sheriff's Office are also sharing information about students with such psychological issues. It's not clear how the district is getting around the federal privacy law that bars such sharing of information absent law enforcement issues.
Tager described more specifically what he termed "restorative practices" toward problem students, changing the way they are dealt with.
---
"It is time that parents be parents again and not just friends to their children."
---
"Districts all over the country are working with students. So, for example, Jason does something that gets him suspended," Tager said, referring to Jason Wheeler, the district's spokesman, who was at the table during the interview. "The old school attitude is, OK Jason, see you in three days. The new school attitude is—let's say, Jason threw an F-bomb at the teacher. We're going to put him in an environment where he and the teacher will speak about what happened, we'll look for services for Jason, we'll look at a re-entry plan, and I think those are the things for really tough students that sometimes we let them off the hook."
But there's also an effort to get parents more closely involved in helping address such issues.
There will be a "see something, say something" curriculum in schools, Tager said, turning his focus again to students. "I want to say that our student voices matter, and looking at what happened at Douglas High School, one thing that happened different than what I've seen before is the way students are reacting. We have some very intelligent young people, and I'm going to promise to listen to them." He spoke of last Friday's student march, initiated by Perry, and this week's solemn moment organized by Matanzas students to recognize the 17 victims at Parkland. "We do need additional financial support from Tallahassee, but not at the cost of our normal funding, which has been steadily dropping for Flagler schools," he concluded.
Staly focused on the need for more law enforcement: last year he convinced Palm Coast government to add five deputies to the city's policing ranks, and convinced the county commission to add 10 deputies in addition to that. He's poised to expand his ranks further through the school resource deputy program.
"Unfortunately today society has changed and we can no longer overlook this need as these tragedies can happen in any community," Staly said. "The superintendent and I are committed to working together to make our schools safe so that students can learn without being in fear of their safety. In addition we want parents to not have to worry about their children's safety while in school."
He said he will work with charter and private schools to have deputies on their campuses as well, all of which would help law enforcement and students "build bridges." But, he said, for all his responsibility as chief law enforcement officer of the county, "parents should be the chief law enforcement officer of their home and with their children. It is time that parents be parents again and not just friends to their children. Know your children's friends, where they're going, who they're hanging out with, know what they're doing, what they're texting. What they're saying on their phones or computers, social media. Get involved in your child's life before it's too late."
Without waiting for legislative or local government developments, deputies have been directed to increase patrols around schools when not on calls or on assignment. Volunteer C.O.P.'s have been directed to increase their presence at schools during their patrols. "All of our deputies are armed and trained on A.R. 15's, even the sheriff, even I carry an A.R. 15," he said of the assault rifle most often used by assailants in school shootings. "Deputies assigned to schools will have quicker access to their A.R. 15's in case they need to respond. Our deputies have been trained in responding to an active-shooter killer situation." There was one such training session at FPC Wednesday evening, for the SWAT team.
Staly stressed that his deputies would immediately respond and engage the threat, a statement that seemed to address the issue in Parkland, where a deputy did not confront the attacker as the rampage was ongoing. "Let me make this clear. This means we will kill any active shooter or attacker anywhere in this county," Staly said. But minutes later he clarified that he was not suggesting that deputies should be executioners: "If you're an active shooter and you're holding a gun and you don't put it down, we're going to kill you," he said. "If you don't have the gun and you've already left and we apprehend you then, then no, I'm not the executioner. We're going to arrest you and put your ass in jail."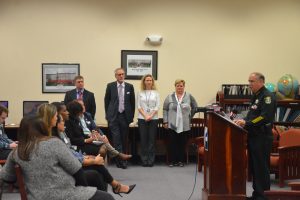 The sheriff noted there'd be zero tolerance on threats, including threats made in jest, which has been an issue of late: the sheriff's office alone has investigated 21 threat incidents in schools since the Parkland shooting, not including Wednesday's threat at Bunnell Elementary.
Finally, he addressed the arming of faculty or others in one of his more eloquent and measured statements on the realities of policing, guns and school safety since he was elected over a year ago.
The statement is transcribed in full: "First," Staly said, "let me say that citizens who want to lawfully arm themselves for personal protection have a right to do so, and I fully support their constitutional right. Arming people to protect others is a different matter. Here are some points or questions to consider. A person must receive continuing training to stay proficient, just like my deputies do. They should have psychological testing. Is a teacher or administrator willing to take a life when all they really want to do is educate our children, and they may know the attacker personally? The theory of just shooting to wound a person is for TV and is not realistic. You must be willing to shoot to stop the threat., Those are all decisions that have to be taken into account. Responding deputies must be able to immediately identify the good person from the attacker, or we could have a double tragedy. But most importantly a person must make the decision they're willing to put themselves between [the] innocent and an attacker. I personally made that decision about 40 years ago when I was shot three times saving the life of another person. I know that I'd do it again without hesitation. I would run towards the threat as I would expect my deputies to do. But the question is: would you? That's not your job. Taking a life for running toward an incident is a very difficult choice to make and should never be taken lightly. My deputies have made that choice, and they are best trained and equipped to protect our community, especially our students. With that said, in our county, we have many retired law enforcement officers and veterans living in our community, residents that already have significant training., I would support making them special deputies for perimeter security to supplement and work under the direction of a full-time deputy sheriff that is assigned to the school. But that would only be done if the law allows it, the school district approves it and supports it, and only after conducting an extensive background, psychological and additional firearms and legal training."
Staly did not mention the monetary component: for even such a peripheral school marshal program to work, the money would have to be available, for training and continuous operation. The Legislature is making limited, one-time dollars available for training, and only a one-time, $500 stipend for each actual marshal. The rest would have to be paid for locally. That's not about to happen in a district where the priority is on expanding school resource deputies, an already burdensome task for county and school budgets. Staly moments later stressed that that was the better approach, while marshals would have a "very limited focus."
The news conference and following interviews had kept the students' library off limits to them for over an hour. That finally ended around noon, and aside from the television trucks and stand-up reports still being videotaped outside, Buddy Taylor Middle School was soon back to its normal, and more routinely locked-up, state. John Fanelli, the school's principal, was asked just before the news conference if he was sleeping soundly these days. Unhesitatingly, he said yes: an assurance that reflected confidence in his school's safety, though his first thought was on many other good things happening all year at school.