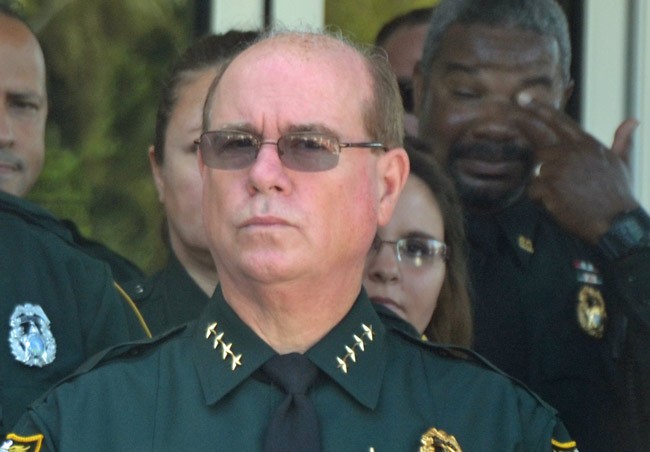 The crippling computer failure that froze many of the Flagler County Sheriff's field, dispatch, jail ad detective operations starting on Oct. 29, and may have wiped out masses of data stretching over 20 months, was only the latest in a series of computer failures and problems since the county and the sheriff's office agreed to merge the system under the county's direction in January 2014.
Since then, and even though, according to Sheriff Jim Manfre, the county had assured the sheriff's office that "all systems were being properly backed up," there'd been one other critical failure, in February 2015, when "County IT staff failed to properly back-up another critical server that allowed my detectives and crime scene personnel the ability to store reports and forensic evidence," requiring a $13,000 emergency forensic retrieval that proved successful. Funding for a back-up system earmarked for this year was pushed back to 2016, and "no substantial effort has been completed on this effort, one we know is vital to the retention and safety of law enforcement data," Manfre wrote.
The sheriff's email server crashed a few days before the major data server crash. A new server intended to provide greater capacity for the sheriff's computer operations "sits idle." The sheriff had planned to consolidate his IT operations with those of the City of Palm Coast, but according to Manfre, County Administrator Craig Coffey "requested that I reconsider and consolidate with the county. I expressed my concerns that the county IT was not able to handle its own needs at that point." The county administrator reassured him that the county would hire qualified staff.
"We are now on our third director since that conversation," Manfre said at the conclusion of a four-page letter to Coffey, written Thursday and outlining in greater detail than anything made public to this point the severity of the October crash and broader problems that have apparently been undermining the system since 2014, not least of them an apparent breakdown in communications between the two agencies. "I have been disappointed with the lack of timely communications and status reports concerning the system to my staff," Manfre told the administrator.
---
A litany of IT issues since the sheriff's system mjerged with the county's in January 2014.
---
The letter isn't without political dimensions. While not explicitly intended as such, the letter is an indictment of the county's IT system, even though Manfre himself chose to join it, though his letter is clearly intended to distance himself from the county administration, pin the problem on the county and cleanse his administration as much as possible of the issue: Manfre is facing a tough re-election campaign, and he'll need to convincingly show that he was not responsible for the crash to avoid opening a himself to a new line of criticism form opponents.
Coffey has already taken some responsibility for the crash, but how he'll respond to the letter is unclear: a spokesperson said he'd only glanced at the letter by Friday, when he'd been in meetings most of the day (he was meeting with Palm Coast City Manager Jim Landon, council member Bill McGuire, County Commissioner Nate McLaughlin and the county and city fire chiefs to discuss Palm Coast's desire to run its own ambulance system).
The county was invited to address the computer issue on WNZF Friday morning, but declined, saying through spokesperson Julie Murphy that there was nothing new to report since the county last issued a news release—on Nov. 9. The sheriff's office also declined to be on Free For All. "We have deferred all comments concerning the system, its operational capabilities, why it failed, all the rest of those issues, to the county," Jim Troiano, the sheriff's chief spokesman, said this morning, noting: "Some of the stuff has been fixed, some hasn't, we're still waiting for a resolution."
A request for an interview with Jarrod Shupe, the county's IT director, was placed with Murphy this morning. The request was not granted. Murphy instead emailed, "Jarrod Shupe says the system is mostly switched over. He [says] Microsoft continues to work on data recovery. There is no definitive date for this to be completed."
Coffey, in meetings at the time of this writing, had told the Observer on Nov. 11 that the county had "walked into a mess" when it took over the sheriff's IT operations, but that it was working toward a resolution after spending $130,000 on the sheriff's system last year and is preparing to spend an additional $600,000. "We'll take responsibility for our management of it, and we're working toward fixing it," the administrator is quoted as saying.
He elaborated on those comments in an interview this evening. "I called him twice last week and didn't get a returned call. I got the letter," Coffey said, refuting Manfre's claim of lack of communication. "I called him at work, I called his cell. My job is not to fight with the sheriff. My job is–and I understand, I think there's enough blame to go around." He said he did not want to get into all the details, but described the sheriff's IT infrastructure as "a disaster." But he said that disaster is the accumulated result of the effects of the Great Recession, when government agencies, including the sheriff, retrenched and shifted spending from infrastructure such as IT to immediate needs. That price is now being paid.
"I'll take responsibility for our time that we had with the system. Obviously we took the helm, the handle in January 2014. We were working a lot with Rick Staly"–the former undersheriff, now a candidate for sheriff–"so maybe the sheriff was not always privy to the conversations and issues we worked on and how it transpired. Nonetheless, we didn't have half a million or $600,000 budgeted right after the start of that budget year. We were trying to assess where do we go first. It was like a ship that's leaking from every hole, where do you plug the holes? And I think it was a little daunting to go in there and realize the stuff was in such bad shape. And I think during the downturn money was spend in other places, maybe even with both sheriffs." He added: "We're going to own some of these mistakes, we're obviously addressing it now, we're being proactive, I think we've been proactive from the start, unfortunately it just happened quicker, we had failure quicker than we'd like."
Coffey says the "thing that bothers me the most" is the absence of a backup system. He said some employees who left, and some who are still there, are responsible.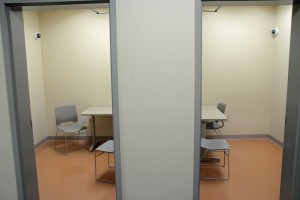 In his letter to Coffey, Manfre questioned "why these events actually took place," revealing the extent of the data that may be lost for good: evidence and booking photos, warrants, report narratives, scanned documents, jail disciplinary reports, inmate request forms, and employee internal affairs investigations, among others. Much of that data is necessary for the integrity of law enforcement procedures that ensure or document arrests and subsequent events, much of which prosecutors and defense attorneys rely on for their cases, as does the sheriff's own internal operatives. When the failure took place, jail staff could not use the system to track "and properly release those whose sentences had ended," the sheriff wrote, and jail medical records and inmate billing were also inaccessible.
Officer safety was at stake because of the failure in several instances. The sheriff devoted two pages to outlining the numerous consequences of the computer failure, calling it "not an exhaustive list," and cited among those issues the inability of deputies in the field to access records that would have shown them whether a person at a traffic stop had warrants or was considered dangerous—a routine check that helps define how a deputy approaches people pulled over.
The problem also affected detectives, "and for this matter, all records management users" who had "a greatly limited or no access to critical law enforcement records while conducting their investigations. This limited their ability and efficiency." At the same time, detectives could not use the new operations center's new interview rooms because the recording systems in there were not working properly. The problem is not tied to the server crash, but it ties into the larger IT problems between the county and the sheriff. Detectives have had to take their suspects to Flagler Beach or the State Attorney's office for interrogations.
"Although we now have access to many records, we still cannot access the records that were not backed up by county IT staff," the sheriff wrote, leaving no doubt where he thinks the problem originates.
"All through this process," he wrote near the conclusion of the letter, "we have resorted to pre-established back-up procedures and improvised successfully to accomplish our responsibilities. I have reassured the community via the media that calls for service, specifically ones made to 911, for all of our public safety partners would not be affected. However I have been frank that efficiency is not what it was like prior to the failure. As the sheriff of this county, one responsible for investigating crimes, being an advocate for our victims, and completing all of my duties as sheriff, I respectfully request to know why this failure occurred and what reassurances we have from county IT that this will not happen again to any of our computer systems or infrastructure. Furthermore, I would like to know why there was a considerable delay in transitioning to the [New World System] upgrade after you purchased a server and accessories to accommodate the transition in 2014. For the record, this server is idle."