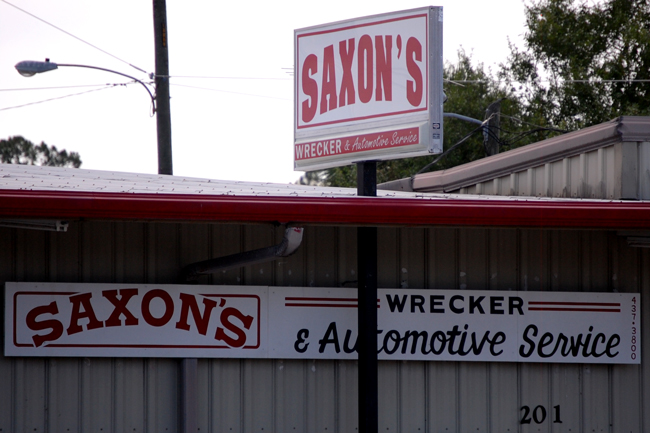 Responding to a withering State Attorney's investigation of the Bunnell Police Department and chronic favoritism toward Saxon's Wrecker in Bunnell, Flagler County Sheriff Don Fleming Monday evening told FlaglerLive that  Saxon's was no longer part of the wrecker rotation law enforcement agencies use in the county when vehicles have to be towed.
"I have suspended Saxon's from the rotation," Fleming said. Saxon's is owned by James "Jimmy" Flint, a Bunnell City Commissioner who was also a focus of the investigation.  "He's not on my rotation. That's per legal counsel,"  Fleming said. Asked for how long Saxon's would be suspended, Fleming said: "That's indefinite. That could be forever."
Bunnell Police Chief Arthur Jones called the sheriff's decision a "crucial move" that speaks for all the local law enforcement agencies. "If one of them has been suspended from the rotation, that means they're not to be used by any of the agencies. We're committed to that rotation."
Three companies were on the rotation: Saxon's, Roger's Towing, and John's Towing. Each knows precisely when it is on call by the Sheriff's Office, the Flagler Beach Police Department and the Bunnell Police Department, as calls for towers from all three must be routed through the sheriff's Emergency Operations Center, which then dispatches wreckers where and when necessary. Calls are logged and assigned to a wrecker according to a strictly regulated schedule to ensure that wrecking business is spread equitably, without favoritism. That's not how it was in Bunnell, where calls were being routed outside the rotation to Saxon's directly, skipping the sheriff's dispatcher. The only time that may happen by law is when a vehicle driver makes a so-called personal request for a wrecker of his or her own choice. Some Bunnell police officers were not giving drivers that choice–nor were they respecting the rotation, calling in Saxon's instead.
It's a lucrative business: the Bunnell Police Department was charging a $350 administrative fee for each towed vehicle (that fee has been scrapped for now). Towers charge towing fees and storage fees, which run into the hundreds of dollars, sometimes preventing vehicle owners from affording to pay to get their vehicle back. The investigation reveals that on some occasions, the fees Saxon's was charging were so steep that owners abandoned their vehicles, enabling Saxon's to sell them at auction.
A complaint by John's Towing, followed by an altercation between Flynt and a business owner in Bunnell, led to the State Attorney's four-month investigation. The investigation's report was released last week and is available in full here. It details a pattern of favoritism by Bunnell police officers–particularly two officers who have since been fired and face felony charges–toward Flynt, who stood to benefit monetarily and significantly from having more wrecking calls. The report also reveals that Flynt was using the city's public works dump sites for his private uses, dumping tires there without paying.
Fleming, who called the report "scathing," said he was not interested in telling the Bunnell Police Department how to run, though he had conversations with Jones and Bunnell City Manager Armando Martinez as a result of the investigation's report.
"I never second-guess the sheriff. He's our big brother," Jones said. "I know that his decision is as sound, as good a decision as can be made."