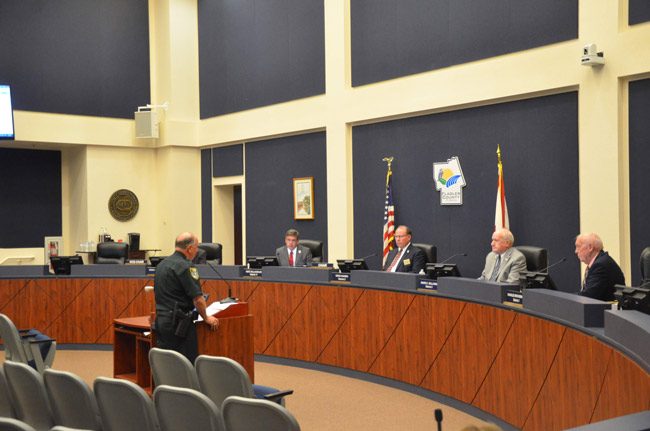 Whether the Sheriff's Operations Center is found to be healthy enough to reoccupy or not, it appears that Sheriff Rick Staly, for his part, has made up his mind, and unequivocally so: "If it is truly and solely up to me then I will be advocating that we never reoccupy the Operations Center and the County find alternative and appropriate space for Sheriff's Operations."
And County Commission Chairman Greg Hansen told Staly Monday evening–albeit without his fellow-commissioners' authorization nor consent–that it was, in fact, to be the sheriff's decision.
It isn't. Not exclusively so, anyway.
But Hansen, perhaps in a clumsy attempt to lend Staly support, and without considering his words' implications, set in motion yet another dynamic to the Operations Center controversy by essentially backing Staly into a corner and unwittingly putting the decision on him alone, which would have almost certainly led Staly's employees to then direct their ire at Staly exclusively, if he bucked their desires.
Staly made his startling statement in an email to his staff written shortly after a County Commission meeting in which the matter of the Operations Center took up nearly half the session, even though it was not on the agenda.
He did so even though several key developments are ahead: the county has possibly agreed to comply with Staly's request that a section of the building be drilled to find out whether moldy wood is being covered up. The Centers for Disease Control is sending a team to speak with Sheriff's employees the week after Labor Day. And results of a review of the recent testing at the Operations Center, a review commissioned by Staly, is to be presented at a workshop on Aug. 30. Staly gave strong hints Monday that the county's findings that the building was safe to re-occupy will be contradicted.
None of that will be relevant if Staly has made up his mind not to reoccupy the building, as some of his employees have as well.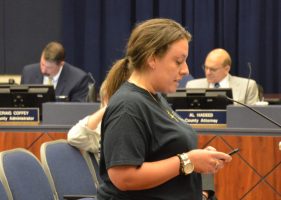 Staly had planned to appear before the County Commission Monday during the public-comment period, using the three minutes allotted to any person wanting to address the board. His intention was only to request that a workshop be scheduled so results of the review he commissioned from Robert Sweeney could be presented and discussed. "Dr. Sweeney has more than 40 years' experience in his field and has consulted on many symptomatic buildings," Staly previously wrote his staff. Retired in Palm Coast, the specialist approached Staly and has been reviewing all building-related reports and histories going back to before the building's purchase in 2013. The commission agreed to an Aug. 30 workshop.
Staly's appearance was followed by that of several sheriff's employees, including Laura Kruger, a union representative, who addressed the recent, further breakdown in trust between the agency's ranks and the county administration, namely over last week's county cleaning of the building, without knowledge of the ranks or, to a large extent, that of the sheriff's administration. Staly was furious Sunday when he wrote Coffey, saying the cleaning took place without his knowledge or his top staff's authorization, circumventing a protocol that was in writing (and that had, in fact, been first put on paper on the county's side by Michael Roper, the attorney the county hired to handle the building issue).
The sheriff said secure areas may have been breached by cleaners without clearance and put the agency's accreditation in jeopardy. Emails obtained by FlaglerLive today indicate that no such breach took place. "As you are aware we have had CJIS certified personnel inside FCSO Ops cleaning unsecured areas," County Facilities Director Heidi Petito wrote Chief Mark Strobridge, point man on the sheriff's side for all building-related issues. She was referring to the the Criminal Justice Information Systems, which may not be exposed to anyone without CJIS certification. "We have not entered into unrestricted areas with or without escorts."
"All of the personnel being used to clean the facility are CJIS certified and are responsible for cleaning the Justice Center (including the areas that FCSO are currently occupying) as well as the 911 Dispatch Center," Petito wrote Coffey in a separate email Monday, in a timeline of the building's cleaning. The same day, Jarrod Shupe, joint IT director for the sheriff and the county, told Coffey the county's cleaners were "still in compliance with our CJIS requirements."
---
Commissioner Hansen speaks out of turn, and colleagues reassert the commission's role.
---
But by Monday evening at the commission, what was perceived as a lack of complete transparency by the Sheriff, his staff and some commissioners had resulted in another breakdown in trust and adding to doubt from sheriff's employees–and even commissioners, among them Nate McLaughlin, Don O'Brien and Charlie Ericksen–that the issue could be resolved to everyone's satisfaction. Kruger called it "a circus," and Elizabeth Conrad, a detective who's been among the hardest-hit by health issues, called commissioners "brothers and sisters in Christ," but also told them that "the trust level is non-existent."
It was then that County Attorney Al Hadeed spoke at length about recent developments with the Centers for Disease Control and a planned visit by their officials, though when it came to the controversy over the building issue, Hadeed said he wasn't the one to address it. "I'm not an operations guy." Coffey said sheriff's officials had been informed.
Staly then stood up again to dispute some of the statements, among them Hadeed's that "there's no conflicting opinion" regarding findings about conditions within the building. "You'll have one this week," Staly said. "I have been briefed on the findings of my consultant, and there is an opposing view and opinion coming based on all of the studies that have been done on this building from pre-purchase through the remodel to today."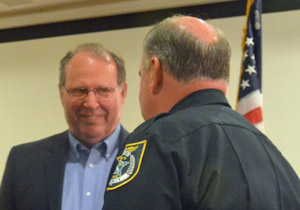 Hansen, who chairs the board, told Staly: "I think it's important to note, and I'm going to speak for the whole board here, I don't normally do that, our concern is for the people. And that's it. It's the only concern we have. We will never tell somebody to go into that building if they don't want to go into that building, and you know it's going to be your call, not our call, your call, whether you go into that building or not."
It was the first time any of the commissioners had spoken that directly to say that it would be Staly's call.
But Hansen was not speaking for the commission. His four fellow-commissioners, while silent as he spoke, made that clear in interviews today–and in turn gave Staly a way out of his corner. It wasn't the first time that Hansen, an appointee to the position for less than two years, has confused his 20 percent weight on the commission or his chairmanship for broader authority he does not have, as fellow-commissioners reminded him.
"No commissioner ever speaks for me," O'Brien said. "That's up to Hansen to want to clarify it or make another statement about it. I can't do that for him. But the context in which I took it was not malicious or politically motivated, I think it was more of an emotional reaction to what was going on right then and there."
"I was a little startled by the statement," Commissioner Charlie Ericksen said, disagreeing with the statement that it'll all be Staly's decision. "I would hope we both get on the same plane and both sides agree with it. There comes a day called tomorrow and the day after tomorrow and stuff that we have to work together."
"He wasn't speaking for me, the board, we all speak for ourselves," McLaughlin said. "I think when we all sit there and say nothing, if somebody disagrees they would speak up, I think for me, the nuance was, basically we're not going to force you into the building." McLaughlin said he would not want Staly feeling isolated and solely responsible for making the decision on re-occupation of the building, the way Hansen's statement made it sound. He said Hansen may have been taken up by the moment's emotions, and repeatedly said that it would be "a joint decision, this will not be a unilateral decision, as far as I'm concerned." He added: "The board will decide whether the building is ready, but it's not going to be a unilateral decision."
Commissioner Dave Sullivan, in the interview, cautioned Hansen: "I think even our chairman Hansen should be careful about making comments that this is the board's position," Sullivan said. "I think what he's saying is, we can't tell the sheriff what to do with his employees, all we can do is say the building is safe or not safe for reuse."
Sullivan said it would be difficult for the commission to overrule the sheriff if he stuck by that decision not to reenter the building. "We can't force him back into the building," Sullivan said. "It would take legal action and I don't contemplate that happening. and I don't see that happening. I just don't think we should be premature at this point. I think it's premature to take hard decisions."
In an interview Tuesday afternoon, Staly said he stood by his email to his employees "because my employees are extremely scared and concerned to go back into that building, and to date there's been no report that has lessened that fear."
Asked if he saw a path back into the building, one negotiated jointly with the county and employees, he said he didn't see one at the moment. But his answer was nuanced. "At this point in time, I am opposed to moving back in there," Staly said. "There's a number of things that have to happen. I do not have money in my budget to rent office space. If that's the alternative, then the County Commission has to fund it. As sheriff, I cannot go out and build a building. So those are all county commission decisions. At the end of the day, if I'm told they're not doing anything more to this building, they're not going to give me money to rent space," and find 35,000 square feet of proper office space in Bunnell, which is non-existent at the moment.
"So at the end of the day, I can advocate all I want that we don't go back in that building, but the purse string for the alternative is controlled by the county commission. But I will never accept going into that building under the current situation, where my consultant has verbally told me that there are issues with this building and the testing that has been done to date."
Staly even cast doubt on another pledge Hansen made, without the full commission's approval: that the physical examination of certain areas of the structure behind drywall be conducted. "There was not a vote that I'm aware of that directed the county administrator to do it," Staly said. "I believe the commissioners in their word that that's going to be done, but they need to direct the county administrator to do it because for three months I've been asking the administrator to do that."