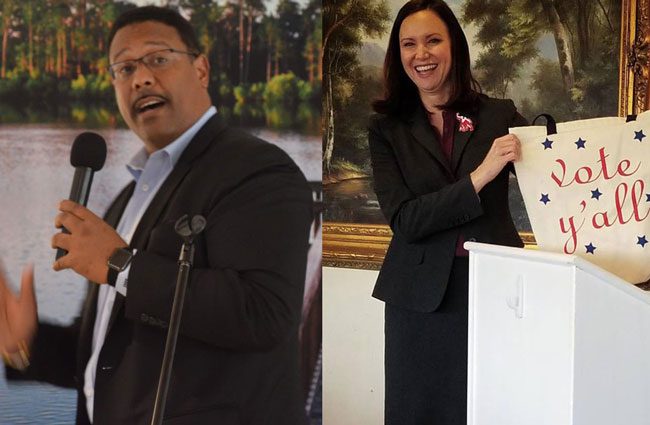 The Democratic and Republican candidates to replace Florida Attorney General Pam Bondi offer widely divergent views on how they would run the office.
But voters may not be getting the information, as attention focuses on top-of-the-ticket races for governor and U.S. senator.
State Rep. Sean Shaw, the Democratic candidate for attorney general, vows to aggressively take on fraud in Florida, as well as policies of the Republican-led Legislature and even President Donald Trump, if elected to the Cabinet position.
Former Hillsborough County Circuit Judge Ashley Moody, the Republican candidate, wants to build on the work of her friend, the term-limited Bondi, which means expanding the state's battle against the opioid epidemic and continuing a fight against the federal Affordable Care Act.
Shaw, 40, a former state insurance consumer advocate, backs the Affordable Care Act, which is being challenged legally by Bondi and Republican leaders of other states. He also supports abortion rights and said he would push lawmakers to carry out constitutional amendments on land preservation and medical marijuana as voters intended.
"People want someone that is aggressive and holding everyone accountable," Shaw, of Tampa, said. "Who do you want to be your lawyer? Someone that wants to go up there and be aggressive and fight on your behalf or someone that wants to act like they're the general counsel to the Republican Party?"
Asked about Shaw's vows to aggressively use the office, including possibly investigating financial dealings of Trump in Florida, Moody said she will "fully vet" any allegations before making legal decisions.
"I'm not going to go out and call press conferences to draw attention to myself," she said.
Moody. 43, has stressed her prosecutorial experience in the race. She also has called for keeping crime labs updated with the latest technological advances and opposes Amendment 4 — which calls for automatic restoration of voting rights for most felons — while saying the clemency process needs to be streamlined and that nonviolent felons should get automatic restoration.
But while Moody and Shaw have been better-funded and received more national support than most other Cabinet candidates, the attorney-general contest remains an undercard to Florida's gubernatorial and senatorial races.
And it hasn't helped that Moody and Shaw have essentially avoided appearing together on the campaign trail.
Kathryn DePalo, who teaches in Florida International University's Department of Politics and International Relations, said differing views between Shaw and Moody on the Second Amendment may be the most-important issue for voters.
After the Feb. 14 massacre at Marjory Stoneman Douglas High School in Broward County, lawmakers approved a wide-ranging bill that included gun restrictions, such as increasing the minimum age from 18 to 21 to buy rifles and other long guns.
Shaw fully supports the law and said he wants to work with the Legislature on further "common sense gun-reform."
Moody agrees with parts of the new law but has said she wouldn't have backed it because of the provision related to the age of gun buyers. The National Rifle Association has filed a federal lawsuit challenging that provision, with Bondi's office defending the law.
DePalo and other political experts say that the attorney-general race, as an undercard to the more nationally watched contests, will see strict partisan voting and come down to how independents eventually swing.
Susan MacManus, a distinguished professor of government and international affairs at the University of South Florida, said the attorney-general race, along with the Cabinet contests for agriculture commissioner and chief financial officer, are getting crowded out.
"The low-profile nature of these races and the voters' unfamiliarity with the candidates reflects the power of TV in building name recognition," MacManus said. "None of these Cabinet candidates have had the funds to run many TV ads … or social media ads."
Aubrey Jewett, a political-science professor at the University of Central Florida, said voters generally are not getting enough information about the Cabinet races.
"In this election, political party may be a particularly strong voting cue for Cabinet offices, as many people may turn out to cast their ballot to signal support or opposition to Donald Trump and his policies without much regard to the specific person running for a particular office," Jewett said.
DePalo expects party identification to be a larger factor than race and gender.
"I do not think a majority of women will vote for Moody, simply because she is a woman," DePalo said. "Democratic women will vote for Shaw, and a large number of African-American voters will do the same. If (Democratic gubernatorial candidate Andrew) Gillum can pull out young people and African-American voters who stayed home in 2016, Shaw has a chance here."
Shaw's father, the late Florida Supreme Court Justice Leander Shaw Jr., was the first black chief justice of the court.
"I grew up around the law, around a reverence for the law, what the law can do to protect people, what the law can do to even the playing field," Shaw said.
Elected to the House in 2016, Shaw used the backdrop of the Florida Supreme Court this year to announce his run for the statewide office.
He has drawn national attention by proclaiming his intention to investigate Trump's financial dealings.
"They may lead you to tax returns, financial records. I don't know where they lead," Shaw said. "No one is above the law in Florida. No one. We are going to make it such that if I find bad stuff going on, we're going to go where it takes us, no matter how big."
Shaw received a degree in politics from Princeton University and his law degree from the University of Florida's Levin College of Law.
Moody is a former federal prosecutor who stepped down as a judge in April 2017 after just over a decade in the position.
She has touted her experience as a prosecutor and judge and tried to portray Shaw as someone who hasn't prosecuted any cases. She used a similar strategy while dispatching state Rep. Frank White of Pensacola in the Republican primary for attorney general.
Moody has received backing from dozens of county sheriffs across the state.
"What I have seen is the importance of having someone at the helm of the attorney general's office that has prosecuted cases and knows how to move the ball on complex criminal-justice issues," Moody said. "The Democrat Party has nominated a politician who has never prosecuted a case. If you want to see what a difference that can make, look at the last eight years, and the difference Attorney General Pam Bondi has made."
Moody is from a family with a lengthy history in the legal profession. She earned bachelor's and master's degrees in accounting and a law degree from the University of Florida and later a master's of law in international law at the Stetson University College of Law.
She practiced commercial litigation at Holland & Knight before joining the U.S. Attorney's Office as a federal prosecutor. Her husband, Justin, is a federal law-enforcement agent.
The contest includes a third candidate, Wellington-based attorney Jeff Siskind, who is running without party affiliation. Siskind paid the $5,210.92 filing fee in June to run but has essentially been inactive since the Palm Beach Post did a story on his financial history, which included feuds with ex-clients and lenders.
Siskind had put $14,460 of his own money into the contest, while raising only $1,020 as of Oct. 5.
–Jim Turner, News Service of Florida