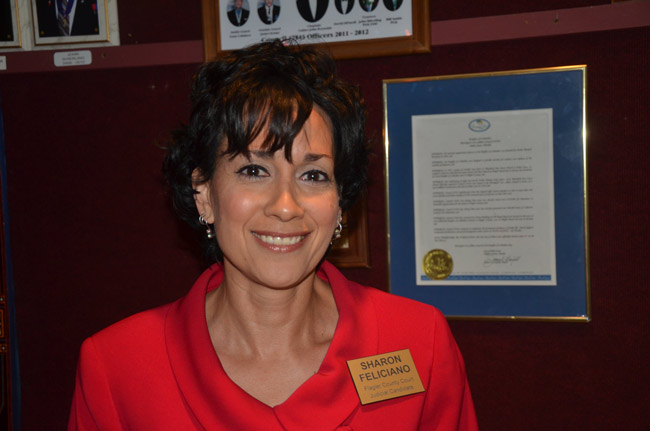 Sharon Feliciano is a candidate for Flagler County Judge in the Aug. 14 primary election.
The county judge election is a non-partisan race: all registered voters in Flagler County are eligible to cast a ballot in this case–whether Democratic, Republican, Independent or from a minor party. You may cast a vote regardless of the district, the town or the subdivision you live in. If one of the seven candidates wins more than 50 percent of the vote, that candidate will be the winner, and will replace County Judge Sharon Atack, who is resigning at year's end.
If none of the candidates wins with 50 percent or more of the vote, then the top two vote-getters will head to a run-off in the Nov. 6 general election.
FlaglerLive submitted 14 identical questions to the seven candidates, who replied in writing, with the understanding that some follow-up questions may be asked, and that all exchanges would be on the record. Follow-up questions, when necessary, appear in italics, and may be awaiting answers.
A style note: some lawyers are in the habit of capitalizing quite a few words that would not normally be capitalized in journalistic style. The capitalizations and similarly, specifically legal stylistic quirks have been preserved as a reflection of each attorney's style.

The Questions in Summary: Quick Links
For love of law or money?

Place and Date of Birth: : New York, N.Y., June 11, 1965.
Current job: Attorney with Clark and Roberts PLC, a firm with offices in Palatka, St. Augustine and Bunnell.
Years practicing law: Admitted in 1997, Practicing since 1998
Website: felicianoforflagler.com
Self-disclosure statement with the Florida Bar: Available here.
1.      Where did you go to law school, what was your GPA, and how did you rank in your class?
Touro Law School, Jacob D. Fuchsberg Law Center, Central Islip, New York. I do not have specific information regarding my GPA. However, I was able to maintain my scholarship for all three years of law school. I do not recall class rank as I graduated almost 20 years ago, and have been practicing law for almost 14 years. I can assume I was not number one because I probably would have been asked to give a speech at graduation had I been. I am sure that some of the other candidates who have not been out of law school as long as I have are probably more readily able to provide this information.

2.      Have you ever faced a disciplinary issue at any level before the bar (even if it was dismissed), and if so, what were the outcomes?
Never.

3.      Many of your defendants in county court will be representing themselves (pro se). What is your strategy for dealing with pro se defendants who will be facing polished attorneys? How will you ensure that they will be treated as fairly, and what allowances will you make for their self-representation, if any?
I am not sure that "strategy" is necessary. However my approach in dealing with all defendants who come before me will be to be treat them fairly and equally regardless of whether they are representing themselves or have counsel. A judge in fact, is prohibited from favoring or disfavoring a defendant because they are appearing before the court pro se.

4.      As a judge, one of your most important tasks will be to determine the credibility of witnesses. What factors will you rely on to determine credibility? How do you see the difference between a witness in dreadlocks and tattoos as opposed to one in an Armani suit?
A judge will determine the credibility of the witnesses in the same manner that juries are instructed to determine the credibility of witnesses, namely, did the witness seem to have an opportunity to see and know the things about which the witness testified, did the witness seem to have an accurate memory, was the witness honest and straightforward in answering the attorney's questions, did the witness have some interest in how the case should be decided, does the witness' testimony agree with the other testimony and other evidence in the case, has the witness been offered or received any money, preferred treatment or other benefit in order to get the witness to testify, had any pressure or threat been used against the witness that affected the truth of the witness that affected the truth of the witness' testimony, did the witness at some other time make a statement that is inconsistent with the testimony he/she gave in court, was it proved that the witness had been convicted of a crime and was it proved that the general reputation of the witness for telling the truth and being honest was bad. The factors listed are employed regardless of what the witness looks like, what he or she is wearing, or his or her race, creed, color or sex etc.

5.      Along the same lines, it is often the experience of defendants in court that between the word of a cop and the word of a suspect, in he-said-she-said cases, the cops' word will generally prevail. Explain first why you think that is, and explain to what extent, if any, a cops' word would carry more weight in your court room than a suspect's.
I cannot explain the psychology behind the theory that the word of a cop will prevail over the word of a defendant. Again, all witness' credibility will be determined by the factors listed in question numbered 4. No witness will get preferential treatment.
You have worked for the International Union of Police Association and represented the Putnam County Sheriff's Department. Are you saying that you have no pre-disposed sympathies for law enforcement?
I have no pre-disposed sympathies for law enforcement .

6.      Understanding that judges do not—cannot—possibly read all their cases but rely substantially on lawyers' arguments, and that you'll face a considerable number of civil cases, how much civil law do you know? What areas of civil law have you practiced?
I have been practicing civil law since 2005. I practice Family Law, Small Claims, Dependency, Injunctions, and Mortgage Foreclosure . I would disagree with your assumption that judges cannot read all of their cases. A judge, in fact, should always endeavor to do so, in addition to relying on attorney's arguments. A judge also should request the case law in which the attorneys are relying in advance of any hearings.

7.      How will you use technology to speed things along, and will you provide online scheduling of hearings that will be easily available to lawyers and public?
As judge, I would be open to using any technological means to make the system function more efficiently. It is important however, not to conflate efficient operation with "speed." Everyone who comes before a county judge must have confidence that their case will be given the time and attention that it deserves. If we forsake this time and attention simply to "speed things along," no one's interests are served. I would prefer that hearings were scheduled with a judicial assistant. There are many factors that can cause the computer system to go awry in online scheduling and some defendants or litigants may not have access to the internet to participate in online scheduling.

8.      What role does religion play in your personal life and your interpretation of law, and how do you intend to keep the two separate?
The role that religion plays in my personal life is just that–personal, and something that I do not want to discuss in this forum. However, the two must be separated in the courtroom. A judge's responsibility is to follow the law as it is written and personal opinions should not factor in deciding issues brought before the court.
9.      Name one currently sitting U.S. Supreme Court judge you have the most affinity for legally and philosophically.
I am unable to answer this question due to restrictions placed on judicial candidates by the Florida Judicial Canon of Ethics Canon 7 and the Judicial Ethics Advisory Committee and as explained in a class that I recently attended. I would refer the interviewer to the Judicial Ethics Advisory Committee and its opinions. A judicial candidate is non-partisan therefore, I am unable to make statements or comments on this question in any way that would give the impression that I would favor one ideology over another.
One must respect the desire to remain impartial, but your answer raises a curious point: are you saying that only ideology or presumed partisanship distinguishes justices from one another anymore? Has law at that level become that reductive?
I stand by my answer.

10.  Attorneys, as in so many professions in today's dismal economy, are hurting for work. Not many can pull in the guaranteed $134,280 a year you'll be making as a county judge. Understanding that you're obviously doing this for the good of your community and for the most noble motives possible, you're also human, you likely have or will have a family, and it's no secret or sin that some of you are running to land a steady salary. To what extent is that guaranteed income driving your desire to be a county judge?
The income is not the driving force for my desire to become county judge. I have had a "steady salary" since I was 18 years old working as a Sales Assistant for a department store in New York. More recently, I worked for the State as an Assistant Public Defender for 7 years and now in private practice, I have steady salary. Had my driving force ever been motivated by money, I probably would not have stayed in the Office of the Public Defender nearly as long as I did. I also do a tremendous amount of Pro Bono work, and even still represent some clients I represented as an Assistant Public Defender. It is something I do to give back to my community and to help those in need. I do not do it to receive any accolades from any one or any agency. I have always felt as an attorney I have a duty to give back to those in a difficult situation who need help. The position of judge is something that I have strived for since I became an attorney out of a desire to achieve a personal professional goal and to have the opportunity to serve my community in yet another capacity.

11.  We all have prejudices at some level. What are yours?
My parents relocated to New York from Puerto Rico when they were both very young. My parents experienced prejudices when they relocated, both as children and later as adults, when no one would rent them an apartment in the Bronx, New York. As a result of their experiences they always instilled in me the importance of treating everyone equally and treating everyone with the same dignity and respect with which you would want to be treated. I have done so my entire life, but must confess to one notable exception-candy corn. I do not like it and I will not tolerate it.

12.  Describe, in as much detail as possible and with examples, your temperament, your emotional hot buttons, and the scale of your ego.
I have no doubt that I have the equanimity or evenness of temperament required to be a successful judge. My "emotional hot button" is seeing people treated in a disrespectful manner and will not be tolerate in my courtroom. I do not know how to answer the question of the "scale of my ego" and I will leave that to those who have met me to assess. Perhaps only an egotist can assess the scale of his or her own ego.

13.  You're part of a small community of lawyers who know each other, have likely faced each other in court or seen each other in action while waiting your turn, have been hearing and speaking about each other through the professional grapevine, and, being lawyers, likely have strong opinions about each other. In other words you know more about each other, especially regarding relevant matters in play here, than any member of the press or public could know. Enlighten us: give us, in your words and assessments, a brief synopsis of each of your opponents' capabilities, strengths and foibles as you understand them, and whether, in your view, each is qualified to be a county judge.
I prefer not to answer this question.

14.  Do the same for yourself: Dispensing with such matters as heredity and lengths of stay in Flagler County—which, we hope you agree, are as irrelevant to the law as skin color and culinary tastes—what makes you the best qualified for this position? 
I have been working since I was 15 years old. I worked my way through St. Johns' University as a Sales Assistant at a major department store. Once I graduated from college, I wanted to utilize the skills I learned and secured a job as a paralegal. I worked as a paralegal for three years until I was accepted to law school. During law school, I had no choice but to work and did so as a telephone operator, a product tester for Estée Lauder, and as a research assistant for one of my professors. Upon graduation, in an attempt to save enough money to move to Florida, I worked on Wall Street in a brokerage firm in the compliance department. My sole responsibility was to ensure that the stock brokers were properly registered with the National Association of Security Dealers. Upon moving to Florida, I worked as an Assistant Public Defender for seven years. As an Assistant Public Defender and a criminal defense attorney, I have had the opportunity to be in the courtroom and try more cases than perhaps any other candidate in this race. Since 2005, I have been in private practice. As a private practitioner, I continue to practice criminal defense and in doing so utilize the rules of evidence and criminal procedure on a daily basis. The civil part of my practice allows the same to be said for the rules of civil procedure. I think the number of years I have been working and the diversity of experiences in not just the legal profession, but in my work prior to attending law school and after graduation make me a well rounded individual, and represents a combination of characteristics that a county court judge should possess.