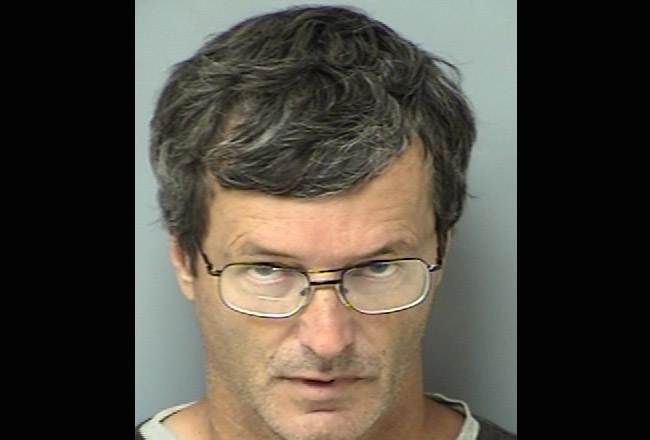 A 52-year old St. Johns County man was arrested on charges of animal cruelty and sexual activity involving an animal this afternoon (July 26). The suspect, identified as James Lee Lyons, of 437 Gloria Street, was booked into the St. Johns County Jail.
The investigation began Monday afternoon when a 48-year-old St. Johns County man came to the Sheriff's Office to file a report. The man stated that on Saturday his family arrived at their U.S. 1 South home just before a thunderstorm. He let his two dogs out to relieve themselves and one of the dogs went to Lyons's yard. When the storm arrived, the man began looking for his dog but was unable to locate her. The man then observed the suspect carrying the dog from his trailer and told him he located the dog in the shed.
The complainant told deputies that he had checked that shed a short time before. The dog was acting very withdrawn and had sustained injuries to her vulvar and rectal area. The complainant contacted Animal Control who advised him to take the dog to an emergency veterinarian. Following the examination, the veterinarian became highly suspicious for animal abuse and bestiality. Special Victims' detectives began the investigation and obtained an arrest warrant for Lyons Friday morning. Lyons was served that warrant today without incident.
Lyons was convicted on charges of attempted sexual battery on a child and sexual act with a child while in a familial role in 1998. Following a plea agreement, he was sentenced to 13 years in prison, and was released in June 2011. He is a registered Sexual Predator. Detectives are continuing the investigation.
Florida banned sexual activity between human beings and animals in 2011, following sustained efforts by then-Sen. Nan Rich, the Democratic Senate Minority Leader at the time, and currently a candidate for governor in the 2014 race against Rick Scott. Rich began trying to pass the law in 2009. Bestiality is a misdemeanor in Florida, but animal cruelty is a third-degree felony with a maximum penalty of five years in prison.