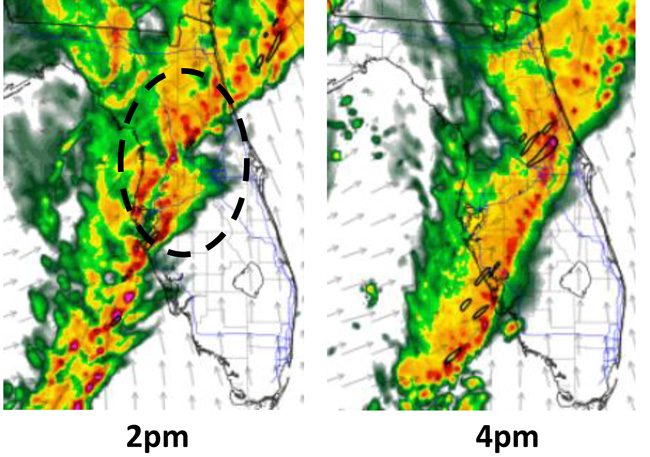 The National Weather Service today cautioned that a complex area of low pressure was developing over the Gulf today with heavy rainfall and severe weather possible through the day and into evening.
Threats to Flagler were lessening as the day progressed, but there were local repercussions. As of 11 a.m. Thursday, Flagler County Emergency Management was reporting three individual reports of trees and wires down, as well as minor flooding in some areas. Rainfall totals are between 1 and 1.5 inches, but will increase as rain continues to fall.
A tornado watch has been issued for areas south of Flagler County. A watch – versus a warning – means that the weather conditions are favorable for severe weather to develop but the conditions do not currently exist. The main concern for Flagler County is the potential for localized flooding throughout the day.
"Do not drive through water of an unknown depth, as washouts can be hidden by standing water," said Emergency Management Chief Jonathan Lord.
"By late afternoon a strong low level jet moving off of the Gulf near Crystal River to Daytona Beach, may cause some thunderstorms to rotate with the greatest chance of tornadoes south of a line from the Ocala area northeast to St Augustine," the weather service stated. "This will be a very dynamic system and interests in that portion of our area of responsibility must remain alert for possible warnings this afternoon into this evening."
Heavy rainfall of 2 to 3 inches was expected to exacerbate the flooding problems across the forecast area, and especially in areas already in flood: Flagler County's grounds are almost saturated, with the drought index near zero because of recent heavy rains. Winds a few thousand feet above the ground will be
in the 50 to 70 mph range, causing extreme vertical wind shear and making the area susceptible to severe storms.
Ironically, long periods of heavy or steady rain diminish the risk of severe storms, while lulls ahead of storm cells increase that risk.
On Friday the low pressure area is expected to move north "but will be extremely intense for this time of year," the weather service said, though the harsher winds are expected further north. "We are looking at a strong westerly flow across the area on Friday with occasional gusts to gale force possible in the port facilities. Objects on docks and possible missile hazards should be secured as soon as possible to avoid damage or injury."