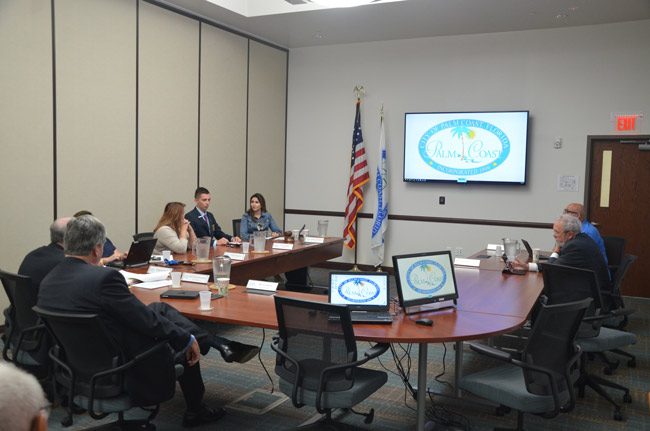 The Palm Coast City Council's attempt to replace City Manager Jim Landon has gone through various tortuous phases since it began eight months ago—a longer time span than most cities or counties need to replace a top executive—with not even a search firm chosen to do part of the job for the council. Tuesday, the council learned that one of the top two search firms it had short-listed bailed out.
"After conferring with our attorney (and Bill)," Stephen Straus of Developmental Associates wrote several members of the city administration, including Bill Reischmann, the city attorney, on April 19, " we fear that the exposure to our intellectual property due to the Florida Sunshine Laws is just too great. With great sadness, we are withdrawing our proposal. We understand the reason for those laws, but, unfortunately, they undermine our innovative approach."
The firm did not want any part of its selection process unveiled. Developmental Associates is a Chapel Hill, N.C.-based firm that uses "emotional intelligence concepts and research to ground our work"—leadership recruitment, staff and board training, surveys, goal-setting–focusing its contracts on non-profits and government agencies, though those are overwhelmingly based in North Carolina, which has a more restrictive open-record law.
That left the council with just one choice: Strategic Governmental Resources, a more conventional executive-recruiting company based in Keller, Texas. Most of its searches are heavily in the service of Texas agencies, but it is also currently conducting searches for city managers in Bethany, Oklahoma, Craig, Colorado, Murfreesboro, Tenn., Paducah, Ky., three towns in Missouri, along with managers for five cities in Texas. It has one "upcoming" city-manager search slated for a Florida city: Green Cove Springs.
The council had ruled out Dallas-based Waters and Company, finding it less than impressive.
Developmental Associates dropping out was a blow to Mayor Milissa Holland, who's been pressing for an innovative way of searching out a new manager. Holland had mulled over the issue, looking for ways that the Developmental Associates could perhaps be granted some qualified shield from the Sunshine law under trade secret exceptions. "And then I thought if they don't know this and they haven't really looked into it that much, then maybe that's not a firm we need to be looking at, someone that's going to find our next manager in the state of Florida, where the Sunshine law is very, very important, for many reasons."
Holland works at Coastal Cloud, the Palm Coast company, where she drafts proposals to government agencies. Within those proposals, she said, some information fits under the trade-secret exemption to the Sunshine Law. So she asked the administration if the trade-secret provision applied in any way in the hiring of executives. It does not, but the discussion that followed hinted at how even elected officials qualify their endorsement of Sunshine.
"I want to respect the Sunshine Law, there isn't a moment I want to discount it or discredit what it stands for," Holland said, "but it's disappointing because we're trying to look for an innovative approach to find someone that literally takes the ability to have an innovative approach recognized. I just wanted to understand the process a little more and when we are looking at new technologies when we are putting proposals out in the future, that's going to be an important proposal if it's new technology or new information, and how we deal with that or approach it."
Beau Falgout, the city's deputy manager, said the firm was concerned about unveiling its assessment process: "They feel they have the best mouse-trap" to evaluate candidates and don't want that information to be made public, giving competitors a window into how they go about assessing candidates, Falgout said. They discussed the issue with Reischmann and decided against going further with what would have been their very first Florida contract.
"There is a lot of great things about the Sunshine Law. One of the drawbacks is when you get into personnel decisions with the city council, outside candidates that have jobs," Falgout said. But those are drawbacks only to the individual who would rather not have his or her job-hunting known—not to residents and citizens who call for as much transparency as they can get to examine decisions about new leadership.
Just as revealing: the process indicated again to what extent the administration rather than the city council was leading the search for a new manager, with the current manager at the helm of that search. And again it was Landon who then led the council into deciding what to do next regarding the remaining firms.
It was clear that the council was by default leaning toward its second choice, Strategic Governmental Resources, but with interviews ahead, it would have seemed strange to interview just one firm: "To me interviewing the one firm sort of makes it a foregone conclusion," Council member Bob Cuff said, remembering that the way the council ranked the firm previously had found the second and third ranked firm close together.
They were, but Nobile said he'd been kind in his rankings. In the end, the council opted—for what looked like the sake of appearances—to include the third-ranked firm as well. It'll be a strange position for Waters and Company to find itself in, assuming it chooses to comply with the council's latest contrivance. But little about the protracted hiring process of a new manager has not been strange: Bunnell just fired its city manager this week. It intends to have a new one interviewed and in place within 90 days. Even then, Palm Coast is unlikely to have done much more than collect resumes through its search firm. But the delay has been intentional, as has the delegation of the majority of the process to Landon and his administration: it is intended to stretch out the process to dovetail into Landon's announced retirement date around August 2019.