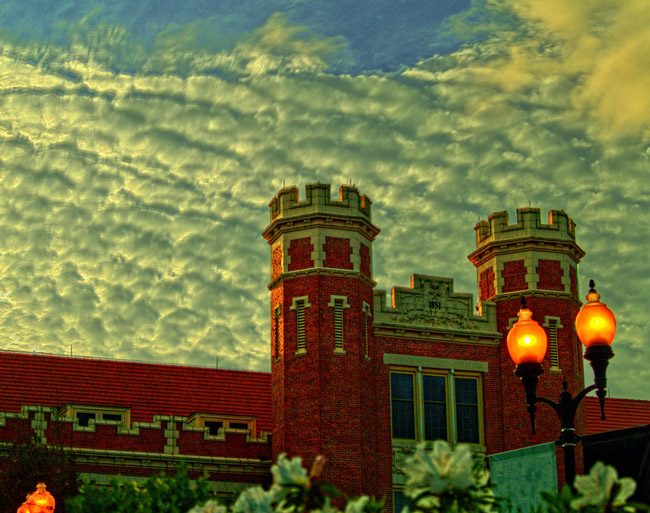 Calling it a "ham-handed" effort to keep young voters from casting ballots, a federal judge Tuesday struck down as unconstitutional an opinion issued by Gov. Rick Scott's administration that barred early-voting sites on college and university campuses.
U.S. District Judge Mark Walker found that the Florida Department of State's prohibition against campus early-voting sites "is facially discriminatory on account of age," and that it "imposes significant burdens on plaintiffs' rights weighted against imprecise, insufficiently weighty government interests."
The lawsuit, filed by six University of Florida and Florida State University students, the League of Women Voters of Florida and the Adam Goodman Foundation, hinges on a 2013 law that expanded early-voting sites and on a subsequent opinion by state Division of Elections Director Maria Matthews that interpreted the statute.
The expansion of early-voting locations came a year after long lines caused voters to wait for hours before being able to cast their ballots in the 2012 presidential election.
The 2013 law allows elections supervisors to "designate any city hall, permanent public library facility, fairground, civic center, courthouse, county commission building, stadium, convention center, government-owned senior center, or government-owned community center" as early-voting locales, but it does not expressly authorize sites at colleges or universities. Lawmakers did not approve amendments that would have included campus locations when they passed the legislation.
In January 2014, Matthews issued an opinion saying that the University of Florida's J. Wayne Reitz Union was not an eligible early-voting facility because the "terms 'convention center' and 'government-owned community center' cannot be construed so broadly" to include college or university facilities.
Because of the Matthews opinion, the state's public college and university students are "categorically prohibited from on-campus early voting," Walker found.
"The opinion lopsidedly impacts Florida's youngest voters," he wrote in Monday's order invalidating the state department directive. "The opinion has the effect of creating a secondary class of voters who defendant (the state) prohibits from even seeking early voting sites in dense, centralized locations where they work, study, and, in many cases, live. This effect alone is constitutionally untenable."
Florida supervisors have to finalize a list of early-voting sites by Sunday for the Aug. 28 primary elections. They may not have enough time to add on-campus sites by then, Walker noted.
"But the benefits of barring supervisors from having that choice pales in comparison to the voting rights of 830,000 young voters," he wrote.
Voter turnout throughout the country "is at less than impressive levels," and turnout among young voters is lower than among older voters, the judge noted.
"Throwing up roadblocks in front of younger voters does not remotely serve the public interest. Abridging voting rights never does," he wrote.
Concluding his 30-page order, Walker wrote that he "is not the Early-Voting Czar" and that his ruling "does not order the supervisors of elections to designate a single early voting site on a single college campus."
Instead, his decision "removes the handcuffs" from county elections supervisors and "restores their discretion" in determining early voting sites, Walker concluded.
Scott, who is seeking to unseat U.S. Sen. Bill Nelson in November, "is proud to have signed the largest expansion of early voting in the state's history," McKinley Lewis, a spokesman for the governor, said in an email.
Scott's office is reviewing the ruling, Lewis said.
Nelson hailed Walker's decision in a Twitter post, calling the state policy "a direct assault on student voting" that "shows just how far Florida's government will go to keep some groups from the polls."
The state's lawyers argued, in part, that Matthews' opinion was advisory in nature and had limited reach.
But Walker rejected that, relying on the testimony of Ion Sancho, who served as Leon County elections supervisor for nearly three decades. Sancho, who has retired, said supervisors generally treat written opinions of the division "as authoritative" and "give broad and substantial deference" to such opinions.
Matthews issued her opinion after a group of University of Florida students asked the Gainesville City Commission to approve an early voting site on campus, prompting the Gainesville city attorney to seek guidance from the Division of Elections.
Walker — who likened the Matthews opinion to banning court workers from decorating their offices with stuffed animals because "non-official animals" are banned on federal property — conceded that early voting is a convenience for voters.
"Constitutional problems emerge, however, when conveniences are available for some people but affirmatively blocked for others," the judge added.
Walker also agreed with one of the plaintiffs' experts, who found that college and university students — many of whom don't have access to cars — have disproportionately longer travel times to early-voting sites than the general population.
The state argued that the distance from the nearest early voting site at the University of Florida was a 24-minute walk or an eight-minute bicycle ride.
But Walker mocked the state for using the "very edge of campus" to calculate the distance, saying the university "is like Hogwarts, which proscribes on-campus apparating — or instantaneous teleportation."
Expanding on the reference to Harry Potter, the judge observed: "Students do not and cannot apparate within the campus."
The Matthews opinion violates the 26th Amendment because it "reveals a stark pattern of discrimination" against young voters, Walker decided.
"It is unexplainable on grounds other than age because it bears so heavily on younger voters than all other voters. Defendant's stated interests for the opinion (following state law, avoiding parking issues, and minimizing on-campus disruption) reek of pretext," he wrote. "While the opinion does not identify college students by name, its target population is unambiguous and its effects are lopsided. The opinion is intentionally and facially discriminatory."
Saying he "does not lightly compare contemporary laws and policies to more shameful eras of American history," Walker nonetheless lectured state officials about discriminatory voting practices, including a 1910 Oklahoma law that created exemptions to the state's literacy test. The law was intended to keep black voters from casting ballots.
"While Oklahoma in 1910 abridged voting rights by choosing an invidious date to exclude African-Americans from voting, Florida in 2014 limited places to stymie young voters from early voting," Walker scolded.
While state policymakers "were expanding ballot access across the board" with the 2013 law, the judge wrote, the Matthews opinion "stands as a shady contraction in a context of expansion and easier access — the only contraction, in fact."
"This court can conceive of fewer ham-handed efforts to abridge the youth vote than defendant's prohibition of on-campus early voting," he wrote.
Walker's ruling in the early-voting case is the latest in a string of voting-rights decisions against Scott and state leaders. Walker found that the state's process of restoring voting rights to felons was unconstitutional because it gives "unfettered discretion" to the governor and the Board of Executive Clemency. The 11th U.S. Circuit Court of Appeals in Atlanta will hear arguments in that case on Wednesday.
–Dara Kam, News Service of Florida