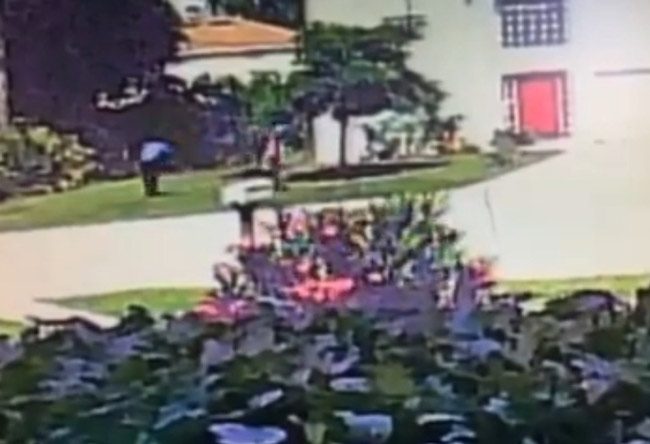 Flagler County Sheriff's deputies charged two 14-year-old boys with felonies for allegedly firing a BB gun at a full school bus and other vehicles on Belle Terre Boulevard in Palm Coast's Z-Section Wednesday afternoon.
The bus was transporting 40 students home from Bunnell Elementary. No one was injured. The bus driver, Simon Sam, immediately pulled the bus over and contacted the transportation department, which contacted the sheriff's office. "We made phone calls to all the parents yesterday afternoon," a school district spokesman said. "Nobody was hurt. What I understand is that it was a ping on the side of the bus."
The boys, Marcus Freeman and Ryan Korth, are residents of Ziegler Place and Zinc Place.
Korth, according to his arrest report, was initially "deceptive and uncooperative," but then told deputies that he and two other boys grabbed two airsoft guns and a BB gun from his home, walked down a trail near his home to Belle Terre Boulevard, and all three "began shooting numerous vehicles until the bus pulled over."
They then ran through the woods and went to Korth's home "because he did not want to go to jail," the arrest report states. The bus driver told authorities that he'd seen "two white males, one wearing a hoodie and the other a red t-shirt, running down a path through the woods."
A neighbor captured two boys running through woods onto a front lawn, and at one point throwing what looks like a rifle into the bushes. Deputies retrieved a BB gun rifle in the woods near 15 Zinc Place. A school bus aide was able to positively identify one of the boys as the person she saw in the woods, and the school bus driver identified the other.
When a deputy went to a house on Ziegler Place, he discovered the side door windows shattered. A male responded at the door, said he was home with his brother and sister, one of whom turned out to be Korth, who was wearing a red t-shirt.
Freeman denied involvement in the actual shooting of the guns, saying he witnessed Korth shoot at the school bus. (The third individual who was with the two other boys said he held an air soft gun and pointed it at the school bus but never fired it.)
Authorities conducted a 30-minute inspection of the school bus, then allowed the driver to resume his route. The students involved in the incident, if found guilty, are likely to face suspension or expulsion from school, though such disciplinary details are not usually made public.

The following video was released by the sheriff's office: