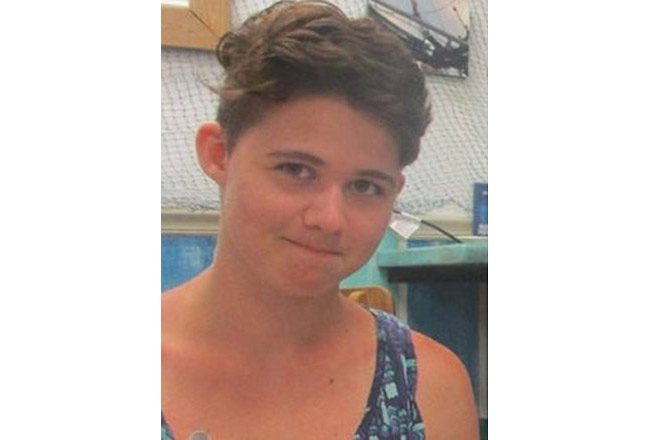 Update, Tuesday, 4:39 p.m.–FlaglerLive has learned Samatha Posella was found today, safe.
"Samantha went to a local Police Station in South Florida on Tuesday to notify authorities that she was reported missing in October of 2017 but investigators have determined she was living in South Florida using an alias," the Flagler County Sheriff's Office said in a brief statement released just after 5 p.m. "Samantha is now an adult and is not required to return to her parents' residence in Palm Coast, Florida." She was reluctant to provide details, but made clear she had no intention of returning to her Palm Coast home.

Samantha Lee Posella went missing from her home at 45 Llama Trail last October 24. She was 17 at the time. She would be 18 now. Her parents–her biological; father Joseph and her step-mother Barbara Posella–haven't heard from her since, or had any indication of her whereabouts, her welfare or whether she is even alive.
"How do you describe that?" Barbara said in an interview today as she cried. "My family is distraught, my daughters are suffering, my husband sometimes he can't even think straight–you can't. We went through Father's Day, We went through Thanksgiving, Christmas without my daughter. You can't describe that. I just want to know my baby is alive. If she doesn't want to come home for whatever reason, that's OK, I just want to know she's OK. If you don't want to come home, that's OK. But we love her. It's been horrible. My entire family, extended family, aunts and uncles, everybody is suffering, I have teachers asking about her. It's been too long."
The Flagler County Sheriff's Office has been investigating and more recently been ramping up the investigation: Monday afternoon, the agency issued an alarming news release, saying it now fears Posella "may have been the victim of a crime," and naming two "persons of interest"–Palm Coast residents Kindra Dixon and her boyfriend Roy Edward Casey III, who until three weeks ago were the Posellas' neighbors.
Dixon, the Sheriff's Office states, is "believed to have last seen Samantha," and "reported to deputies that she drove Samantha to work on the day of her disappearance and last saw Samantha walking home from 6 Llach Court in Palm Coast on the evening of October 24th. Kindra has since provided several inconsistent statements to law enforcement. Kindra Dixon and her boyfriend, Roy Edward Casey III, have become persons of interest in Samantha's disappearance."
Dixon lived at 6 Llach Court with Casey and her children, one of whom is around Samatha's age: the two girls became close friends when Samatha was still around. The morning of the day when Samatha was last seen, neighbors of hers saw her walking barefoot on U.S. 1 and brought her back to the neighborhood, according to her mother. Samantha didn't want to go home, and went to Dixon's house instead. Dixon then took Samantha with her to Golden Corral, where Dixon works, for her entire shift. Afterward, she told investigators, she drove Samantha back to the neighborhood and saw her walking home, toward the Llama Trail house just a few doors down, that evening. Samantha never made it home.
Sheriff's detectives sought to speak with Dixon, since she had been last to see Samatha, but when they asked her for sworn statements, Dixon said they'd have to go through her lawyer for anything further, and declined to provide additional information otherwise. Detectives tried to speak to her at her job, which she took as harassment. She hired Palm Coast attorney Josh Davis.
"Any time, at least when I was with the state side of things," Davis, a former assistant state attorney, said. "you always try to get somebody to write a sworn statement, that way you lock them in, so even if it's true, false, you have them locked into a statement." The statement is then used later either as leverage or to point out inconsistencies as stories are re-told. "At a certain point people start getting nervous when you're talking about stuff like this." It then turns people from wanting to help police to being fearful that the finger will be pointing at them instead, Davis said. So they lawyer up for protection.
Dixon had told deputies that she'd gotten a cell phone for Samatha–according to Samatha's mother, Dixon wanted to "emancipate" Samatha from her family–but then said she hadn't given her a cell directly.
Davis said his understanding was that Samatha had difficulties at home. "All of the people around the neighborhood referred to her as Cinderella because she was always in the front yard working, cleaning, kind of a kid with a tough home life, and was having a rough go at it at home," Davis said. "I'm hoping that we find something, that we can get everyone involved to ease their mind on this thing. Of course it's a huge deal, but there are situations where kids are in a bad family life and they don't want to be found. It doesn't always mean something horrible happened, sometimes it just means they're sick of being treated how they're being treated and they're going to start over. But that's my hope now is to find somewhere that she is and be able to call the sheriff and have some sort of verification that everything is cool and kind of close the book on this thing."
Barbara Posella vehemently disputes that there were issues beyond the normal run of disciplinary matters involving teens. Samantha's father told a deputy in October that she had been "acting out" and had not been doing well in school, and that "there have been behavioral problems at home," according to an incident report filed at the time. Her mother in the interview today said her daughter "may have felt isolated" after her parents pulled her out of high school to be enrolled in Florida Virtual School until she could bring her grades up, because she'd not been doing well. But that had upset her, as had a prohibition on social media accounts or having a cell phone.
"The bottom line is schoolwork," Barbara said. "She had a lot of school work she had to do, she was behind, she had to catch up, I'm sure she felt isolated after we took her out of high school."
Her mother traces a personality change in her daughter to when Samatha started befriending Dixon's daughter, including her decision to come out as gay, which her mother says had the family's complete support. If Dixon was concerned about Samantha, Barbara saisd, she could have called the Department of Children and Families–not taken her to Golden Corral for a full shift.
Dixon and the Posellas had been very neighborly before the disappearance. In 2015 a fire at Dixon's house rallied the community, including much support from the Posellas. But after the disappearance matters deteriorated so much that the two women trespassed each other.
"She knows where she is. Kendra knows," Barbara Posella said. "I know this woman, I've known this family, my feeling is she took her and put her somewhere she knows," describing her daughter's situation as "in hiding."
Posella added: "I just want my daughter to be found safe, and if she doesn't want to come home, that's OK, she's 18."
When she disappeared, Samantha Lynn Posella was 5'6″, 135 LBS., with a slender build, hazel eyes, short, curly brown hair.
"We need to know the truth about Samantha's whereabouts and we need the cooperation of those who last saw her or any friends that may know something," Sheriff Rick Staly said. "Please come forward with information to help us find her."
Anyone who has information on Samantha's whereabouts, or her disappearance, is asked to contact the FCSO at 386-313-4911 and mention Case Number 2017-93626; or, call CrimeStoppers at 1-888-277- TIPS (8477) to remain anonymous. Samantha is now an adult and no longer needs to return to her parents' care and custody if she is alive and well.