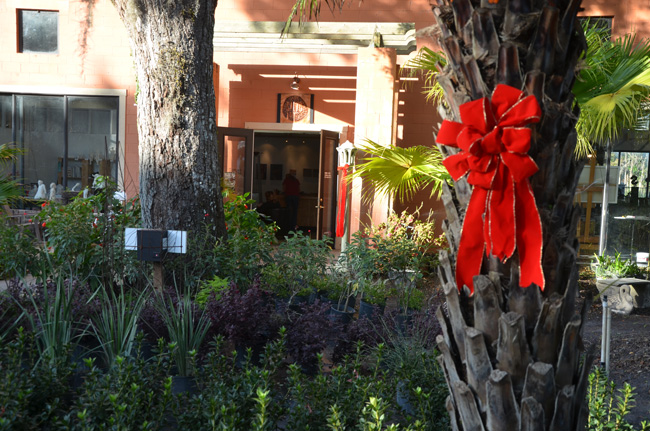 As otherworldly convergences go, there's the periodic one between Venus and the moon, there's Jackson Pollock's famous painting of the same name, and closer to home, there is Saturday's day-and-evening-long events at Nature Scapes and Salvo Art Project in Bunnell: It's an unusual convergence of art, music and plants called Crafty Day, Artful Night, for the first time bringing together three local institutions, each devoted to beauty and the senses, each celebrating landmark accomplishments in the community.
Nature Scapes Gardens, the lush nursery and "eco-center," is celebrating its 30th Annual Winter Party, when plants and trees are offered at 20 percent discount storewide. But this time the celebration is accompanied by a festival-like gathering of some 25 arts and craft vendors, all local, yoga classes, seminars, live music, craft beers and quite a bit more, starting at 8:30 a.m. and lasting till dusk.
By then, it'll be time for Artful Night. Salvo Art will pick up the festivities with its second art opening since it renamed itself from Hollingsworth Gallery and moved from City Marketplace in Palm Coast to the more elysian grounds at Nature Scapes earlier this fall. Salvo's new art show is devoted to small works by 18 artists. The paintings and sculptures are all priced between $20 and $200 (there are a few outliers at $600, but they're larger works).
Hollingsworth-Salvo's art openings have almost always featured live music. This time the music is nearly orchestral: two ensembles of the Flagler Youth Orchestra—a 25-piece orchestra and a double quartet—will be the accompaniment to the pictures at this exhibition. And yes, Mussorgsky's "Pictures at an Exhibition" is on the program, compliments of Sue Cryan, the orchestra's artistic director and one of its conductors. The Youth Orchestra is celebrating its 10th year this season, and Saturday's performances will offer a sneak preview selection of the full orchestras' performances scheduled for Wednesday, Dec. 10, at the Flagler Auditorium.
It's the first joint event between Salvo and the Youth Orchestra, and JJ Graham, Salvo's co-founder, intends it to be a fund-raiser for Salvo and the orchestra (which provides free music instruction to some 350 students, largely with the financial backing of the Flagler County School Board but also through its own fund-raising). Graham wanted a distinctive musical feel for the latest exhibit at Salvo, which the Youth Orchestra's ensembles will provide—Bach, Handel, Mozart, and no Christmas music. So he's splitting half the proceeds from the $10 cover charge with the orchestra. "It's only fair that we help out Cheryl and her organization,"  Graham said, referring to Cheryl Tristam, the orchestra's executive director.
"I'm excited for the students to be able to perform music in such a beautiful venue," Tristam said. "JJ understands and appreciates what we're trying to accomplish in the FYO and he's doing similarly good work in the arts world with the children of Flagler County. The two go hand in hand."
---
Three institutions celebrate landmarks amid a feast for the senses all day and evening Saturday.
---
Some of the musicians in the ensembles will get double billing: as string performers and as artists. The opening will feature art works from students in Salvo's art classes. And if they or anyone else turns out for the day's bounty of events, they'll get to create their own art, or see Graham create his own. "I'm actually going to create most of my small works that day," Graham said, showing some of his tiny paintings as he's started them. He's been too busy putting the show together, so he'll be spending part of Saturday painting and, like some of the modernist painters he admires, likely be putting the finishing touches on his canvases even as Artful Night begins.
As always, the evening will be drenched not only in music but in wine. The day, too: Flagler Beach's Break-Aways, the tapas bar, restaurant and craft beer specialist, will be irrigating tastes all day, probably not far from a pet psychic, a woodworker (Robert DuLong), harpist Alana Fitzgerald and the Dr. Cash Trio. And among it all of course, the plants and trees of Nature Scapes– Norfolk Island pines, poinsettias, orchids, Christmas cacti, magnolias, live oaks, cedars, all at discount. "It gives us an opportunity to give back to the community a little bit, give them a discount on all the stuff they've been eying all year," says Chris Baiata, owner of Nature Scapes.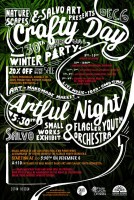 Nature Scapes has always had a pre-holiday bash of this sort, but never to the extent of turning it into a crafts fair as it will Saturday. "That gives us a chance to encourage people to shop local," Baiata said. "It's hard to compete with the box stores, so any way we can help the little guys, we try to do."
The event also characterizes the sort of association between Nature Scapes and Salvo Art that the late Marylou Baiata had imagined shortly before her death in July, an association intended to have all sorts of variations. And consequences.
"You're seeing the influence of the chickens, now that we're at Nature Scapes," Graham says, pointing to some of the children's art work that features echoes of the free-roaming chickens on the grounds. At first glance no chickens appear among the works by the 18 artists on exhibit, though nature and its various scapes are all over the small paintings. The exhibit features almost all of the gallery's resident artists—among them Christine Sullivan and the ever-prolific Linda Solomon–as well as a dozen more, with a surprise from Peter Ceretta, one of Florida's most impish painter who until now was brush-deep in acrylic. He's got oils on display in this show, which made Graham explode with laughter when asked by somewhat of an ignoramus about the difference between the two mediums.
"That's kind of like comparing scotch to Kentucky bourbon," Graham said. "I'm an oil snob, man, even though I teach and sometimes work in acrylic, I can't help myself. It's richer, lusher. You can tell the difference as you look more closely. Not to say that people don't know how to use acrylic here." He cited several examples that gave him plenty of joy and give his walls acrylic-envy.
Needless to say, acrylic snobs are welcome too, as are those who wouldn't know the difference between acrylic and olive oil.

Crafty Day, Artful Night begins at 8:30 a.m. at Nature Scapes, with the arts and craft fair lasting until about 4:30 p.m. The gallery opening at Salvo Art starts at 5:30 p.m. There is a $10 cover for the art opening, with complimentary wine. See the video below for directions or call Nature Scapes at (386) 437-2045 or Salvo Art Project at (386) 871-9546.