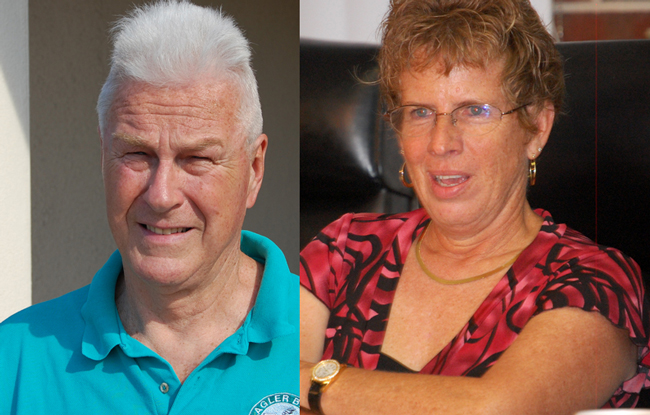 Ron Vath has been in office 10 years, Joy McGrew five. They're the Flagler Beach City Commission's most candid and outspoken members. Both have decided against running again when their term is up next year.
"I'm out of it," Vath said. "I figured I'd give the young guns a chance. New ideas. Everything has a beginning and everything has an end. This is the end for me."
McGrew put it this way: "I've served my five years and am going to let somebody else have a turn." Neither intends to withdraw entirely from public engagement. "As long as I live here, I'll be involved," McGrew said.
The two commissioners' departure will have vast ramifications for the dynamics of the commission. McGrew is often the panel's swing and unpredictable voter, carefully balancing issues and reasoning through them before taking a stand. Vath is its most compulsive financial auditor and, sometimes to the irritation of colleagues, most hands-on commissioner. Together they have vast institutional knowledge of the commission, with McGrew frequently joining Commission Chairman John Feind to moderate more polarizing stances. Depending on their replacements, McGrew's absence is likely to leave the commission more polarized than not. The pair is leaving after a bruising year that left the commission gridlocked over a new city manager but still financially sound despite two years of collapsing property valuations (and a similar year ahead).
Their decision is also likely to invite a large number of candidates for the March 8 election. Four candidates have already filed, without having to pay a fee, by gathering the required 37 petitions by last Friday's deadline. Additional candidates may file between Jan. 13 and Jan. 24, but they must pay a filing fee equivalent to 6 percent of a commissioner's salary, or $439.21.
The four candidates who filed by Friday's deadline: Kim Carney, Jamie NeJame, Phil Busch and Marshall Shupe. None is a stranger to the commission. Carney was a candidate in March 2009, polling third in a field of three for two open seats. Feind was the top vote-getter, with 38 percent of the vote, Vath was second (35 percent). Carney got 26 percent of the vote. She attends most commission meetings. NeJame was a candidate twice before: in 2009, he lost in a bid to replace Mayor Alice Baker (she won 60 percent of the vote to his 40). Last March he polled fourth behind Commissioner Steve Settle (31 percent), Commissioner Jane Mealy (26 percent) and McGrew (25 percent).
McGrew said she achieved several goals she'd set five years ago. Among those, in her view: Civility on the commission was restored, the short-term rental issue was settled, downtown power lines went underground, the city implemented its stormwater ordinance, and it got its water plant up and running. She would have liked to settle the matter of a new city manager. "I don't think it turned out the way I really wish it had, but you can't really waste a lot of time on wishes," McGrew said. McGrew took withering criticism from a faction in the city that favored hiring Bruce Campbell, a city maintenance employee with a vast background in private-sector executive leadership, as the next manager. McGrew's swing vote finally ensured that Campbell would be the city's interim manager come January, replacing current interim Caryn Miller.
McGrew recognizes that her's and Vath's departure means the commission will have a majority of rookies (Settle being still a new face there) come March, but between remaining commissioners and the mayor, McGrew said, she was not worried about a lack of stability on the commission.
Vath is a little more worried about the financial stability of the city in coming years–and the commission's commitment to keep close tabs on spending. "I feel surprised I'm the only one that cares about the financial aspect of the city," Vath said, though he concedes that he can be "paranoid" about spending. Even after he leaves, he said, "if I see something I'm not crazy about, I will speak up."