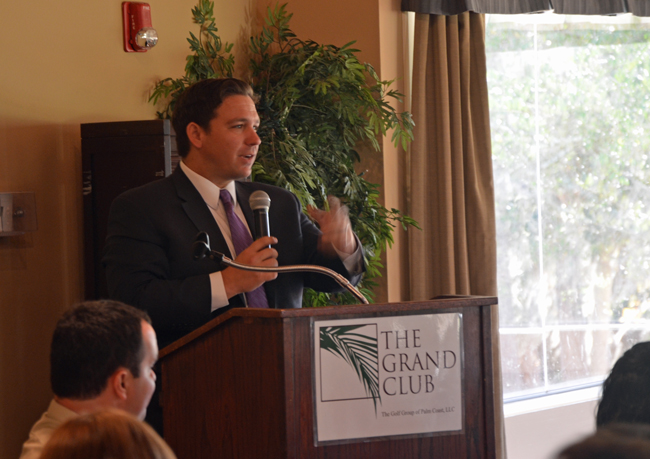 The Flagler County Chamber of Commerce's luncheon was titled "Think Flagler First."
Speaking before almost 100 people at a Chamber of Commerce lunch at the Grand Club at Pine Lakes today, U.S. Rep. Ron DeSantis, whose district includes all of Flagler, talked mostly critically about federal health care reform, Washington politics, Barack Obama's facility with executive orders, welfare and the 2014 congressional elections. But Flagler County or issues specific to DeSantis's 6th Congressional District were no-shows in his 25-minute talk, aside from a brief mention of Flagler as a nice place. When he thought of Flagler, it was last and tangential, and only at the prompting of a Flagler County Commissioner.
Frank Meeker during a brief Q&A asked DeSantis what he was doing to help bring down the local unemployment rate, which continues to almost lead the state (behind Hendry County). DeSantis cited St. Johns County, which has been successful in bringing manufacturing jobs and lowering its unemployment rate to around 5.5 percent, better than the state average. "I don't see any reason why Flagler can't follow a similar model," DeSantis said.
But the congressman appeared otherwise either uninterested or uninformed about local realities—aside from Flagler's demographics, heavy with retirees—as he gave the audience a breathless tour of national issues and polemics that could have been spoken by any tea party Republican congressman in any of some 60 or 70 districts where such congressmen hold sway.
Garry Lubi, who chairs the Flagler County Chamber of Commerce and was instrumental in setting up the lunch—along with the county's Department of Economic Opportunity—said DeSantis "has to look at it from the standpoint of the national, then further on down to the regional," as such issues trickle down to localities. "He understands where the issues are, the root causes, and I think he's working each and every day to resolve these things."
DeSantis drew an unflattering picture of a capital—and a capitol—where only a handful of legislators hash out legislation behind closed doors then dump it on the broader membership at the last moment, expecting a vote, as was the case with Wednesday's passage of a $1.1 trillion budget. The 332-94 vote was an overwhelming endorsement that contrasted sharply with a year of gridlock (which had culminated in the 16-day government shut-down that DeSantis supported).
DeSantis voted against the budget bill, criticizing it for being a 1,500-page opus produced just 36 hours before the vote, and singling out long-term military retirees for budget cuts. (In fact, only military retirees younger than 62 will see their cost-of-living adjustments reduced by 1 percent starting in 2016, and a planned cut to all military retirees that had appeared in a previous bill was scratched.)
DeSantis began his talk with an oddly lengthy story that involved another congressman who was caught napping on C-Span, during end-of-day speeches in the House. The moral of the story was that cameras are on members of Congress at all times, DeSantis said, and this: "trust me if you're up there with that type of bloviating going on, your eyes do tend to close." It was unclear why he devoted about four minutes of his 25-minute talk to start his presentation: the story, about an unnamed congressman, did not relate to anything he mentioned subsequently.
DeSantis then returned to his stump themes, criticizing Congress for living under a different set of rules than do Americans at large, and criticizing "big and unaccountable bureaucracies" such as the IRS, which was caught favoring and disfavoring non-profit groups based on their political affiliations. "No one was held accountable for that," DeSantis said. He said Americans were also worried about how broad NSA surveillance had become, though he was not personally critical of it.
DeSantis never mentioned Obama by name, but said he was presiding over "the slowest recovery that we've seen in this country in 70 years" while, on numerous issues—immigration, health care, welfare reform—he's "taken this posture of being able to pick and choose which laws to enforce and which laws not to enforce."
DeSantis was also dismissive of Obama's recent focus on economic inequalities, though he was just as dismissive of Mitt Romney's infamous remark, during the last presidential campaign, that 47 percent of Americans (DeSantis cited 40 percent) prefer to rely on government checks rather than work. DeSantis said the figure includes many people receiving Social Security checks and other established government benefits that say nothing about their work ethic. The congressman was nevertheless critical of existing welfare programs that "incetivize" people to rely on welfare rather than to work.
DeSantis asked and answered his own question toward the end of his talk—what is he doing about it all? He said that since much of the work in Washington is either done behind closed doors or that "I'm not entirely optimistic that enough people up there get the message," there wasn't much in place to make a difference. Health care, he predicted, will be the dominant issue of the 2014 elections.
After his talk County Commission Chairman George Hanns, a veteran, asked if there was any interest in reviving the draft. There isn't, DeSantis said. When Hanns asked him if there was interest in reviving a program similar to the Civilian Conservation Corps, the Depression-era works program that drafted young civilians to public works projects, DeSantis said that wouldn't be the sort of thing he'd favor.
Just before DeSantis was introduced, Palm Coast Observer Publisher John Walsh spoke briefly to announce a new sort of "micro community newspapers" that will be fanning out to particular subdivisions such as gated communities, and Florida Hospital Flagler CEO Ken Mattison spoke briefly to describe the recent quality gains at the hospital as it continues to focus on meeting local needs despite fewer expected resources.