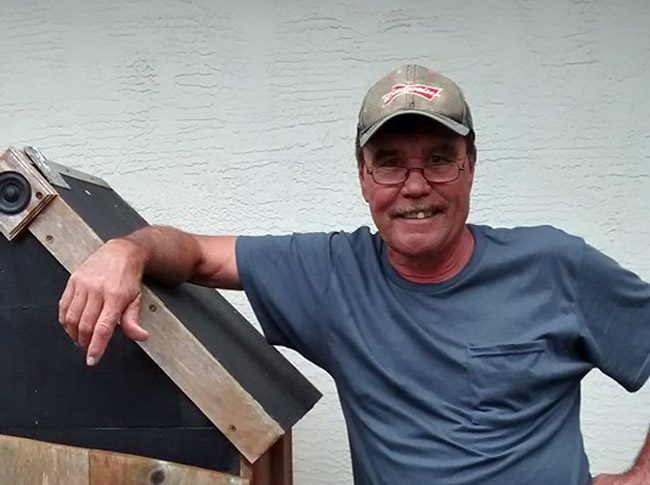 Roger Teachworth had the sort of lyrical side that would stop him on a bridge over the Interstate just to take a picture of morning fog, as he did on Christmas Eve, or by the side of a highway to catch a sunset and remind his Facebook followers, as he did two weeks ago, that he was "living the dream" in Palm Coast.
Teachworth, a 60-year-old resident of 7 Biscay Lane Palm Coast, was killed in a freak vehicle accident in his garage the afternoon of Christmas Eve after he was pinned by his own truck.
His neighbor and friend Massimo Diclemente alerted police after discovering Teachworth partly inside and partly outside his truck in the garage just after 5 p.m. Diclemente had walked up to the house to check on Teachworth because he'd noticed the vehicle an hour before halfway out of the garage, with its back lights on, and noticed it was in the same position an hour later. He then noticed Teachworth "wedged between the garage and the truck door," according to a Flagler County Sheriff's report.
The deputy who drafted the report specified that that Teachworth "got pinned between the driver's door and the frame of the truck. I also observed that the passenger door was open and the passenger window of the truck was busted in." The car was in Drive when authorities arrived at the scene. It's not entirely clear what led to the accident. It appears that Teachworth may have believed the car had either been in Park or had been stopped and that he possibly got out of the car when it may have rolled, pinning him. He was driving a 2006 Chevy 1500 pick-up truck.
Teachworth's girlfriend of 18 years and owner of the house since 2004 arrived at the house during the investigation, which was turned over to the Florida Highway Patrol.
Teachworth was originally from Michigan and kept in close contact with family and friends in his home state, but had lived in Palm Coast many years. He had just started a job in a Bunnell warehouse. . His Facebook gallery shows a man always ready with a smile, thumbs up, playful, and fond of motorcycles: "I always appreciated his friendly spirit and that big smile," one of his friends wrote on his page today.
Another wrote: "Roger and I lived next door to each other in Durand until we were about 4 years old. Our parents were young and poor. All of us siblings would wander around the block, explore and invent games. RIP, Roger. Our memories together will always be with me."