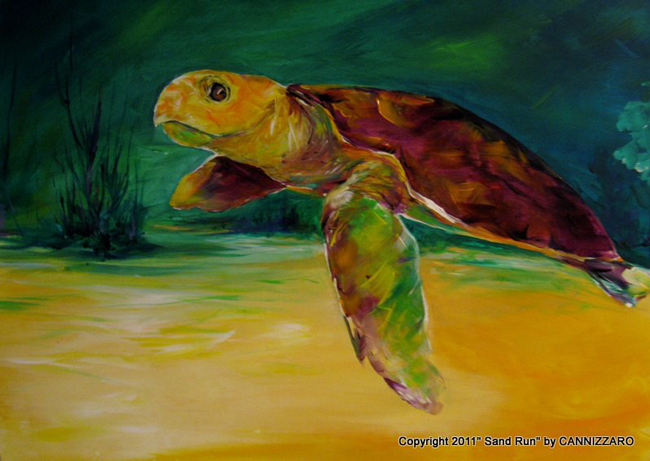 Rick Cannizzaro is back.
In an intriguing fusion of art and literature, Ocean Publishing will hold its summer art opening reception on Thursday, July 14, from 6 to 8 p.m. at its Flagler Beach oceanfront gallery, 200 South Oceanshore Blvd. Frank Gromling, Ocean Publishing's founder and publisher, described the event as "a terrific way of showcasing Rick Cannizzaro's art," and invited the public to join in Ocean's long-running conservation education program. Cannizzaro, an award-winner in many juried art shows, is known for his oil pastel and acrylic paintings.
The show's theme this month "is young turtles and older turtles, but mainly in my art I'm trying to use color to express awareness of these animals," Cannizzaro said. Like Gromling with books and writing, Cannizzaro sees art as a way to spread the word about nature and the environment, and the importance of taking care and watching over it.
"Some of these new paintings are going to be in my second book. That's where you'll see some youthful images in these turtles–whimsical, child-like," Cannizzaro said. He just wrote a children's book (for his grandchildren), "Ludi the Loggerhead Turtle," already in its second printing after three months. The book is based on God's providence for all loggerhead turtles. "Just like Ludi, God will provide for you," Cannizzaro says. "It's not Christian, it's not Jewish, it is the word 'God.'"
Gromling signed Cannizzaro as Ocean Publishing's commissioned artist in July 2010 and announced this week that the arrangement has been extended for another year. The show opening July 14 will be the fifth at Ocean Publishing for Cannizzaro. He'll have three more this year, starting with an endangered life series (which will feature an enormous gorilla).
Cannizzaro has created and will continue to craft paintings featuring the subjects of Ocean's books, all of which focus on nature, marine life, environment and conservation. "Rick's artistic ability to capture the very essence of his subjects in a colorful and almost whimsical style adds a new and dynamic dimension to what we bring to the public in both our books and art shows," Gromling said.
Also on display will be Ocean's newest book, Explore the Southeast National Marine Sanctuaries with Jean-Michel Cousteau, the first installment in a four-book project with the famous ocean protector. Ocean Publishing was honored in May with the prestigious Independent Book Publishers Association's Benjamin Franklin Award for excellence in independent publishing for its work on Cousteau's book. The book won in the science category.
Ocean Publishing is located across from the Flagler Pier. The collection will remain on display through August 15. Light refreshments will be served, and there'll be live music. The public is invited. For more information or directions, call 386/517-1600.