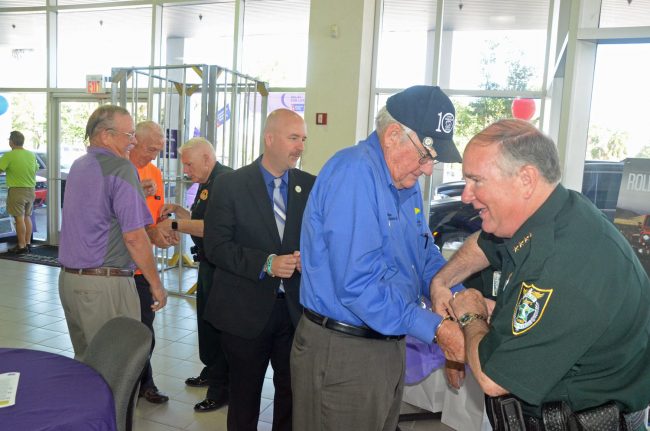 Relay For Life Flagler is scheduled for 2 to 10 p.m. at Palm Coast's Town Center Saturday. Make your donations here.

They started falling to Sheriff Rick Staly just before 10 this morning as he slapped the handcuffs on them, one after the other. None had to be Tased to win compliance, and "slapping handcuffs," as Chief Mark Strobridge noted, is a misnomer: actually slapping handcuffs on a suspect would break wrists. And these men were treated gently.
Dave Sullivan, the Flagler County Commissioner, for excessive radio exposure. Bond set at $250. Jacob Oliva, the school superintendent, for abandoning the children of Flagler County. Bail set at $1,000. Charlie Ericksen, the county commissioner, for "enjoying visits to his urologist" (he has one this afternoon). Bail: $100. And Nate McLaughlin, chairman of the county commission, for excessive time in office, though McLaughlin managed to evade Staly most of the morning, and surprise his colleagues.
"I only have one fugitive," Staly said. "He's trying to flee."
"He doesn't miss a photo-op," said Ericksen, who'd been tipped off to his own arrest in the lobby of the Government Services Building, and had prepared by wearing a bright-orange t-shirt—not because orange is the color of happiness and power in China, but because it's the color most inmates wear at the Flagler County jail. He was lucky. He wasn't in the middle of a sentence when he was arrested, as was Sullivan, who was speaking on Dave Ayers's Free For All Friday live radio show as Staly walked in, read him his charges and prepared to walk him out with Chief Mark Strobridge.
The radio audience had a hint of what was coming, as Ayers's guests also included Judy Mazella, the uber-organizer of Relay for Life for the past three years, with Steve Canfield, the retired assistant fire chief from St. Johns County, picking up the leadership relay this year.
"All this is for the Relay for Life for the American Cancer Society, which is volunteer-run," with events set at Palm Coast's Town Center all day Saturday, Mazzella said, "and all this is to raise money for cancer research and patient support right here in Flagler County."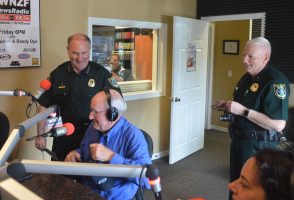 "The alternate Green Roof Inn is currently at Flagler Dodge Chrysler Jeep, and please don't hold this against me on my budget request," Staly told Sullivan, explaining to him how he could use the phone or social media to raise his bail. Flagler County Fire Rescue had set up its pink firetruck outside the Ford dealership for the occasion, and Flagler Broadcasting was beaming a show from there.
"You're taking a big chance with this," Sullivan told the sheriff, just minutes after he'd told the radio audience that the county commission was in for some serious belt-tightening. "I'm happy to do it for the cause."
Staly promised no waterboarding.
It's all fun and games, though none of it obscures—or should obscure–the carnage behind the fundraising: "Old age isn't a battle," a novelist once wrote, "old age is a massacre." But so is, and more accurately, cancer, which does not discriminate by age, and which does not merely humble and humiliate the old, but maims, tortures, poisons and demolishes the young, the adolescent, the middle aged, the old, killing 600,000 Americans every year, declaring itself in 1.7 million Americans every year, and ultimately proving rudely, contemptuously indifferent to treatment in so many cases. It wasn't an exaggeration when another writer compared war to "a cause of death like cancer," though even the worst wars end. Cancer has yet to.
Even as Sullivan was gamely participating in his arrest this morning, his wife was on chemotherapy.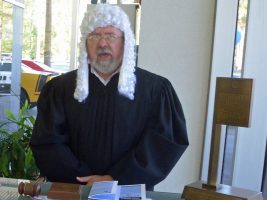 One of cancer's many other odious distinctions is its mannerless insistence on being an uninvited guest in most families: every single person interviewed today after the arrest didn't have to think to answer the question: have you or anyone in your family been affected by cancer. The answer is always a ready yes. Listen to Canfield, whose wife is a 40-year survivor of cancer. He might as well have been talking of a holocaust: "And her entire family, father, mother, younger brother and older brother have all died of cancer," Canfield said.
It's not exactly unusual. It's likely why Relay For Life doesn't lack for supporters and participants. Some 34 teams are raising money for Relay for Life in Flagler this year, with Gideon's Girls-Flagler Gun and Archery Club at the top, with over $8,300 raised (at last check), Michelle's Angels at $nearly $6,000, Angels Among us at over $3,000, and the Flagler County Sheriff's jail-and-bail team at just under $3,000. Among individuals, Canfield was at the top (over $7,000 raised) followed by Karen Karas ($5,500) and Kendra Bright ($2,000), and the top company was Coldwell banker Real Estate, at just under $3,000. In all so far, Flagler teams and individuals had raised nearly $34,000, with a goal of $55,000.
The sheriff's jail-and-bail team has considerable power to draw attention and money for the effort, which Staly hopes to broaden next year (he remembers in orange County where it was spread over several days). So the sheriff and some of his command staff spent the morning and early afternoon picking up about 15 people, including Wadsworth Elementary Principal John Fanelli, Palm Coast Fire Chief Mike Beadle and his deputy, Jerry Forte, Chamber of Commerce Board Chairman Jimmy Millholin, and Flagler County Fire Chief Don Petito and his deputy, Joe King. They were all jailed, many of them garbed in prison jump suits while awaiting donors' good graces. Some of those latter batches had it easy: no handcuffs, just the sort of zip-ties they could easily wrangle out of.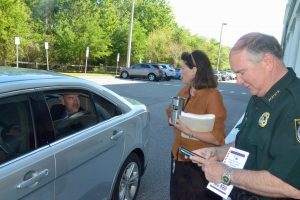 In early afternoon State Attorney R.J. Larizza was expected in town to serve an arrest warrant on Staly, for excessive work hours away from home.
They all had to appear before a judge. Since judicial rules forbid actual judges from participating in fund-raising activities, Staly said, the judge drafted for the occasion was Bob Cuff, the Palm Coast City Commissioner, actual attorney and closet barrister, who stood behind a counter at the dealership in full black robe and solicitor's wig, gavel, transatlantic anachronisms and his usual Swiftian wit at the ready.
"The sheriff was the chairman of the Boy Scouts dinner last week," Cuff said, referring to the dinner where he was honored by the Boy Scout Council as the year's Golden Eagle. "So I'll leave it at that and invoke my right to remain silent. Also, I figured it was better than being arrested since I doubt I could get anyone to send $100 to get me out of jail." The first
offenders brought before him were Oliva, Sullivan and Ericksen. "Pretty sorry looking bunch if I do say so. Same impartial hearing as everyone else brought here today. Everyone is equal in the eyes of the law in this court, unless they try to raise bail with Twitter in which case it's an extra $50."
It took surprisingly little time for most of them to make bail: Oliva, whose bond was the highest of the day, managed to make it out of jail before getting a real chance to take in life behind bars as a Facebook posting got donors across the school district sending in dollars. The charge he faced—child abandonment—is accurate: Oliva, known for spending time in schools, is leaving the district in a few weeks to take a job at the state Department of Education in Tallahassee, where children are occasionally alluded to or possibly heard about but never seen beyond the clink of statistics.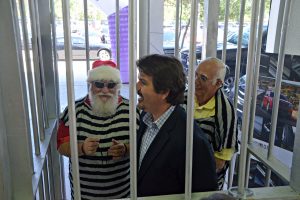 "It was great. Any time we can raise money for Relay for Life and support the cause that they stand for, we're excited to participate," Oliva said. He had not been traumatized, but, he said of his arrest in the middle of a staff meeting in his office this morning, "well, I've never had handcuffs on before, so that was an interesting experience, getting in and out of a car and trying to put a seat belt on. It was different." Not much time after his arrest, as he sat waiting in the back seat of a car—the waiting is another authentic touch—he managed to have School Board attorney Kristy Gavin standing by, though Rick Giumenta, a famed Santa Claus around the holidays, did him one better: he summoned his attorney to be waiting for him when he got to jail.
Michael Chiumento III duly was. "Santa, are they treating you well?" he asked Giumenta, who wore what Santa would wear if he were summering in the tropics. The charge against him: Breaking and entering, and flying without a license.
"They're treating me well," the convict conceded, before getting in the slammer. Chiumento was put in there with him for good measure.
"This is highway justice," the Chiumento Selis Dwyer attorney complained. "I'm too pretty to be in jail."
Millholin, the chamber chairman, "had no idea" he was getting arrested, his wife, the real estate broker Annette Gardinal, said. "His face turned beet red, it was hilarious." He faced quite the serious charge: robbery of a candy store, though someone must have greased the system. His bond was set at an unforgivably low $100, considering the 800-some chamber members he could, and should, have plied for bail money.
"Butterfingers," he said. "That's my downfall."
Charlie Ericksen, the county commissioner who's never had so much as a parking ticket in his seven and a half decades of life, didn't quite make it into the jail cell either: he bailed himself out with $100. And like everyone else, he had a story to tell that kept the event grounded in the grim reality behind the mourning-black humor. "I do it because Mom died of breast cancer at age 66," Ericksen said. "Far too young."