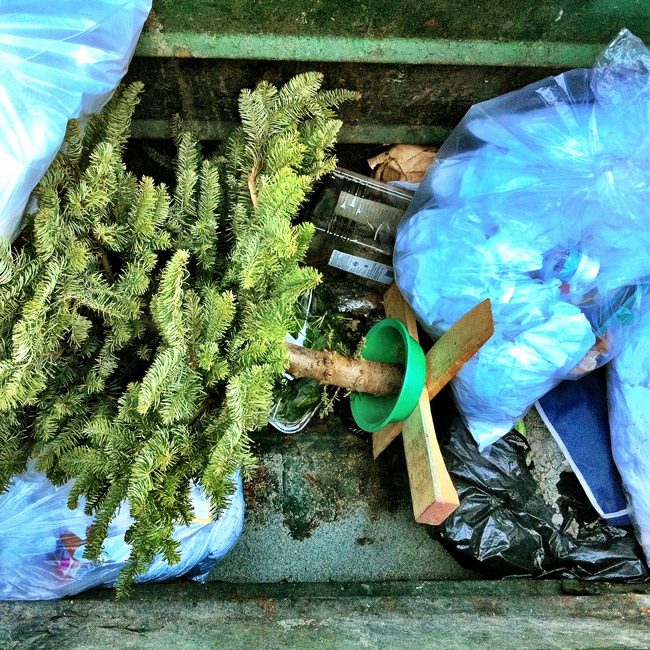 Every year, about 30 to 35 million Christmas trees are cut down and sold across North America, according to the National Christmas Tree Association, from half a million acres. The average tree takes seven years to grow to a size when it can be sold, double that to reach 6 feet. But the life of a tree after it's been cut–its use as a decorated Christmas tree–is about as long as the life of a drone ant–three weeks. In most cases after that, it ends up at curbside, though communities across the country are increasingly encouraging residents to recycle their trees.
So is Palm Coast, where the recycling spree has become a post-holiday event of its own. This year, it's scheduled for Saturday (Jan. 7), at the city's Utility Fuel Depot at 22 Utility Drive off Old Kings Road in Palm Coast, from 8 a.m. to 1 p.m.
Recyclers may receive a free three-gallon evergreen tree in exchange (while supplies last. The National Christmas Tree Association claims that for every tree that's cut down, three seedlings are planted.)
DVD and CD players, keyboards, old wires, cell phones, Christmas tree lights, Styrofoam and used gift wrap will also be accepted for recycling. No TVs, microwaves, or computer monitors, please. All trees donated for recycling will be ground and used as mulch to beautify the parks and trails across Palm Coast.
"It helps the environment and saves the City and our residents money by us not having to purchase as much mulch for projects," said Palm Coast Urban Forester Carol Mini. "There are residents who come out year after year for their free tree to plant in their yard."
Residents should remove all decorations, lights, tinsel and ornaments from trees prior to donation. Local Girl Scout Troop 966 will be there to accept the gift wrap and Styrofoam. For more information, contact Carol Mini at [email protected].