Last Updated: Thursday, 9:28 a.m.
Local government agencies are issuing a drizzle of information releases related to post-Hurricane Irma recovery. Those releases will be distilled for their essentials and published here, with the most recent ones at the top.
Register for FEMA assistance online
Sept. 14–Residents who sustained losses from Hurricane Irma can begin applying for assistance with FEMA online. To register online, go to www.disasterassistance.gov. Residents can also download the FEMA App by clicking on Disaster Resources or, if they have no power, do get the registration done at the Flagler County Public Library. Those who prefer can register by calling 800-621-FEMA (3362). The toll-free numbers are operational between 7 a.m. to 10 p.m., seven days a week until further notice.
Open Dune Cross-Over Locations in Flagler Beach
Sept. 14–City Staff have conducted an inspection of all City beach access/dune crossover locations. Effective Sept. 13, the following beach access point/dune crossover locations are open for public usage: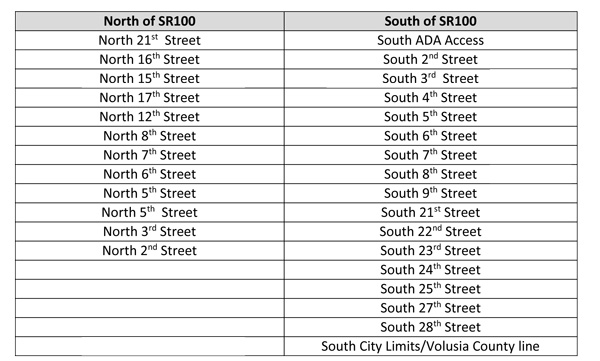 Please utilize dune crossovers only. Do not walk on or across the dunes to prevent further erosion of the dune system. City Ordinance 6-9 prohibits the destruction, harm, molestation, cutting, harvesting, removal or eradication or cause of destruction of any plant life on the Dune areas within the City, east of Highway A1A. To access the beach, please use dune crossovers but use caution. Lifeguards are not scheduled for duty until this weekend, September 16th and 17th. Swimming and surfing is allowed. The Pier will remain closed until further notice. Sections of the Pier will re-opened when it is determined to be structurally safe. The Pier Bait & Gift Shop is closed until further notice. The public bathrooms at the Pier are open. City Staff are in the process of returning trash cans at each dune crossover. Please remember to use them. Leave footprints in the sand, not your trash.
Cheer on the athletes at Palm Coast & the Flagler Beaches Senior Games
Sept. 14–After being delayed by Hurricane Irma, the Palm Coast and the Flagler Beaches Senior Games will kick off with tennis on Monday and continue through Sept. 27. Three events – archery, golf croquet and cyling – were canceled because of the storm. At this time it is unclear if the golf event will be held, because of course conditions. The three pickleball events were changed to new dates, and the event time for ballroom dancing has been changed. Other events will be held on their originally scheduled days. The public is invited to attend and cheer on the athletes at eight days of competition at various locations in Palm Coast and Bunnell. Admission for spectators is free. See www.palmcoastgov.com/seniorgames for details.
Flagler County lifts curfew, beachside open to all
Sept. 13–Flagler County officials have lifted the curfew throughout the county, and the beachside is now open to all – no check points.
Flagler County Opens Flagler County Assistance Center
Sept. 12–Flagler County is opening an Assistance Center Wednesday to help residents obtain information in the wake of Hurricane Irma. The Center is being opened ahead of a potential FEMA Disaster Center. It will be housed at the Palm Coast Branch Library, 2500 Palm Coast Parkway NW, and it will be open from 9 a.m. to 6 p.m. Wednesday through Friday. Multiple agencies will be represented at the Assistance Center, including United Way, Stewart-Marchman-Act Behavioral Healthcare, American Red Cross, Flagler County Health Department, Flagler County Human Services, Flagler County Senior Services, Flagler Volunteer Services, Flagler County Homebuilder's Association, Department of Children and Families, and FEMA (once they arrive). Residents will be pre-screened for necessary services, and provided counseling. Assistance will be predominantly for families with flooded or damaged houses.
Homes with just a loss of power and potential loss of food are not planned to be accommodated at the Flagler County Assistance Center. Food vouchers/cards will NOT be provided. Those without transportation who need a ride should call Flagler County Transportation Department at 386-313-4100.
Flagler County Bus Service for Wednesday, 24 hour reservation requirement waived
Sept. 12–Flagler County's paratransit bus service returns to normal operation Wednesday, but the 24-hour reservation requirement will be waived for the day. Those who need a ride to the Flagler County Assistance Center because they don't have transportation can call to schedule a ride. The Assistance Center will open at 9 a.m. Wednesday at the Library. The phone number to the Flagler County Transportation Department is 386-313-4100. The normal hours are 6 a.m. to 6 p.m. Monday through Friday, and from 8 a.m. to 6 p.m. on Saturday.
Flagler County Resource Center Pantry's Extra Days and Hours
Sept. 12–The Flagler County Resource Center food pantry will be open from 10 a.m. to 1 p.m. on Wednesday, Thursday and Friday. The center is located at 1510 Old Moody Boulevard, Bunnell. The Grace Tabernacle Food Pantry, 245 Education Way, Palm Coast, will be open from 10 a.m. to 1 p.m. on Saturday and again from 1 to 4 p.m. on Sunday.
Charging Station at Palm Coast's Central Park
Sept. 12–Palm Coast has set up a charging station for citizens who need to charge their cell phones at Central Park in Town Center, 975 Central Ave, Palm Coast. The park also has free wifi for people looking for access to wifi to conduct business or check in with family, employers and friends. Holland Park is open, with power, so bathrooms are functional! Please take your family there and enjoy some outdoor time. (There is no wifi at Holland Park.)
Wastewater, Sewer Issues
Sept. 12–With thousands of residences in Flagler County still without power, wastewater system issues are the No. 1 problem. About 40 percent of our PEP tank homes still have no power. The wastewater sewer system can't work properly without power – and it's been inundated with stormwater flooding. So Palm Coast has 12 tanker trucks pumping out the pump stations to help keep the pipes flowing toward the wastewater plant. Employee teams are taking generators to PEP tank homes to pump down individual PEP tanks. Technicians will get to residents as quickly as possible, but there's a high volume of work orders and so the city asks residents to be patient.
IF sewage backs up in your toilet or shower, you must immediately stop putting water down the drain. So no flushing, no using water in the sink or shower, no laundry. Call Customer Service at 386-986-2360, and they will put in a work order.
For everyone – whether you have power or not – please limit your water use while our entire wastewater system is taxed. This applies to all residents, whether you're on the gravity sewer system or a PEP tank.
If you get power restored and your PEP alarm sounds (because, of course, it can't while there's no power), call Customer Service at 386-986-2360. But also do the happy dance because your pump is going to start working!
Beachside Curfew Eased But Still Restricted
Sept. 12–Officials have eased beachside curfew hours, but access over the bridges is still limited to residents, contractors, business owners and employees. Beachside curfew will go into effect at 10 p.m. Tuesday until 6 a.m. Wednesday. The curfew for mainland Flagler County has been lifted. "We want to ensure the property owners and businesses are able to do what they need to do to get back to normal," said Flagler County Administrator Craig Coffey. "The barrier island is still without power and there are still flood waters and other hazards." Law enforcement officers will continue checkpoints limiting access the coastal areas of Flagler County.
County permitting fees waived
Sept. 12–Flagler County will waive some building permit fees in order to fast-track the permitting process for those who have property damage following Hurricane Irma. The county fees will be waived for permits related to hurricane damage until November 13th. Special exceptions will be made for the next 60 days in the following areas:
· Roofing (one) 1 square of shingles – 10 feet by 10 feet or less – no permit or plan review required
· Soffit and gutters – no permit required
· Fence repair or replacement – no permit required if the previous one was issued between 2006 and 2017
· Electrical repairs – permit required, but a plan review is not required
· A/C change-out – permit required
· Aluminum – permits are required
Contractors must be registered with Contract Licensing to work in Flagler County. Proof of License and Liability Insurance is required. Residents with questions about either permits or inspections are urged to call the Flagler County Building Department at 386-313-4002.
Alcohol sales reinstated in Flagler County
Sept. 12–Flagler County has rescinded the emergency order suspending the sale of alcohol. The ban on the sale of alcohol included bars and restaurants in addition to liquor stores and grocery stores. Sales may resume at 7:00 a.m. Tuesday morning, September 12th. The county-wide curfew is still in effect from 7 p.m. to 7 a.m. until further notice.
Palm Coast post-hurricane announcements
Sept. 11–City crews worked hard Monday to clean up our streets and to pump down the wastewater sewage system. The stormwater drainage system is draining and was much lower by Monday afternoon. Readings at each of the city's three water treatment plants show Palm Coast received 10-12 inches of rain during the storm. Power outages continue to be widespread in Palm Coast, though service is being slowly restored.
Road Closures – Due to unsafe conditions because of flooding, downed power lines or fallen trees, a number of roadways in Palm Coast are temporarily closed. Do not go around a barricade. Never drive on a flooded roadway. Even with minor flooding on neighborhood roads, vehicles can create a wake that could flood adjacent homes or garages.
Traffic Signals – Many traffic signals in Palm Coast are being temporarily powered by generators. If you approach an intersection in which the traffic signal in not operational, state law requires you to treat the intersection as a four-way stop for all vehicles approaching the intersection.
Garbage and Recycling – Regular garbage and recycling service by Waste Pro will resume Tuesday, Sept. 12. Please be patient as road conditions may hinder Waste Pro's efforts to complete routes.
Debris Removal – With the amount of vegetative yard trash and construction debris generated by Hurricane Irma, it may take several passes through Palm Coast to pick up all the debris. This process is expected to take several weeks.
NOTE: Don't pile vegetative debris on your water meter box or your sewer cleanout cap or your PEP tank lid. All are near the front property corner.
Property Damage – City staff began formal damage assessments Monday. Houses and properties across Palm Coast have downed trees, torn screen enclosures, missing roof shingles, siding damage and fallen fences/sheds. If you have property damage, hire a licensed contractor – All contractors other than for debris removal and landscaping/tree removal are required to have a license. Ask to see the license. Also, get a written estimate and contract before the work starts. Ask to see a copy of a license of any company you consider hiring to perform repairs or check the state website at https://www.myfloridalicense.com/wl11.asp. To check locally licensed contractors, you may check the Flagler County website at http://flaglercounty.org/index.aspx?NID=633. Once City Hall reopens, the City of Palm Coast Building Division would be pleased to assist you in looking up information and providing advice on how to choose the right contractor. The number is 386-986-3780.