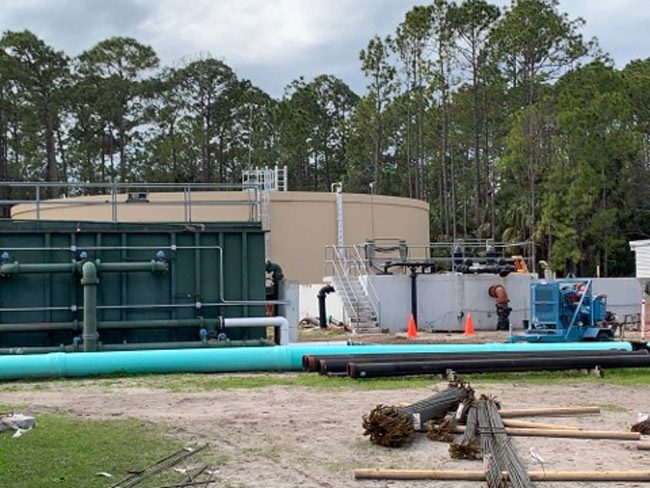 Less than two weeks ago the Flagler County Commission learned that its administration was ready to bid out a $6.1 million construction contract to build a water plant at Plantation Bay, the community of 2,000 that straddles Flagler and Volusia counties and that's been plagued by a decrepit water and sewer utility run by the county since 2013.
Tonight, the county commission, at Commissioner Dave Sullivan's urging, agreed to suspend that plan and consider "other options."
One of those options is to sell the potable water portion of the utility. "The other option that hasn't been discussed in the past for a variety of reasons is why not just bring the water in from Bunnell or Palm Coast and forget about trying to fix a bunch of wells that don't work very well," Sullivan told the commission. He is also concerned about security at the plant, which he and fellow-Commissioner Joe Mullins consider to be shoddy.
"I'm not saying what to do," he said, clarifying his motion: he wasn't asking commissioners to vote for one of those options, but to table the current plan to build a water plant. Meanwhile, he said, "fix the wastewater system as soon as we can."
But the county has the money to build the new water plant–or was planning to get it through a state loan. It does not have the money to build the sewer plant. When commissioners met two weeks ago, they voted to make it their top priority to ask the Legislature to appropriate $10 million for sewer plant. But that's mostly a Hail Mary, as the Legislature is not in the habit of appropriating sums that large for relatively small communities, especially as it has already awarded Plantation Bay some grants.
By halting the water plant, Commissioner Greg Hansen thought that might free up $6 million. But it doesn't, since the money was to have been borrowed–and since the county is already on the hook for over $6 million from its 2013 purchase of the clunky utility from Mori Hosseini, owner of ICI Homes and the developer of Plantation Bay.
Sullivan is also concerned about the split of Plantation bay's residents between Flagler and Volusia. "Over half the people in Plantation Bay live in Volusia County," he said. "There's some aspects of that that need to be looked at."
Under state law, an unincorporated community that draws water from a municipality's water system is required to annex into that utility under most circumstances. There are exceptions, including some in Flagler (such as Palm Coast Plantation, which sued Palm Coast and won when Palm Coast pushed annexation).
Sullivan insisted: "I never want to annex Plantation Bay into Palm Coast," he said, and he would oppose it should it come to that.
"The proper way for us to do this would be through a workshop," Commission Chairman Don O'Brien, who is not opposed to looking at options to offload the water plant, said.
Jane Gentile-Youd, the Plantation Bay resident whose decibels over the years have at times unilaterally kept the plant's conditions before commissioners (she ran for the commission last fall and lost to Mullins), agreed with Sullivan but this evening pressed the commission to stop further construction and adopt what she called a "Mori-torium," a play on words on Hosseini's first name: she wants a halt to the pending certificates of occupation in Plantation Bay for 53 new homes. "Stop them," she said, until utility issues are resolved. As for annexing into Palm Coast, she said "I will die first before I will let them touch me or my tax roll."
Gentile-Youd also said she will be lobbying Volusia County government and Flagler government to annex the Volusia portion of Plantation Bay into Flagler.