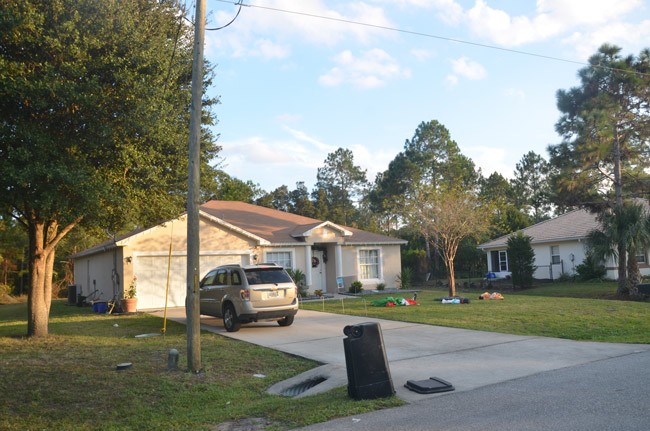 The 911 dispatchers got the call just before 6 p.m. Sunday from 89 Pheasant Drive in Palm Coast, just off of Ponce de Leon. Joshua J. Ortiz, 17, reported that his house had been burglarized, and that he'd gotten into a scuffle with the alleged assailant, who had a crow bar and a small knife, but who got away.
The sheriff's office called in Air One, the emergency helicopter, and K-9 units, setting up a perimeter and crisscrossing the neighborhood with units and deputies on foot. The P-Section was abuzz with the sound of the helicopter circling above for about an hour. By mid-evening, the sheriff's office ended the search without turning up a suspect.
Ortiz said he was toward the back of the house when he heard a pop in the front of the residence. When he walked toward the front to investigate, the couch had been pushed away from the wall and a man wearing a black ski mask was climbing into the house.
The suspect, Ortiz said, never made any sounds or said anything to him. But he noticed the crow bar, and realized the house was being burglarized, he told police. He said he attacked the man. The two men fell on the floor and scuffled. Ortiz said he started striking the suspect on his head repeatedly until the two men separated. The alleged assailant then reached into his right pocket and pulled out a small black folding pocket knife with a sharp point, which he swung at Ortiz, causing a laceration on the inside of his left arm.
Deputies observed no other signs of injuries.
After the assailant allegedly cut him, Ortiz told police, the assailant left through the front door and ran southeast towards the rear of the property, which abuts an empty lot, and into the woods.
Joshua's parents, Alba Pedraza and Jermaine Rosado, both 38, had been shopping when they got a call from their son, who alerted them of the incident before calling police.
Deputies determined that the entry point appeared to have been had been a front window whose screen had been bent and ripped to the floor. "No visible signs of forced entry were observed on the window frame and the locks were in the locked position," the incident report states. "Joshua denied locking the windows and Alba and Jermaine also stated that the window is always locked." A surveillance camera was on the front of the house, but it hadn't been on.
Ortiz was unable to provide a description of the suspect, the incident report states, other than that he wore an all black long sleeved shirt, black pants, a black ski mask and gloves. Ortiz initially said it was an older black male taller than six feet and heavy. After deputies requested another description, however, Ortiz was unsure "due to what the suspect was wearing."