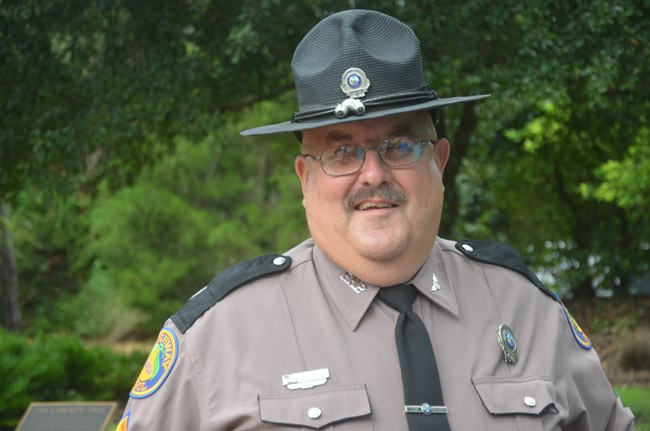 Pete Young didn't quite know what to do with himself. "I'm glad to be able to accept this award for the person you just described," he said, almost embarrassed, as he held the medal he'd just received at Heroes Park in a brief ceremony this afternoon. "I'm sorry he didn't make it."
The humility wasn't fake. Young, the 60-year-old Florida Highway Patrol corporal who's been patrolling Flagler roads longer than there's been a Palm Coast seemed out of his element at the receiving end of public accolades and had even apologized to a few people who'd showed up, assuring them it hadn't been his intention to advertise the event. But his daughter had put it out on Facebook: Young was receiving the Sons of the American Revolution's Law Enforcement Commendation medal, an occasional honor granted men and women "who have served with distinction and devotion" in law enforcement.
"Obviously Pete far exceeds that," says Randall Morris, president of the Flagler chapter of the organization.
Not that a five-decade career in law enforcement had been in Young's plans. "I wanted to be a professional golfer," he says. "I didn't get a golf scholarship at Daytona Community College for one year." He needed money. There was an opening at the Flagler County Sheriff's Office. "At first it was something to fall back on and complete my education, because I was still going to school and working the night shift for the sheriff's department," he says.
Then he discovered that law enforcement grants could pay for any schooling he wanted. So he kept going all the way to a doctoral program.
Forty-one years later, no one among the county's uniformed and still active law enforcement officers comes close to Young's years of service, though Young wasn't aware of the fact. The most senior uniformed members of the Flagler County Sheriff's Office–all part of the class of 1987–are more than a decade behind Young: Cmdr. Mark Carman, Sgt. Michael van Buren, and deputies David Malta and Shirley Anderson, though Wendee Hartman, the sheriff's records supervisor, is their senior by two years. Sgt. Larry Jones, hired in 1984, retired last year. Bunnell and Flagler Beach's cop crews are younger.
"It was like playing golf," Young says of his decision to stick with policing. "The ball never landed on the same spot. That's what I always told everybody. That's why I like golf."
---
"It was like playing golf," Young says of policing. "The ball never landed on the same spot.
---
That, and his expertise as a traffic homicide investigator. He's conducted more than 500 of those, though it's not the sort of distinction he likes to point out, either: every one of them represents a man, woman or child who died in a wreck or as a pedestrian, or sometimes in plane wrecks (which FHP investigates as traffic crashes). That's been the heart of his job which, unlike that of most road cops, most people never see, because his work scenes are sealed off, the sort of scenes first responders, medical examiners and hapless, surviving victims of the worst that can happen on any road end up seeing. Scenes that can mess up anyone.
"Because of the gravity, the severity of the job that he and I do," fellow-homicide investigator and FHP trooper Steven Howard says, trying to describe his colleague's dedication, "he's managed to keep those who work with him–I don't want to say maintain our sanity, but he's tried to not let the job get to us so it doesn't affect our ability to do a good job. In other words he centers us. He understands it's a bad situation, but makes sure if you're working with him, this is what we've got to do, this is what we're going to do, regardless of how bad the situation is. He's helped me out a lot in maintaining the focus of the job, even though it's a really bad situation that upsets a lot of people."
Christopher Conrad, also a fellow-trooper who works crash scenes with Young in the patrol's nine-county zone that includes Flagler, spoke in similar terms of the man his colleagues know as not the excitable sort. Whether he's at a crash scene with multiple fatalities, dropping in at a government meeting or, for that matter, accepting a medal, his demeanor is equally calm, his dry humor ready to break whatever tension there may be. In 40 years there isn't much he hasn't yet seen on the roads.

"My dry sense of humor? It kind of came from my dad," Young says. "He investigated plane crashes for the Air Force. I investigate car crashes. When you have to deal with the things we have to deal with in our profession, sometimes you have to find some humor to keep us going. Nothing against anybody personally, but sometimes you have to see things that most people don't see, things that most people day to day don't have to deal with. Sometimes you have to think of something funny that someone who works with you has done, to deal with the negative things we have to deal with."
But the humor plays a key role–to keep emotions in check and keep the focus on the job: reconstructing a scene and explaining in cases as air-tight as possible how someone was killed and why. An impersonal crash report that may become the central document in court begins on the asphalt and shards, and sometimes around the blood and body parts of victims, at crash scene. In Flagler, the persons behind that report are Young and his colleagues.
"The main thing is you try to do the job," Young says. "If it was somebody you knew or it was a family member, you'd want to answer all the questions the family are asking. That's what you try to focus on, is get all the answers, and trying to be impartial and trying to be fair with everybody involved. It usually falls together after you're done with your investigation. You usually have the answer to what actually took place, then you can take appropriate action, either filing charges or clearing whoever is involved. I like to clear people if they're not guilty. But then again if they're guilty of something or did something wrong, I'll try to prosecute them, so the family can have some closure."
Young had grown up an Air Force brat in Texas before moving to Flagler County where his parents planned to retire. He went to the old Carver High School with his brother, who ended up being among the first teachers at the new high school now known as Flagler Palm Coast High. After two years as a dispatcher and a jail deputy, Young became a road deputy in 1976, when Gerald Ford was president. He then hopped over to the Bunnell Police Department, where he was chief for a while, before returning to the sheriff's office and patrolling Palm Coast's earliest glimmers, when it was still more ambition than sprawl.
He joined the Florida Highway Patrol in 1982 and spent all but two years since in Flagler and surrounding counties. Along the way he's been a Bunnell City Commissioner (and might still be had it not been for a state edict forbidding law enforcement officers from running for elections). He still serves on a couple of government advisory boards. He's on the adjunct faculty of Vincennes College's St. Augustine campus, teaching criminal justice and homeland security-related courses. He's working toward his doctorate in public affairs at the University of Central Florida. And he works a couple of extra jobs, one of them in charge of security at VyStar Bank on Palm Coast Parkway. Not that he has time left to spend his money. "My kids do a good job of that," he says of his daughter Katie, who still has two years at Florida State, and his newly married daughter Jennifer Rodbourn of Bunnell.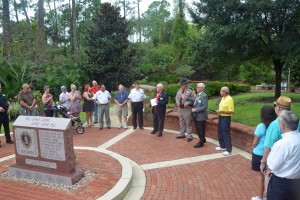 In all those years he's never been shot or shot anyone, though he's drawn his gun a few times. It's helped, in the grimmest sense, to be a homicide investigator: it's the nature of the job that by the time Young shows up, the people are already dead. But he still patrols. And though he started in law enforcement in the mid-70s, when the reputation of police was at a low ebb, he says matters have deteriorated since, at least in his region of Florida.
"It seems like we had more respect," Young says of the earlier part of his career. "People would stop and see if we were OK. Truck drivers would stop. There wasn't a whole lot of officers backing up each other because we were spread out. Most of the time it was somebody you knew or somebody who respected law enforcement who'd stop on the open highway and see if you had a problem with anybody. You don't see that now as much, where the public is getting involved. Most of the time with officer safety there's a lot more back-up and you wait for back-up, because before it didn't seem like you had the weaponry out there as you do now. Now you're taking high-powered guns away from people up here."
Not that Young is joining in the debate over anything like the alleged "war on cops." Exaggerations leave him cold. (Largely inflammatory and inaccurate recent rhetoric over cop-killings to the contrary, there's been a sharp decline, decade after decade since the 1970s, in the number of cops killed in the line of duty, according to the National Law Enforcement Officers Memorial Fund. That decline has continued even in 2015, with fewer cops killed so far this year than last.)
Evolution of the job aside, Young still loves the work and has no plans of quitting, as long as his health holds up. He says he doesn't need to hold on for a pension. His retirement is secure. He might run for office again locally. He's not sure. For now, he's going to stay on the roads. It's for the work that he appreciated the medal most of all.
"To me it means more than getting a 3 percent raise," Young says of the Sons of the American Revolution citation, "because it seems to me that somebody out there is grateful for what you're doing. You get a raise, it comes in your check and that's it. They don't say thank you. Here when we have ceremonies or whatever, or an officer is getting a letter of recommendation, it seems to me that means more."