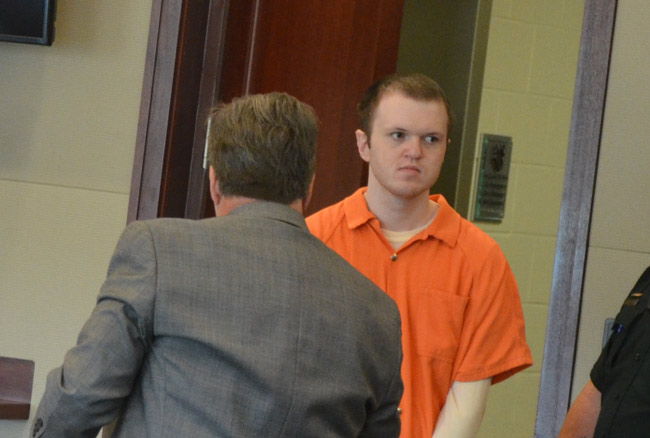 The pre-trial hearing for Paul Dykes this morning in Flagler County circuit court was relatively routine on its face: a motion by the defense to suppress some of the statements Dykes made in a nearly hour-long conversation he had with state police agents, leading up to his arrest in March 2015 on child-porn charges, shortly after he turned 18.
Those charges subsequently totaled 36, including three charges accusing Dykes of rapes involving his own daughter, who was not yet 3, and the toddler of another woman–Erin Vickers, who was found guilty last month of raping her child, with Dykes allegedly watching and directing her by video.
The evidence against Dykes is substantial, and the bar his public defender, Bill Bookheimer, had to clear to win a suppression of certain statements was very high, because agents explicitly read Dykes's rights before interrogating him before his arrest. So the outcome of today's hearing, just weeks ahead of next month's first trial of Dykes, was essentially foretold. Circuit Judge Dennis Craig denied the motion.
But the greater significance of today's hearing was two-fold: it revealed the degree to which Craig will go to see the case in any light at all favorable to the defense. That degree is very little, which does not bode well for Dykes. And, perhaps more significantly at this stage, it featured the testimony of Dykes's mother, Robin Dykes, providing for the first time an interior view of Paul's life and a less sterile, grayer perspective than the back and white police and media reports have so far publicized.
The more modulated portrait of a man facing what amounts to some of the more monstrous charges that can be brought against anyone may not make much of a difference in the end: it didn't today, suggesting that it would be just as ineffective at trial. But it nevertheless lends a human dimension to inhuman allegations: the portrait of a man not so much troubled as developmentally disabled, though not one so disabled as to not have his own car, a job, and two children by two different women.
Robin Dykes took the stand mid-morning today and stayed there for about an hour, speaking assertively without sounding confrontational, and always kindly about her son. According to her testimony, Dykes has eight brothers and sisters, one of whom died. He's been in Palm Coast since he was 10. "He had a lot of health issues starting from when he was a small baby," including fevers of 105 and 106 that would go on for several days, she said, leading to two hospitalizations. His development was different. "He was further behind than any of the other children were," his mother said, referring to her own children.
Dykes sat at the defense table in his orange jail jumpsuit, looking at her or ahead most of the time. His attorney had convinced the judge to let Dykes's hands be unshackled during the hearing to he could take notes.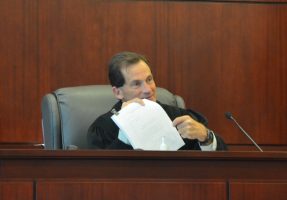 Dykes was in speech therapy for 11 years because of "significant speech problems," his mother said, which would lead him to be so frustrated that he started to speak in signs. "He made up his own sign language that I had to learn," his mother said (though those issues waned, based on how the judge later described his interactions with police). He was diagnosed with attention-deficit hyperactivity disorder when he was 7. He developed an occasional habit of "zoning out," his attention wandering as he'd stare dead ahead. "I've noticed it here in the courtroom in the past couple of years," Robin Dykes said. He had poor grades. He was held back in third grade and almost failed seventh grade but was passed on. He was on medication, but quit when he was 14 because he felt stygmatized. He had profound difficulties reading, too, though he appears to have overcome that difficulty. "One tiny good thing that has come out of this is that he has started reading voraciously. Nothing else to do," his mother said, when asked how Paul spends his time in jail.
He was failing out of middle school and was advised to enroll in Florida Virtual School. He did so, only to be expelled from virtual school. He enrolled in a GED program, which he was still attending when he was arrested.
"Do you suspect that your son has a kind of genetic abnormality?" Bookhammer asked her.
"Judge, I'm going to object, that's speculation," Assistant State Attorney Jason Lewis immediately said.
The judge overruled, but not for long. Robin Dykes began to speak of online research into a certain syndrome involving "gene deletion," particularly after she spoke to a friend whose son has the same syndrome. Lewis objected again, and as she revealed that there'd never been a blood test for the syndrome, he objected a third time and was granted that objection, ending that line of questions and likely shutting it out at trial.
Robin Dykes was home with her husband and brother and P.J., as she calls Paul, the day Florida Department of Law Enforcement agents converged on Paul as he stepped out of the house in his Publix gear to go to work. It was, startlingly, 45 minutes after agents had been searching the house before they read her the search warrant. "As soon as they told me my son was under arrest, I fainted," she said. She asked to speak with her son but was denied. She then sought to describe him as uncomprehending during his 49-minute interview with FDLE agents even though he'd been read his rights.
"To say he's naive is an understatement. He doesn't understand things like other people do," his mother said. "He's not like other 18 year olds, he's more like a 13 year old, 14 year old." He frequently did not understand something that he at first would say he did. He would pretend to understand something because he didn't want people to be mad at him. When Bookhammer asked her what she saw when agents were speaking to her son, she said: "What I saw was my child terrified, the look on his face, this is my child, I know my child."
It was Bookhammer's attempt to portray a young man being subtly manipulated, but when Assistant State Attorney Joe LeDonne briefly cross-examined Robin Dykes, the sheen of unawareness that had misted around Paul quickly fell away:
He got a license to drive a car and got his own vehicle for his 18th birthday. He had his own checking account, paid for his own cell phone bill, started a job at Publix bagging groceries just nine hours a week, was moved to stocking shelves, increasing his hours to around 30, which is just about full-time for most Publix employees. He was well past the sign-language phase. "Yes, he could hold a conversation," his mother said, including in the twice-a-week visits at the jail, where she talks to him through a video link.And he is father to two girls, now 5 and 3, though parental rights have been withdrawn.
LeDonne asked Paul's nothing whether he had "multiple relations" with women, but she portrayed his intimate life as that of a boy who had his first girlfriend when he was 14, becoming a father when he was 16 ("he stepped up like a man," his mother said), maintaining shared custody of the child after the couple broke up. He became involved with another girl whom he also impregnated. That daughter was also at the house several times a week.
Along the way, LeDonne slipped in questions as to where one of the children slept when she was at the Dykes home, and got Paul's mother to say that she sometimes slept in Paul's room: it is the sort of detail that the prosecution will make part of its arsenal when Paul faces the rape charges at his November trial.
---
"One tiny good thing that has come out of this is that he has started reading voraciously."
---
The prosecution had conceded that when FDLE agents served the search warrant that morning in March 2015, Paul Dykes was detained and was not free to leave–he was in custody before his arrest. It didn't make much of a difference to the defense's argument.
"I can't say that there were any kind of manipulation in the reading of the rights," Bookhammer told the judge, making his argument for suppression of Dykes's statements to police. He argued a different angle: "deception."
"It wasn't I would say overt deception, but very subtle," Bookhammer argued, referring to cops's approach. "The main part was whether the person understood the nature of the rights." Dykes's intellectual capacities were not those of a normal 18 year old, he said. But those subtleties Bookhammer was pointing to are nothing unusual when police try to interrogate suspects, whatever their capacities: the subtleties are the preferred method for cops and detectives who walk the tightrope of reading rights while doing everything they can to keep the individual from lawyering up.
One of the FDLE agents who conducted the interview confirmed it.
"It was not confrontational, it was a conversation," Veronica Edwards said of the interview with Dykes.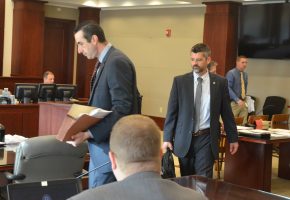 "Did he ever state to you, I do not understand what you are reading to me?" Lewis asked.
"No, he did not," Edwards said. But he was very worried about getting arrested.
Lewis in his argument to the judge claimed a medical report–sealed in the court records–belies the notion that Dykes has "any cognitive deficits." His competency was found to be sound, according to the report. Lewis then took one of those leaps lawyers take to assert a conclusion to the case before it's even been tried when he said that Dykes "admits to actually sexually abusing his child," at least in that report, an assertion Craig was quick to say was still "an allegation" at this point. But Lewis insisted: No, it was an admission.
Not that Lewis had to do much convincing.
"The Miranda warnings were obviously read to Mr Dykes," the judge, who had listened to the audio of the agents' full interview with Dykes, said, "his answers appeared to be quite unequivocal. As far as listening to his tone or anything else, the court couldn't conceive of any confusion in these answers, and then reviewing the rest of the tape, all of Mr. Dykes's responses to all of the questions were appropriate responses," by which he did not mean that they were honest or dishonest, but that he showed clear understanding of the questions. "It was also clear that Mr. Dykes understood the incrimination that was involved."
Craig's ruling, like Dykes's tone in the interview, was unequivocal.
That should have been the last pre-trial before the Nov. 13 trial. It wasn't. Bookhammer has filed another motion to suppress, this one following a second warrant that emanated from an FDLE interview with Dykes in jail on April 6, an interview that Dykes cut off after nine minutes: he invoked his right to an attorney the moment the FDLE agent confronted him with allegations of incestuous sexual relations with his daughter. That pre-trial will not delay the trial itself, and may be disposed of at the latest on Nov. 9.