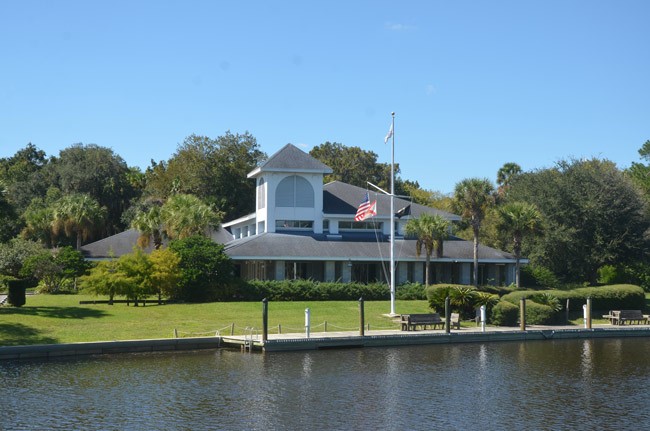 Palm Coast government is exploring turning the de-facto but exclusive senior center known as the Palm Coast Yacht Club into an actual, public senior center (the city's first) in conjunction with a nature center. The dual use is compelled, if not made natural, by the location of the serene Long Creek nature preserve next door–and a state requirement for a nature center that Palm Coast must build.
It'll be costly. The Yacht Club's asking price is $975,000. It may also save the city money, depending on the approach. If the city were to build its own nature center, it could cost $2 million. But it won't help the tax rolls. The Yacht Club stopped paying property taxes—including school taxes—in 2006, because of its community service activities, when its tax bill was ranging between $11,000 and $13,000 a year. If the city acquired the property, it would remain tax exempt.
The Palm Coast City Council discussed acquiring the property at a meeting earlier this week, raising more questions than answering them. While two council members–Mayor Jon Netts and Jason DeLorenzo–like the idea, three other council members are more reserved about it. They're worried about what would result in a second, duplicative community center so close to the first, on Palm Coast Parkway.
The city acquired the $4.5 million Long Creek preserve in 2007 with money from the county's Environmentally Sensitive Lands program and from the state's community trust program, but part of the acquisition's requirement of the preserve's management plan is a nature center with classroom and exhibit space. "That's the importance of the Yacht Club's viability as a nature center that will serve Long Creek Nature Preserve, its location," planner Jose Papa told the council. "There is no inconsistency in combining uses, both the needs of a nature center and a nature center." (The city has designed a 5,000-square-foot nature center.)
Palm Coast has always lacked a senior center. An attempt to build two such centers in 2005, but through a bond levy that would have increased taxes, was rejected by voters. Rather than build new, the Yacht Club offers the city an opportunity to acquire an existing building and meet two goals in one swoop.
The 7,7600-square foot Yacht Club was built in 1992. It has its own commercial kitchen and large seating areas. The building's roof needs replacing, the building's cooling system is old, and there's no telling what inspectors will find once they look over the place more thoroughly.
---
The long-term costs of a fully staffed center would erase up-front capital savings, and would require some kind of tax increase.
---
"The only way the Yacht Club makes any sense from a financial capital standpoint is that it would replace the nature center," City Manager Jim Landon said. "If you don't replace it, then your five-year, 10-year capital plan, you tip it on its side. You are required contractually to build a nature center. But we are working and that's coming up, that the Yacht Club would satisfy that. So then you'd cut that out." Some capital improvements would still be necessary to meet state requirements for the nature center, such as outdoor bathrooms, but they'd be more modest than building a new center outright."
"I'm a big proponent of multi-use facilities," Netts said. He's seen various nature centers in his other functions, but those centers have struggled to find other uses. Single-use facilities have their uses when schools bring their students, for example, but beyond that, they appear "extravagant" to the mayor—making a dual use facility more attractive. But he, too, has questions. "I want to know what the rehabilitation costs are going to be," Netts said.
On the other hand, the city is planning a major expansion of the Palm Coast Community Center, where usable space will be tripled to 18,000 square feet. The Yacht Club site is three miles from the community center. "Expansion of services at the Yacht Club does not remarkably improve the availability of city services to other areas of the community," the city finds. In other words, if the city were to build a senior center, it would not build it at the Yacht Club location. It'd be located somewhere nearer to Belle Terre Parkway, near Indian Trails Middle School.
The Yacht Club facility run as a senior center would also need to be staffed full-time. It would not generate revenue but would actually cost the city considerably more to sustain. A nature center alone would not have to be staffed. In the long run, the dual facility would cost more to the city's bottom line, erasing up-front savings.
"So either there's going to be a property tax [increase] or you're going to have to earmark some other type of tax, an electric franchise fee or something like that is always an option," Landon said. "You can look for earmarking for facilities like this. But you can't go into this with the idea, we're going to buy this we're going to open it, and then figure pout how we're going to pay for it later." At the same time, he said, "we believe we can buy the Yacht Club and renovate it and meet the nature center requirement for less than it would cost to build a new nature center." But he cautioned: "We're not promising you that."
Council member Heidi Shipley is not interested in having two places that do the same thing within 3 miles. "It's really way out of the way," council member Steven Nobile agrees.
The next step—due diligence—will cost $20,000 to $30,000. It'll include an appraisal, some design work and other standard reviews.
"I hear the philosophical angles, pro and con from one to the other, but as you know I'm a guy that makes decisions based on numbers. I don't have  any numbers to look at," council member Bill McGuire. "But you can't spend $30,000 for due diligence if you don't know where the money is."
Only DeLorenzo was all in. "There's an opportunity here to reduce our costs at Long Creek and give us flexibility of the facility," he said.