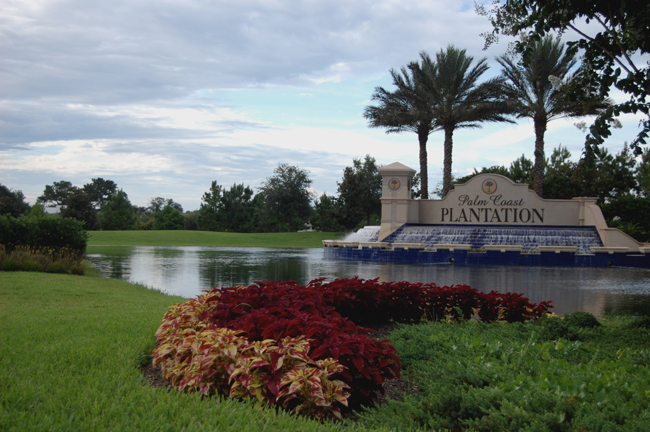 The water wars are back. This time it isn't Palm Coast and Flagler County who are going at it, as they did in the middle of the last decade. It's Palm Coast and the 600-odd property owners at Palm Coast Plantation. The county, fearing a return to those water wars, is the city's ally on this one, offering the property owners nothing like the kind of help the county offered the Hammock's property owners when they fought off Palm Coast's attempt to annex that tax-rich region five years ago.
Palm Coast Plantation, off of Colbert Lane, is also a wealthy subdivision. It bears Palm Coast's name, but it wants none of it. It's in the unincorporated part of the county, and it wants to stay that way. Some 163 homes have been built there, leaving 471 undeveloped lots. Property owners want to build on those lots. The county won't issue them building permits unless they can prove that they have water and sewer hook-ups. There are no county hook-ups there. There are city hook-ups. But Palm Coast won't extend them unless the property owners sign a "voluntary" annexation petition. That petition would enable Palm Coast to automatically annex Palm Cost Plantation once it has secured just over half the property owners' signatures. Some 74 percent of the lots are undeveloped, making annexation a mathematical certainty, if lots are developed and Palm Coast can keep securing those petitions in exchange.
The property owners consider that coercion. They want to stay unincorporated. They especially don't want to pay what they estimate to be an average of $1,000 in extra taxes if they were annexed into the city. As Palm Coast City Manager Jim Landon told the plantation's homeowner association at a meeting early this year, according to Homeowner President Rick Staly, "I have nothing to offer but higher taxes with annexation."
Although Palm Coast can, by law, make annexation a condition of extending its water and sewer services to properties beyond city limits, the association says two legally binding agreements supersede Palm Coast's claim. One is the agreement plantation homeowners had with Florida Water to provide water and sewer absent an annexation agreement. Florida Water was the private utility that provided water and sewer to Palm Coast and thousands of customers around it, including the Hammock, well before the city incorporated. That agreement was transferred to Palm Coast when the city bought the utility in 2003. "The city is trying to renege on that," Staly said.
The second agreement is the 2007 court-ordered settlement of the water wars, which prohibits Palm Coast from requiring annexation as a condition of providing water and sewer services in areas "south and/or east of the existing Palm Coast city limits, and lands east of the Intracoastal waterway." The homeowner association says Palm Coast Plantation is clearly in that zone. Landon tells them the development isn't. So the city keeps wanting to muscle through its annexation petitions.
The association tried to negotiate, meeting with Landon, Richard Adams (the city's utilities director), county commissioners and others. "We were disappointed that our elected representatives for our district and the county declined to resolve it or have the county resolve it," Staly said, "and we got nowhere with the city. We had no recourse but to go to litigation."
On Friday (Aug. 13), Palm Coast Plantation Homeowners' Association sued Palm Coast in Flagler County Circuit Court, saying Palm Coast is violating the 2007 settlement. The suit also charges that property owners' "choice of government is being eliminated by Palm Coast's actions in this regard. At least 18 property owners within PCP have already been impacted," with Palm Coast requiring annexation petitions as late as March. The suit was filed by Stephen Faustini, an attorney with Upchurch, Bailey and Upchurch of St. Augustine, and Laura Donaldson of the Manson Law Group in Tampa.
Five years ago Palm Coast, Flagler County and Flagler Beach fought the "water wars" as the three governments battled for water and sewer customers on the Barrier Island and in the Bulow Creek area along Old Kings Road. It was the consequence of a fast-growing city (Palm Coast) biting as much as it could chew, a diminishing county holding on to its own boundaries, and tiny Flagler Beach making a pitch of its own in the utility races. It was ugly. It divided Palm Coast and the county. It spawned strange reactions, like the Hammock's attempt to incorporate into Marineland and Bunnell's defensive attempt to annex so much land that it would become one of the nation's biggest cities by land mass.
Palm Coast, Flagler County and Flagler Beach all have their own water and sewer utilities. Those utilities, particularly Palm Coast's, are cash cows, enabling local governments to shift their tax burden from property owners to utility customers and replace taxes with "rates." (The county's utilities are not as profitable.) For cities, utilities are also annexation's best friend. State law allows cities to make their services beyond their boundaries contingent on annexation. Cities don't have to make their utility services conditional on annexation, but they usually do, because the more a city annexes, the bigger its tax base. So utilities can be used to generate cash and increase political leverage.
Palm Coast devoured thousands of acres between the mid-to-late 2000s through annexation. It's still hungry. And it's using its utility as bait.
Palm Coast's ordinance regarding access to its water and sewer service is clear: "The owners of properties desiring to be served with utility service must take appropriate actions to annex the served properties into the City Limits of the City of Palm Coast." In other words, it's not the city that's going after annexation. It's the property owners who are asking for it. At least that's how the city sees it. It's not how those on the receiving end of the city's bullying tactics see it.
The Hammock on the Barrier Island, north of Beverly Beach, was the most acrid battleground of the water wars. Hammock residents, who represent one of the wealthiest tax bases in the county, had been getting "city" water for years before a city even existed, back when the water utility was privately owned—by Florida Water. Hammock residents were happy with Florida Water's services, paying the 25 percent surcharge that came with buying water from the city utility. They expected to continue receiving them under the utility's new name and new ownership, as they had all along.
Palm Coast had other ideas. It produced those "voluntary" annexation petitions. Hammock residents had no alternative but to take Palm Coast's water. Palm Coast was forcing customers there to sign those annexation agreements anyway. The Hammock rebelled, held polls that showed overwhelming opposition to annex into Palm Coast, and pressured the county to force Palm Coast to back off. It worked. Palm Coast Plantation is taking a page out of that playbook.
Palm Coast's ordinance also gives the city manager discretion to waive the annexation requirement, turning the manager into a powerful water cop. Palm Coast's two managers have not been much interested in those waivers.
Staly of the homeowners' association said the property owners "tried to solve it diplomatically." It hasn't worked.