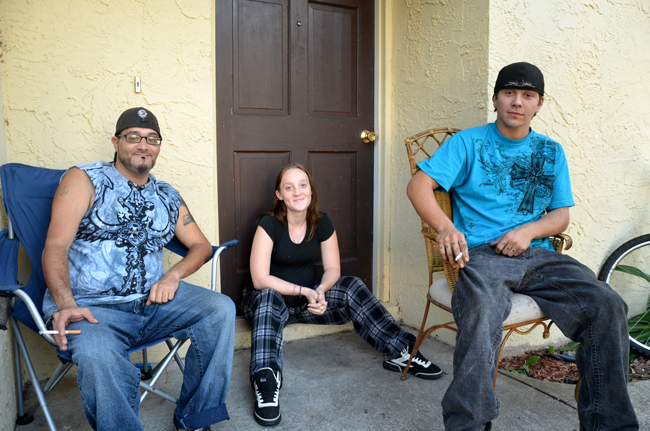 Some facts are not in dispute: two dogs are dead, a 74-year-old woman was bitten by one of the dogs, a young boy is traumatized over seeing his dog mangled to death, many of the neighbors around the duplex at 4B Farraday Lane are so upset with the residents of that house that they're planning to appear before the Palm Coast City Council Tuesday morning to press for more city control on the property, while the lease holder at the house, who had no idea the neighborhood had organized against him to that extent, says it's time people stop making up stories about the goings on at his address.
Beyond that, the conflict involving residents of Farraday and Fawn lanes against Daniel Coletti and Patrick Morin—the lease-holder and one of the residents at the duplex—appears to involve more sound, fury, assumptions and conflicting tales than hard evidence.
What started as a conflict over unruly dogs has evolved into tensions over a house where neighbors say there's too much suspect activity—cars coming and going for brief periods at odd hours, parties in the backyard, the smell of pot or the sight of syringes—all of which Coletti explains calmly: he's a diabetic. Morin is mentally disabled, and another resident of the place has disabilities, too. Both are visited frequently by social workers. Yes, there's hanging out in the backyard and a lot of cigarette smoking, but there's never been a noise complaint issued against the place, nor any other law enforcement matter with one exception: cops served a warrant at the address for Charles Reid (who happens to be the official owner of one of the dogs at the heart of the matter) over a probation violation. Reid was not there, but he was booked into the jail on Nov. 7.
"It's all about stereotype because I don't look like the average Palm Coast person," Coletti says. "In my whole 37 years of living I've never seen the back of a cop car, never been arrested, nothing." Coletti has been at the Farraday Lane address two years. His brother Dean Erwin and his fiancée, Lacie Stowel, were visiting Monday afternoon. They're familiar with the place and the situation. Stowel, who's worked in social services, says the allegations of pot smoking at the house are absurd given the frequency of visits by various state agencies. "If there was any illegal act, any drugs, these guys wouldn't be able to be here," she said, referring to Morin and one other disabled individual. "It's a whole bunch of misunderstanding that they're getting out of this," Erwin says.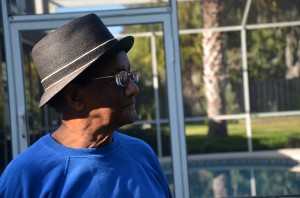 That's not at all how the neighbors see it, including Ray Henderson, who'll be at the council meeting Tuesday. "We're going to ask them if there's something the city attorney to at least convey a letter to the owner and renter of the property to determine whether the lease can be aborted, or not extended for another year," Henderson said of the purpose of the appearance before the council. "How come the sheriff's department can't at least have their detectives examine the situation more thoroughly and find out exactly what's going on in this particular situation, because obviously there's more to it. They're saying it's nothing, it's nothing, but there is something. It's too clear that there's more going on there than meets the eye. We have a nice neighborhood here, on this side of the area, the kids play, they have a good time, people walk their dogs. Those two young boys next door are severely traumatized by seeing their pet killed in front of them. I mean, it doesn't make sense to have this kind of situation going on, to let it happen, to continue to happen. There should be something that can be done to eliminate or alleviate this problem."
Directly across the yard from Coletti's duplex is Clinton Jacobs's property. Jacobs is a retired train conductor from Queens, N.Y., who spent years working the New York subway. He says he knows the smell of marijuana, and it wafts over from the other yard, which is a matter of a few paces away from his. He has a screened-in pool where any of his 13 grandchildren like to splash around when they visit, but the foul language and disorders he witnesses from the duplex's backyard, Jacobs says, are too much to take at times. "I'm looking out my window now. Junkyard out there, four bicycles, tables chairs, vacuum cleaner," Jacobs says. And a couch. Looking at the yard in person, it's just as Jacobs describes it, though the clutter is relative: many Palm Coast yards have yard furniture, and some of it, even when it's fresh from the outdoor-furniture stores, can test the limits of gaudy-to-ugly. Coletti's happens to be more worn, and yes, there are several bicycles: it's how the residents in the house get around.
Still, Jacobs said, its gets to be too much. "They sit on the tables and talk and smoke and drink beer and wine and stuff, and they just—it's disheartening." He compares the scene to New York ghetto stuff.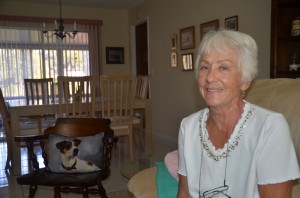 The neighborhood was organized by Carolyn McLaughlin, a two-time cancer survivor who lives a few houses down from the duplex. She has little patience for the stories Coletti and other there say, disbelieving them. On July 12, she was walking her dog in front of the duplex when a pit bull rushed her. People were sitting on the front porch of the house, idle. They didn't call back the dog. McLaughlin was bitten and says the dog drew blood on both her legs and hand, and left puncture wounds on her dog, Lexie.
Coletti today said the dog wasn't his, it had come running into the neighborhood, though a July 12 report by the Flagler County Sheriff's Office says otherwise: Coletti had locked the dog in the house after the incident. The dog's ownership was attributed in that report to the same Charles Reid who'd later be arrested on the probation violation charge, but when animal control sought it out, it wasn't there. But there was a dog at the house, Gucci, a black and white pit bull that had, in fact, belonged to Reid, and that Reid had given to Morin when he could not take care of it. That happened at least a year ago, according to Coletti and his brother today. Gucci was euthanized this week.
Earlier this month, on Nov. 2, Morin was walking Gucci on Farraday Lane. Enzo Castillo was walking his small dog, Brownie. Brownie and Gucci met. Brownie barked at Gucci. Gucci doesn't like other dog. Gucci got loose from Morin and attacked Brownie, severely injuring the little dog to the point that it had to be euthanized. There's no dispute about the incident. But it reinforced the neighbors' anger and frustration. By then McLaughlin had already organized a meeting with the city's code enforcement staff, along with Mayor Jon Netts, but she says the meeting went nowhere. She sent an angry letter to Netts after the second attack, claiming that Patrick (whom she called Michael in the letter) brutalized the dog and treated him in such a way as if to purposefully make him vicious.
Morin, meanwhile, who lost his father some years ago and is only now grieving for him—an example of his mental disability, Coletti says—is not understanding why Gucci was taken away from him.
"Gucci is being put down. Shouldn't that be enough?" Stowel asks. Gucci was a family dog, too, she says. "But to evict somebody from their home? How far should it have to go?"
McLaughlin now walks the street with mace and a wooden billy club, the gift from a date in the 1960s (he was a cop), that she swings around to alleviate her carpal tunnel syndrome. Coletti had perceived it as a steel pipe, and said McLaughlin would stare at his house while swinging it—one of many apparent exaggerations and misunderstandings, on both sides, that riddle this story.
The city council now gets to hear it during the inaugural meeting of its newest members, Jason DeLorenzo and Bill McGuire.
"What am I seeking? Responsible pet ownership," McLaughlin says. But now that there are no more dogs at the house, what else? She doesn't believe the place is dog free. And she says the residents of the duplex never paid restitution to Saira Castillo, Enzo's mother. "I think they should leave. They have terrorized Enzo's mother long enough," McLaughlin says.