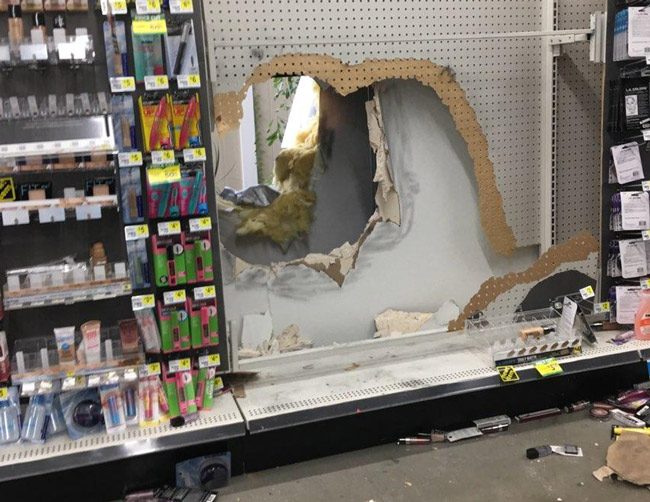 Thieves broke into the Dollar General store on Palm Coast Parkway overnight Thursday by carving a hole through the wall. They ransacked the store, stole $4,700 from the safe and some fireworks and got away.
A 53-year-old employee arrived at the store this morning (July 5) at 6:50 a.m. to get it ready to open. She immediately noticed the safe broken into and the hole that had been carved open through the wall, from outside, on the east side of the stand-alone 12,000 square-foot building at 500 Palm Coast Parkway.
The employee then left the store and kept additional employees from going in, pending the arrival of Flagler County Sheriff's deputies. She calculated that the $4,700 in cash was stolen from the safe along with some fireworks with an estimated value of $60.
The hole was carved through about chest-high, just large enough for a person of adult size to fit through, emerging inside the store against an area of shelving that appeared cleared out by the intruders. The exterior wall, according to Flagler County Property Appraiser records, is made of stucco and so-called STL panels, a form of sound-absorbing or "sound-transmission loss" panels. The safe, behind the counter, was severed open and its contents of cash-register trays and documents spread on the floor, where thieves went through their loot.
The store alarm had been set at midnight and turned off by the employee when she arrived at 6:50 a.m. It never went off. The store has a security-camera system. That footage was being reviewed and was not immediately available for publication. But the Sheriff's Office in late afternoon Thursday said the footage was proving unhelpful: it's too dark, showing only the light beam from the thief's flashlight.
Surrounding businesses did not have surveillance footage pointing toward the Dollar General store.
The same Dollar General was broken into in October 2013 when a burglar, captured on surveillance video, smashed in the front door to get in, then attacked the cigarette machine. The machine held firm against him, angering him as he tried various ways to break in. No safe was accessed during that break-in. Of the innumerable burglaries that take place every year, the closest similarity to this last burglary at Dollar general is the the May 2015 burglary at Larry's Guns and Ammo in Bunnell, where thieves gained access to the store through a roof vent then dug through roof tiles and pried back an air-conditioning opening to jump into the building. Thieves stole five shotguns. The theft was never solved.