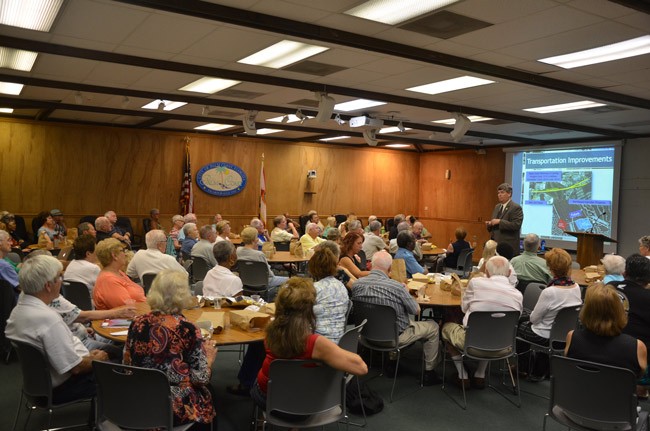 When he's not in a subordinate role—when he doesn't have to answer to council members or sit through the verbal version of what he calls "nastygrams" at council meeting, where he sometimes looks as put out as Barack Obama in his first debate with Mitt Romney—Palm Coast City Manager Jim Landon is genial, humorous, relaxed, quick on his feet and in near-full command of a room, as he was today before close to 90 people at the Palm Coast Community Center. He held their attention for a full, unflagging 110 minutes.
They were a friendly crowd, almost all on the more senior side of the city's demographics (in other words, more representative than not of the city's demographics). The free bagged lunches were surely one way to pack the room for the "lunch 'n Learn" occasion—the city picked up the $400 tab—but so was the speaker: Landon presented the equivalent of a city manager's stump speech, a broad and insider view of the state of the city, addressing many rumors ("I love to hear rumors," he said to start things off, because he likes setting them straight), dropping a few tantalizing surprises about what people may see soon and where, and generally providing an upbeat overview of Palm Coast  governments and its many works.
"You know the other thing you do?" Landon asked the crowd after explaining how morning showers in most households drain the city's water tanks. He was explaining the reach and ubiquity of government services. And in this case talk had turned to sewers. "You send us something, first thing in the morning. You never say thank you. You just expect to push the little lever and it's going to disappear and now, from now on, you can say thank city for taking my favorite—whatever. You do. But the reason I like pointing those things out when I can is that we touch your lives a lot more than sometimes you realize."
So it went, starting with those rumors: is LA Fitness coming to town? Not to Landon's knowledge.  "I've heard a lot of retail names. LA Fitness is not one of them," but many retailers are "taking a hard look at Palm Coast," Landon said. That immediately brought up Walmart and its perennial promise to build at the south end of Old Kings Road, near State Road 100. At first Landon delayed answering the question, because it was part of his subsequent presentation, but when it came time for it, he laid it out:
He'd been explaining the four-laning of the rest of Old Kings Road, from Town Center Boulevard north, and how that's to be paid for by property owners along the way—but not until more development occurs there. That had been the reason to widen the southern portion of Old Kings Road, for Walmart, which never built on the parcel it bought. The city had borrowed money from its own utility fund to build that section of road on the assumption that future development would eventually allow it to refinance the project with bonds. But the bond market went south and didn't allow it, leaving the city holding the bag.
Landon didn't get into all that: his presentation is designed to focus on the brighter side of things. But he did speak about the latest with Walmart. "We contact them periodically and we give them the housing start numbers and we're back and up and running and you need to take a look at it. And for the most part Walmart doesn't even return your call unless it's in their best interest. But about three weeks ago their real estate broker called our economic development people and said, what's going on in Palm Coast?" Walmart was wondering if a big box store had closed here. It hadn't. Walmart noted that its local store in the city had seen its sales "go through the ceiling" recently.
---
An upbeat outlook on a city teeming with construction, and even a little renewed interest from Walmart about that second store.
---
"So, I don't know when, but it's all a matter of what those numbers are on their computers," Landon said. The Florida Department of Revenue reports, in tabulations summarized by Palm Coast, that taxable sales overall have increased 7 percent in Flagler County in 2014, over the previous year, when sales had also increased 7 percent. The 2014 figure was better than Volusia's 6.6 percent increase, but behind St. Johns's nearly 10 percent increase. See the tabulations here. Walmart wasn't looking at those overall figures, but at figures within its own store in the heart of Palm Coast.
"It's nice to have Walmart call us and ask. Can I tell you when?" Landon said, referring to when Walmart might build that second store. "No, but I can tell you they continue to monitor us, and it's all about growth, and it's not about just how much we have grown. When they open their store, they expect their current store to dip temporarily. But it's got to start climbing again. And their new store definitely has some climbing and they only know that that will occur if they have enough new customers in the area."
Some of that activity is happening: After the housing bust had reduced housing starts to a few dozen in 2010 and 2011, activity has been picking up annually, with some 325 housing starts last year, and 300 to 400 projected this year. That's still a far cry from the 400 to 500 starts a month at the height of the bubble, but those numbers, Landon said, were "too much, absolutely."
Employment in the county has also changed dramatically since 2010, when, in Flagler and Palm Coast, just under 28,000 people held jobs, compared to just over 40,000 in February, with the unemployment rate cut by well over half, down to 6.7 percent. Tourism, too, is up significantly, as attested by surging bed-tax revenue.
The city is seeing plenty of economic activity now and will see more in the months ahead, much of it publicly funded, some of it not: the widening of Palm Coast Parkway, of course, but also the construction of the Matanzas Woods interchange with I-95, which, Landon said, will be closing the Matanzas Woods Parkway bridge starting this summer, soon after school lets out nearby. The city will be a beehive of construction activity, from City Hall in Town Center to Holland Park to the Palm Harbor Parkway extension, simultaneous with the Matanzas Woods interchange, not to mention ongoing private redevelopments such as Island Walk (the former Palm Harbor Shopping Center) and Palm Coast Landings, the senior living apartments in Town Center.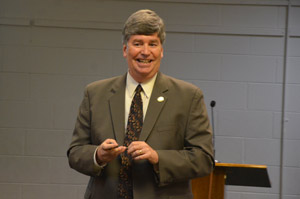 "Who still thinks City Hall is a waste of your money?" Landon asked. There was barely a peep. "From a financial standpoint, if you could pay cash for a house and get rid of rent and you own your house and have no more payments, would you do it?" That one got more audible approval. The more frequent question Landon gets these days is: "Where is city hall?" That, and an echo of the housing bust: "When will Town Center take off?" a question he heard this morning. He was quick to remind the audience that Publix, the Hilton Garden Inn, Target are all part of the Town Center development, as is the movie theater and the office building, not far from the future city hall, that houses ACI, one of the largest private employers in the city.
There was some concern about what will happen to City Marketplace when the city offices move out, creating a gaping emptiness in the commercial development. To that, Landon reserved some of the morning's sharpest words, directed at John C. Bills Corp.
"It's sad," Landon said. "The new owner came in, he raised rents. I didn't get it. You raise rents when you add value and things are hopping and everything. They came in, doubled, tripled rents. Their association fee went up, I mean, the things they were doing to the tenants were amazing to me. I saw boxes going out to cars constantly, and they said we're out of here. That's free enterprise also. Now, when we leave, yeah, that's going to create a void, but to tell you the truth we shouldn't be in a retail center. We're not where we belong there, and I don't think it's our responsibility to bail out the landlord that doesn't seem to know how to take care of his tenants. So hopefully that will turn around, but something different is going to have to happen."
A good portion of the talk was devoted to the nuts and bolts of city initiatives, including some wending their way before the city council this month—fences in front yards, which got very negative reviews from this morning's crowd ("you need to say that louder to five city council members. I'm not one of them"), or the city's proposal to spend $2 million a year fixing 5 miles a year of waterlogged swales, which would entail working over quite a bit of private property, too—another initiative that did not get much enthusiastic response today.
Landon was asked about two recurring golf matters: the money-losing Palm Harbor Golf Course, which the city owns, and the Matanzas Woods Golf Course, where the grass tends to overgrow. Landon had no clear answers on either other than his defense of the city holding on to the Palm Harbor greens. The reason: it helps property values in surrounding areas. This, even though he acknowledges: "If you want to make money in a business, let me give you a pointer, do not get into golf in Palm Coast, part of the problem is we're saturated."
But even Landon doesn't buy the notion that younger people can be attracted to the game. He cited his own granddaughter, now entering high school. "Doesn't even cross her mind, not even an option." As for men like him spending five hours playing golf on the weekend, he said that would have him see a divorce attorney by Monday: families are no longer inclined to that sort of lifestyle.
When he started his talk at 11 a.m., Landon joked that he had the community center until 5 p.m. He may not have been kidding. A staffer had to call out to the assembly that he'd take one last question almost two hours into the presentation. His powerpoint is accessible here or below.