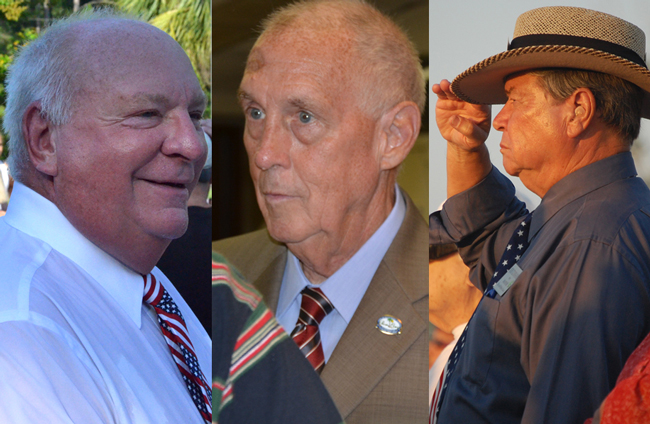 The comedy of errors known as this year's Palm Coast municipal elections crossed its first certain milestone: Qualifying closed at 5 p.m. today, and the first election, a primary, will be held only for mayoral candidates on Sept. 13. Two council seats contested by four candidates will be decided on Nov. 8.
No new names had jumped in by 5 today. Two once vaguely interested names had previously jumped out (Charles Ballard, a member of the city's Leisure Services Advisory Committee, and Ray Minami, whose tassel has yet to settle since his graduation from Matanzas High School a few weeks ago).
That left three candidates for mayor, the same number as four years ago, and almost the same names: Incumbent Jon Netts, Charlie Ericksen Jr., who is taking his first run at elected office, and Joe Cunnane, without whom no Palm Coast election would be complete. Cunnane has been contesting elections since before Palm Coast was a city. His dislike of Netts has kept him, despite his 76 years, young in a field where youth is beyond memory. Netts and Ericksen are both 68, though Ericksen bikes between 10 and 20 miles a day, usually in a race with dawn, while Netts logs his mileage on four wheels, traveling the four corners of Northeast Florida as a member of councils and commissions with very long names. That's when he's not at his part-time job towing boats in distress on the Intracoastal. (Ericksen keeps his meeting attendance, also copious, in-county.) Netts is a retired school administrator, Ericksen a retired insurance executive, and Cunnane a retired IBM manager.
If history holds, Cunnane's chances are minimal. He got 10 percent of the vote when Netts trounced the field in the 2007 primary, taking 67 percent of the vote. That made a run-off in the general unnecessary. Two years earlier Cunnane managed to get less than 6 percent of the vote in a council-seat race (won at the time by Alan Peterson, now the chairman of the county commission, with Bill Lewis, now on the council, a close second). So it's really a two-man mayoral race that quite possibly will be decided on Sept. 13. To win, a candidate needs just one vote more than 50 percent. Failing that, the top two vote-getters go to run-off on Nov. 8.
The race is ostensibly non-partisan, but none of the candidates is playing it that way. Ericksen and Netts are both Republicans. They've been doing their best to woo fellow-Republicans, which has been difficult given the fracture of Republican Party politics in Flagler County. Ericksen has been cultivating tea party ranks, without whose support he would have little chance. Netts isn't fond of tea party rhetoric and banks on core supporters who've known him and been electing him since he beat Jerome Full for a council seat in 2001, his last relatively close election–if you call a 57-43 percent win close–, seven days before the 9/11 attacks.
Two council seats are being contested. Incumbent Holsey Moorman, a Democrat, is facing an outright tea party challenge from Bill McGuire in the District 1 contest. McGuire has never run for office before, just as Moorman never had before 2007.
In District 3, the seat being vacated by Mary DiStefano, who's term-limited, Dennis Cross is running against Jason DeLorenzo. Cross had originally qualified for the race, then was booted out when the city's redistricting commission picked a map that redrew voting districts in such a way as to disqualify Cross. An outcry followed, particularly over the redistricting commission's shoddy handling of the its job. The city council reversed the commission's decision. Cross's candidacy was restored.
Cross, running from Grand Haven–the precinct that usually turns out the most, or close to the most, voters in any election–would like to think he has tea party support, but the tea party itself is divided on this one, with its chairman, Tom Lawrence, ironically supporting the Democrat in the race, Jason DeLorenzo, the government affairs director for the Flagler Home Builders Association. DeLorenzo is the youngest man, by decades, in this municipal election. Also, among candidates or sitting council members, only DeLorenzo is gainfully employed at a full-time job and not on government dole of one sort or another. He alone isn't drawing Medicare, Social Security, VA or unemployment benefits.
Every other candidate or council member is either retired, employed part-time or, as is the case with Frank Meeker, soon-to-be jobless: Meeker, until last month the council's last great employed hope, was among the 139 people either fired or who lost their jobs from the St. Johns Water Management District on orders from Gov. Rick Scott. Scott required management districts in the state to slash their property tax rates, reduce their revenue and cut the scope of their responsibilities and oversight. The St. Johns district was among the hardest hit. (In all, 24 employees took an early retirement offer, 20 vacant positions were eliminated, 95 people were fired. Meeker's job ends Sept. 30. An earlier version of this story had incorrectly put the number of job losses at 170. That had been an estimate in July, before the actual notices went out.)
One other certainty about the next Palm Coast City Council: it will once again be a men-only club in a city where women and girls account for more than 52 percent of the population.