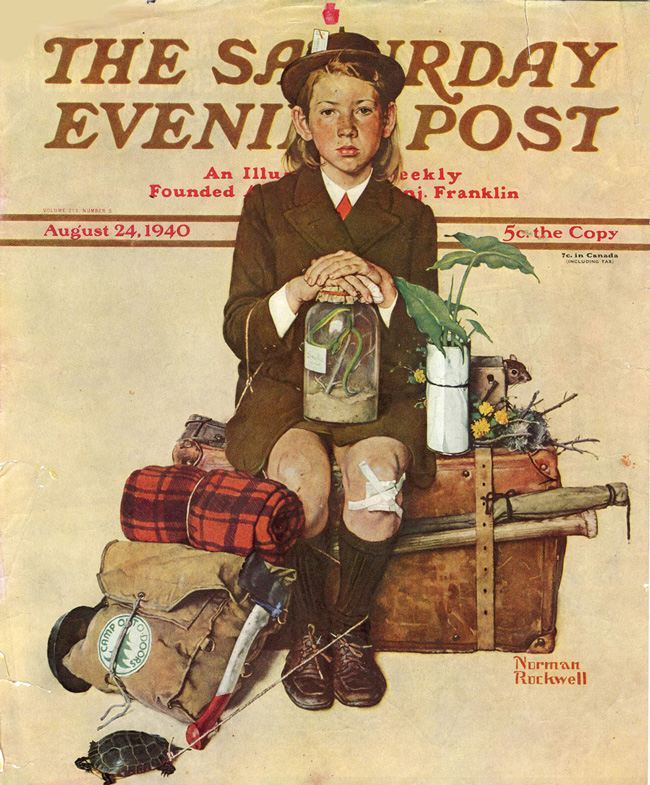 Yes, the Saturday Evening Post is still publishing, as it has for much of the past 300 years. And Palm Coast Data, the subscription fulfillment service, has gained back its account, which includes two other specialty magazines for children, after losing it to a competitor some years ago.
The win helps offset yet another loss for Palm Coast Data: All American Crafts, which published 11 niche magazines, stopped all publishing in August and, with $7.5 million in debts, filed for bankruptcy in October. It owed Palm Coast Data $325,000.
"Among the company's several hundred creditors is listed a notation valued at over $2 million for the unfulfilled pre-paid subscriptions of 'tens of thousands' of subscribers," Nancy Nally, a Palm Coast-based writer who first reported the bankruptcy in late October, wrote. "Given the company's assertion in the filing that there will be no money to pay unsecured claims like that of the subscribers, it is unlikely that the subscribers will see any compensation from the liquidation. Another possibility (as happened when Memory Makers folded) is that the unfilled subscriptions would be purchased by a rival publication. Given the current state of the publishing market, that looks unlikely as well."
A 2011 newsletter reported one of All America Crafts' magazines, The Quilter, as having a circulation of 200,000.
Palm Coast Data did not publicly address the loss of All American Crafts on its blog, as it does more favorab le developments such as the retiurn of the Post to its fulfillment ranks.
"The strides we are making at Palm Coast Data are exciting, and we're pleased The Saturday Evening Post Society sees value in the strategic direction we have set – as well as the accomplishments we have already made," Rory Burke, president and chief executive officer of Palm Coast Data, said in a news release issued Tuesday. "Our industry-leading solutions are well poised to support The Society's business objectives both immediately and moving into the future. We are pleased to re-engage and look forward to continuing a long relationship with this organization."
The Post's circulation is nowhere near its peak of 6 million in the mid-1950s: it's now closer to the 350,000 mark. It's no longer the weekly that would be delivered every Saturday evening. Rather, it comes out just six times a year. And its focus changed radically: the magazine that once carried the bylines of Faulkner, Hemingway (whose bullfighting stories it rejected), Fitzgerald (whose stories it censored), Poe, Kipling, Steinbeck and many more became in the early 1980s a health magazine.
The Post, struggling with a $2.5 million debt at the time, was acquired in 1982 by the Benjamin Franklin Literary Society for $2 million. The Indianapolis-based Society is a non-profit (now called the Saturday Evening Post Society, with revenue of $7.5 million in 2012) that now also publishes Humpty Dumpty and Jack and Jill, which also come out six times a year. The Society was established ion 1976 "in an effort to honor, preserve, and share its historical legacy of promoting the arts and literature," its About page states, "while inspiring and empowering individuals to embrace a proactive approach to physical, mental, and spiritual health."
"The Saturday Evening Post began chronicling American history over 200 years ago," says Susan Hanley, circulation manager of The Society in Palm Coast Data's release. "Since then, we have expanded into a variety of stimulating topics, including health and medical trends, fiction, cartoons and more. Further, we have added children's titles that open up new worlds for 2- to 12-year-olds. As a publisher that has constantly evolved to reflect the needs of our readership, we sought a fulfillment partner that continues to bring new capabilities to its clients – and that partner is Palm Coast Data."
As the fulfillment partner, Palm Coast Data is providing a number of crucial services – including digital support, emarketing, transaction processing, customer service and more – for The Society's magazines, The Saturday Evening Post, Humpty Dumpty and Jack & Jill.
Palm Coast Data has itself been struggling to maintain its place as a fulfillment center as print products disappear and revenue from digital substitutes have yet to match the old model. But Burke, in an appearance before the county's economic development board earlier this year, pledged that the company would stay put and forge ahead with various innovations.
Palm Coast Data is a subsidiary of Princeton, N.J.-based Amrep Corp., a publicly traded company. On Wednesday, Amrep stock was trading at close to $4 a share, half its high of $8.15 a share in the past year, and down from close to $15 a share in 2010.