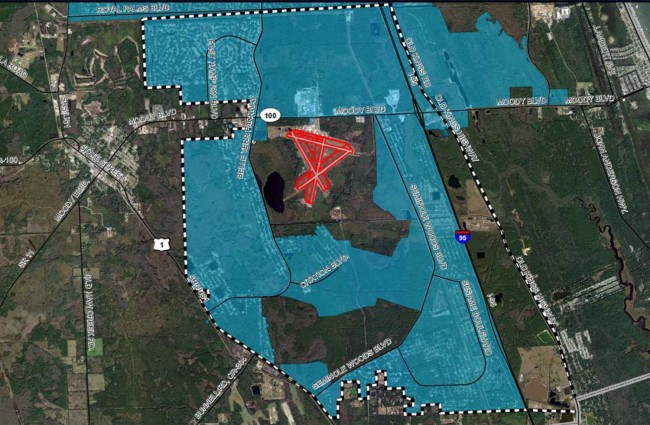 Palm Coast and Flagler County government appear close to signing an agreement four years in the making that would resolve differences over the county-owned, city-surrounded Flagler County Airport. Palm Coast would agree to provide water and sewer services to coming developments at the southwest end of the airport, but it would no longer insist on annexing those properties to do so, as it had insisted in 2010. A similar agreement was worked out at the end of 2010 but was not ratified.
"For a number of reasons it's either sat on the desk or been a hot topic, depending on whether the National Guard was getting funding or not getting funding," Beau Falgout, a senior planner with the city, said Tuesday. A plan by the National Guard to open a reserve center at the airport, also long in the making and still nowhere near fruition, prompted negotiations over an agreement in 2010.
The Palm Coast City Council is still not entirely happy with the final product. It has asked its administration to rework the agreement to settle on more specific language regarding two issues: a potential city park the city wants to build on 3.5 acres of airport land; the land would be deeded to the city. The city wants that land whether the National Guard center opens or not. Currently, the agreement makes the park contingent on a National Guard center opening. The city also wants to ensure that the county (or whoever pays those bills) will pay the surcharge for water and sewer services assessed non-city residents.
"I don't care if the tenant pays them the county pays them, I don't care who pays them, but I don't want the city of Palm Coast residents subsidizing somebody else's project," Mayor Jon Netts said.
If those two issues can be worked out before next Tuesday, the council was willing to ratify the agreement at its meeting then. But the county commission has yet to see or discuss the agreement, let alone ratify it at their end. To county and city, the agreement, in its wording, is intended "to further intergovernmental cooperation and for economic development."
The airport's north side has always received water and sewer services from a Palm Coast utility—from Palm Coast Utility Corp. before the city incorporated, then, after the city bought the utility, from the city-run utility. But Properties receiving Palm Coast water and sewer service are required to annex into the city. It's in city law. The provision is backed up by state law, which gives cities that authority.
That has always been a sticking point between Palm Coast and the county, and not just at the airport. The Hammock a decade ago fought a long battle to ward off annexation. The same conflict has been an issue at the airport's south end. The conflict flared in 2010 when the Florida Army National Guard was considering a move to the airport, at the county's invitation, where it was seeking to build a reserve center.
---
Palm Coast agrees no longer to pursue annexation of airport property, though a legal precedent stopped it from doing so anyway.
---
"Our policy is, if you want water and sewer, you have to annex," City Manager Jim Landon said during a council meeting, with Guard officials present, in July 2010, "and so we're going to have that issue come forth. We don't need to deal with that right now, but traditionally the county has been fairly resistant to have the airport being annexed into Palm Coast, but this is going to generate that discussion, because I don't have authorization to give water and sewer unless they annex first."
The county was not happy.
Days later, Charlie Ericksen, who'd become a fixture in the audience at county and city meetings as well as airport advisory board meetings, asked commissioners at a county meeting a direct question: "I specifically heard one council person, one city manager say that they would not supply utilities to this particular location unless that land was annexed to Palm Coast. I'd like to know how that particular subject is going to be addressed."
There would be no annexation, Craig Coffey, the county administrator, explained that October in 2010. "On the airport you'd have a master meter like you do now. We're master-metered on the airport now. That's been our tentative discussions to date. Nothing set in stone. Obviously that's up to this board."
And County Attorney Al Hadeed in a November 2010 memo to the commission had made clear that Palm Coast's ordinance, in this case, did not prevail, because a 2007 court settlement and agreements subsequently mediated as a result compelled Palm Coast to agree "that it will not require annexation as a condition of providing retail water and wastewater" to areas in contention. "Accordingly," Hadeed concluded, "the Florida Army National Guard area is not subject to annexation by the City of Palm Coast irrespective of what the City of Palm Coast policy may state today or in the future."
Coffey at the time said an agreement would be ready in a matter of about four weeks. It actually took four years. (In the interim, Ericksen was elected to the county commission, and by January 2011 Palm Coast had retreated from its annexation designs.) But the agreement in essence sets in stone, or at least in durable clay, the approach Coffey had outlined in 2010, taking into account the $1.5 million the county has since invested in the airport to improve its infrastructure, and the companies it's attracted there, especially Aveo Engineering, due to build at the south end, where it has a 40-year lease on a dozen acres.
But the agreement's link to the National Guard facility, which has been—in council member Bill McGuire's words—more off than on over the years, and is going through one of those long off periods—was a worry to council members. The deeding of land for the city park being contingent on the National Guard was especially objectionable.
"Basically if the National Guard does not happen, then that whole 55 acres is up for future evaluation as to what's going to happen there," Landon said.
"And Plan B may or may not include the availability of land for a city park," Netts said.
"Correct," Landon said, pausing. "This is all subject to change. What you could do on that one is put a time frame" around the agreement.
"We don't have neighborhood parks down there at the moment," Netts said. Absent an alternative, he added: "I'm not comfortable with this. All those residents deserve a neighborhood park, and this is the only property. Fifty-five acres, 52.5 acres, I'm sure they can develop it some way if the National Guard does not occur."
Falgout said the county would not have an issue with putting a time frame around the agreement.
Palm Coast will waive right-of-way application and permit fees for road and utility improvements. The county will deed a small parcel within airport property to Palm Coast for a city park, but only when the military reserve center moves in. The county and the city will conduct joint development review of planning around the airport. The city and the county will also jointly study the feasibility of future fire stations in that area.
"What if the city council says no, we're not going to approve this interlocal agreement," McGuire asked the city manager. "What happens then?"
"We would not allow a water-sewer connection at that end," Landon said. The county would then be compelled either to change the agreement or to extend a water and sewer line from the north end of the airport. But Landon was disinclined to wait on the agreement until the National Guard has more solid plans to move in.
"It should have happened five years ago so I could get it off my desk, to tell you the truth," he said, seeing no reason to delay it. "I mean, this is more of a spirit of intergovernmental cooperation."
"This is like we'll play nice," McGuire said.
"And the economic development component," Netts said. "We certainly don't want to do anything to impede that."

Palm Coast-Flagler County Interlocal Agreement Over Airport Properties (Proposed, 2014)