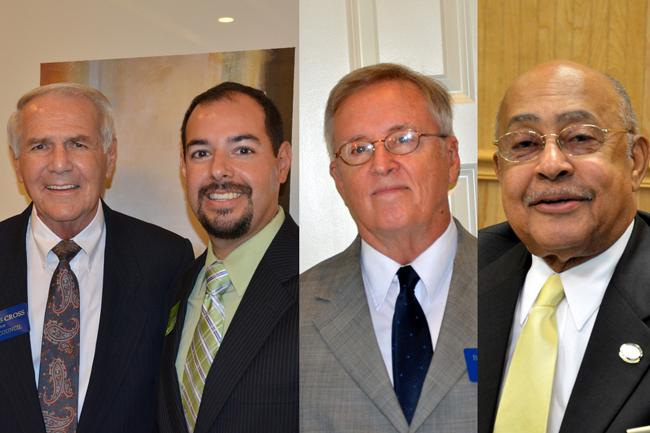 Election Day for Palm Coast City Council is on Tuesday, Nov. 8, though two weeks of early voting, which closed today, has already drawn 2,631 voters to the polls, exceeding by almost 1,000 votes the early-voting tally for the mayoral election in October.
Two seats are up: Incumbent Holsey Moorman is defending his District 1 seat against Bill McGuire. The District 3 seat is open, having been vacated by Mary DiStefano, who was term-limited. Dennis Cross and Jason DeLorenzo are contesting that one. All registered Palm Coast voters get to vote in both races regardless of district, party affiliation or precinct. There are, in fact, no precincts, but six universal voting locations on Tuesday (see them listed below.)
As in the mayoral election the candidates agreed to answer a series of questions submitted by FlaglerLive. The same questions were emailed to all four. They answered. The Dennis Cross and Jason DeLorenzo interviews are posting now.
To avoid surprises, the candidates in each race also received each other's answers before they were posted here, giving each a chance to address the other's answers, if the candidate so wished. So far, none has, though a few answers to follow-up questions are pending.
FlaglerLive's questions are in bold, follow-ups are in italics. Quick links to the questions appear at the top, and each answer includes a link to the opponent's answer for easy navigation between the two web pages. As always, the comment section is wide open.
The Dennis Cross Interview | The Jason DeLorenzo Interview
The Holsey Moorman Interview | The Bill McGuire Interview
Here are the latest results of the FlaglerLive Poll, which you may still take if you haven't:
Registered voters of either party and independents may cast a vote for any of the candidates at any of the following locations Tuesday:
Flagler County Public Library, 2500 Palm Coast Parkway N.W.
Palm Coast Community Center, 305 Palm Coast Parkway
Belle Terre Elementary School, 5545 Belle Terre Parkway
Wadsworth Elementary School, 4550 Belle Terre Parkway
Flagler County Schools Building, 5400 E. Highway 100
Matanzas High School, 3535 Old Kings Road N.