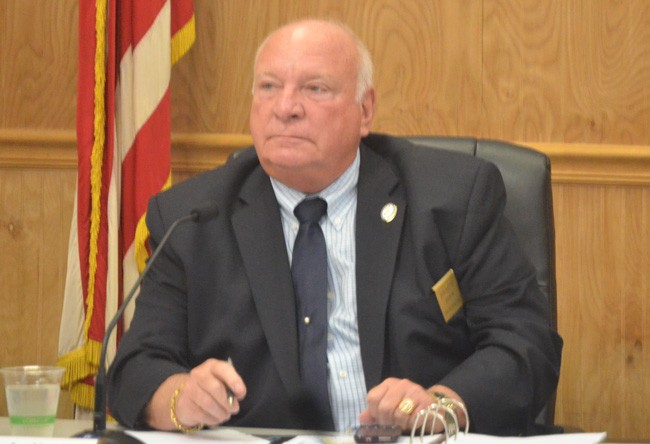 This time blame Vince Liguori, the old-time member of Flagler's home rule coalition and a forceful voice on municipal and county politics—when he uses it, as he did this morning before the Palm Coast City Council. .
"I'd like to resurrect the charter,"  Liguori  said, bringing back from the dead last May's at-times withering council discussions on a charter review, an exercise the council or the city have never comprehensively conducted since the city's incorporation in 1999. Back then, it was rookie council member Steven Nobile who was leading the charge for a charter review commission. He was beaten into submission by an unwilling council, which had some persuasive evidence on its side: other than Nobile and one other person (Dennis McDonald, a persistent critic of local government), there's never been a movement or so much as even isolated calls from the public for a charter review.
Then came Liguori. "In my opinion, with an election coming up, you may be precluding—the current rules may be precluding—good and talented people" from running for the council, he told council members. For example, the current charter requires that for city council candidates to qualify for the ballot without paying a fee, they must gather petitions totaling 1 percent of the population of the district from which they're running. "It's becoming unwieldy," Liguori said. The alternative to get on the ballot is paying 10 percent of a councilman's salary, which is $9,600, or $960. "This is not fair, this does not encourage good and talented people to come aboard."
The 1 percent requirement to get on the ballot is not a Palm Coast requirement: it's in state law. But the qualifying fee in lieu of petitions is dependent on how cities set it. In Flagler Beach, the requirement is 6 percent of a commissioner's salary, or $439.21. In Bunnell, it's either turning in 16 petitions or paying a $288 qualifying fee.
But that was as far as Liguori got regarding a charter discussion. He did not go so far as to request a comprehensive charter review. But he'd given Nobile the opening Nobile appeared ready to seize again.
---
"You have not so far had three people willing to go down that road," Netts told Nobile.
---
"Since the charter was brought up again, I firmly believe that a charter review is currently necessary," Nobile said, to the consternation of some fellow-council members. "We have many items in the charter that we need to look at that were written in the early days of the city, which wasn't that long ago. But dramatic changes have taken effect, have been infected since that time."
During the public comment period, Liguori was followed by Ralph Lightfoot—the chairman of the Democratic Executive Committee—who last spring had suggested to the council in an email that it considers a raise for its members. He did so again this morning. Nobile cited the idea, though to note that, as he had previously, he wasn't comfortable with council members themselves choosing their salaries. That should be left up to a charter review board "in order to decide if that's even an issue that needs to come up, along with other issues," Nobile said, before citing Jim Canfield, the previous mayor, as supporting his call for a charter review.
Nobile explicitly put it to his colleagues. He wanted a council workshop to decide how to approach the charter matter—"is this something that we should be doing, I want discussion on that, and how should we do it, via a charter board, or should we bring up items one by one for the council to decide. So I'm asking if we can have consent or get consent on bringing that to a very near future workshop."
Nobile's proposal appeared headed for oblivion. Council member Bill McGuire spoke up, but about the salary matter, not the charter. He wanted City Manager Jim Landon to find out what other cities the size of Palm Coast pay their council members (who happen to be paid the same amount as Bunnell's city commissioners: $9,600 a year, though Palm Coast has about 26 times the population of Bunnell).
Mayor Jon Netts was on the verge of moving on to the next item on the agenda—effectively, ignoring Nobile–but stopped himself. He took on the charter matter for a brief history lesson. He recalled that in the first 10 years the city was not allowed to conduct a charter review—other than for minor errors. Since 2009 it could, but it doesn't have to. He summarized the ways charter reviews can be made. The council could propose charter amendments and place them on the ballot.
The public can also place charter amendments on the ballot. But it's a prohibitive effort that requires the proposal to first gather petitions from 25 percent of registered voters in a city that has generally had lower turnout than that for its council elections (though that was before a charter amendment moved the elections to coincide with the national calendar).
The third option is for the council to appoint a charter review commission, with those proposals placed on the ballot following two public hearings. Contrary to a council member's impressions, the proposals from the charter review commission do not have to be—and in fact may not be—approved or rejected by the council, but must appear on the ballot as presented by the charter review commission, as the charter states.
"Thus far," Netts said, "city council has discussed this at previous workshops and has not felt the need for charter amendments. The public has not generated any sufficient number of petition signatures, and the idea of a charter study commission remains a possibility for the city to look at."
Nobile contested the conclusion, as he had in May. "The portion of the charter that states that the review shall occur," he said, quoting the charter accurately. "Does the term 'shall' not mean 'must'? What about the intent of the original scribers, which I spoke to and said it was intended to after 10 years be reviewed?"
The charter's wording reads: "The Charter shall be reviewed no sooner than 10 years after the creation of the City of Palm Coast on December 31, 1999, and thereafter it may be reviewed every 10 years."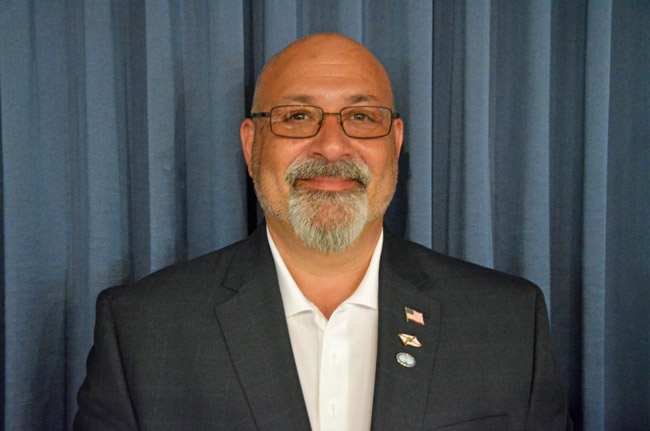 "It's been my opinion that the most logical and reasonable interpretation is that it is permissive," City Attorney Bill Reischmann said. "It could not be reviewed prior to the 10 years, but after that it could be reviewed, and then every 10 years thereafter."
Landon claimed the city council did go through the process of reviewing the charter after 10 years, when it proposed changing the election schedule so council elections would coincide with national elections.
Landon is misrepresenting the city's recent history. The council never conducted a comprehensive review of the charter, but quickly and with little fanfare placed the matter of election scheduling on the ballot. Voters approved it. But it was by no means a systematic review of the charter itself, or a study of the charter, as Landon claimed, other than in that single regard: the council never held public hearings or solicited public input regarding potential changes to the charter, let alone broader changes, and of course never appointed a charter review commission. Landon, who has not infrequently contrived narratives after the fact with his intended conclusions, was doing so again even as he claimed that "people aren't remembering the fact." In this case, they may not be remembering something only because it did not happen.
Nobile seized on the issue. "I'm talking about an official review, and I'm talking about a review by the people, not by the council," he said. "I know people are flipping their eyes and going oh my gosh, here we go again, but I've got to apologize. The last time we discussed this it was more of a mini-battle royal. There was some things that occurred in the council that I was not aware of earlier in that year, and it was a sore spot to mention the charter review. So it was not a valid discussion on should this be done, how should this be done. And to piggy-back on Mr. McGuire's request, if we look at other cities of our size and term, they do that regularly."
Nobile said he was not suggesting changes. That would be left up to citizens.
"I disagree with you wholeheartedly that there was not a valid discussion of this," Netts said, referring to last May's extensive and at times heated debates at the council on the issue. "It was discussed. At any time, at any city council workshop, at any city council meeting, any member of the council can propose the creation of a charter study commission. It would take three votes in order for that to happen. You have not so far had three people willing to go down that road. But at any time the three council members want a charter review commission, they can create it."
At that point Nobile got a surprising second: Council member Heidi Shipley, who had been silent throughout, asked if the matter could be put on a coming workshop agenda. The mayor agreed. But judging from today's silent majority on the council, the outcome appears foretold.