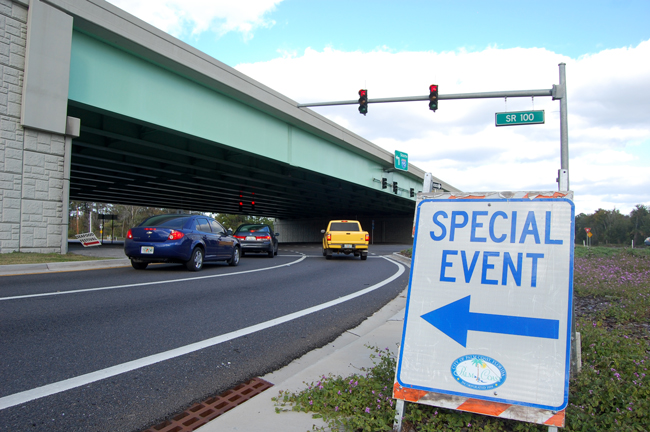 If you have any doubts that Palm Coast thinks it's the only game in town this weekend of festivals, have a look at the temporary signs greeting drivers exiting I-95 at State Road 100.
At both southbound and northbound exits, "Special Event" signs point in one direction and one direction alone: west, toward Palm Coast–and away from Flagler Beach. Another red-lettered sign at each exit specifies Palm Coast's seafood festival, its first this year. Nothing about the Tommy Tant Memorial Surf Classic (or its own seafood festival), now in its 11th year. Nothing about anything other than Palm Coast's event.
That's how Palm Coast plays nice and recognizes its neighbors: by ignoring them. And the city wonders why it's getting a bad rap lately. There's a difference, in other words, between Palm Coast promoting itself and Palm Coast promoting itself as part of its larger community. It does the first very well. It has no time for the other.
It's entirely plausible (even desirable) to schedule events together so that one builds on the other–as long as there's a thought-out strategy to do that. A coordinated approach would have highlighted both events anywhere they're marketed, including medians, adding to the sense that this is a happening place and giving people more of an incentive to visit. Both cities would do well to highlight each other's events on their web pages concurrently. The Palm Coast Observer did a nice job of highlighting both events, but that's not what Interstate travelers see when they get off I-95. The city is going out of its way, literally, to divert people exclusively to its own affair. That's silly, short-sighted and–no longer an unusual spore fouling this city's air–arrogant.
Palm Coast scheduled its festival after the Tommy Tant Classic's schedule was set, though no one from Palm Coast called Flagler Beach to coordinate dates–or signs or marketing. Not after Flagler Beach set the date for the classic in June. Other than the paper, "nobody else approached us from Palm Coast," Tom Tant, the late Tommy Tant's father, said, though he added that most people going to the Tommy Tant classic know where they're going. Saturday's crowd, put at between 3,000 and 4,000 by Tant, suggests that the classic wasn't hurting for visitors.
But Palm Coast is hurting for a little more civic literacy.
—Pierre Tristam